Enjoy this refreshing Shaved Carrot Salad full of bright flavors, from the pickled red onions and tangy dressing, and a crisp crunch, well-balanced by smooth and creamy avocado.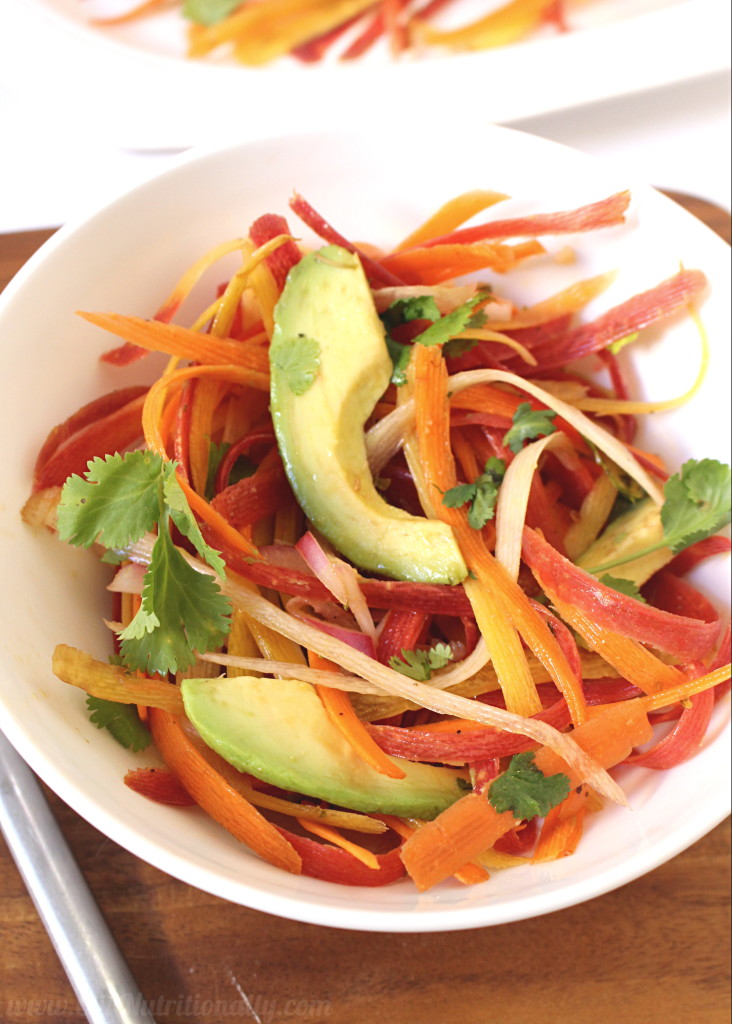 Happppy Monday, friends! Despite the near freezing temps here in NYC this past weekend, I've been busy preppin' for SPRING….whenever it gets here! And I realllllyyy hope it doesn't jump straight into summer, because I am NOT a fan of that!
So while straight up preppin' my food preferences have been ch-ch-ch-changing too…More salads, bright and flavorful chia pudding, and smoothies are flying back for the warmer weather (again, whenever it decides to show up!).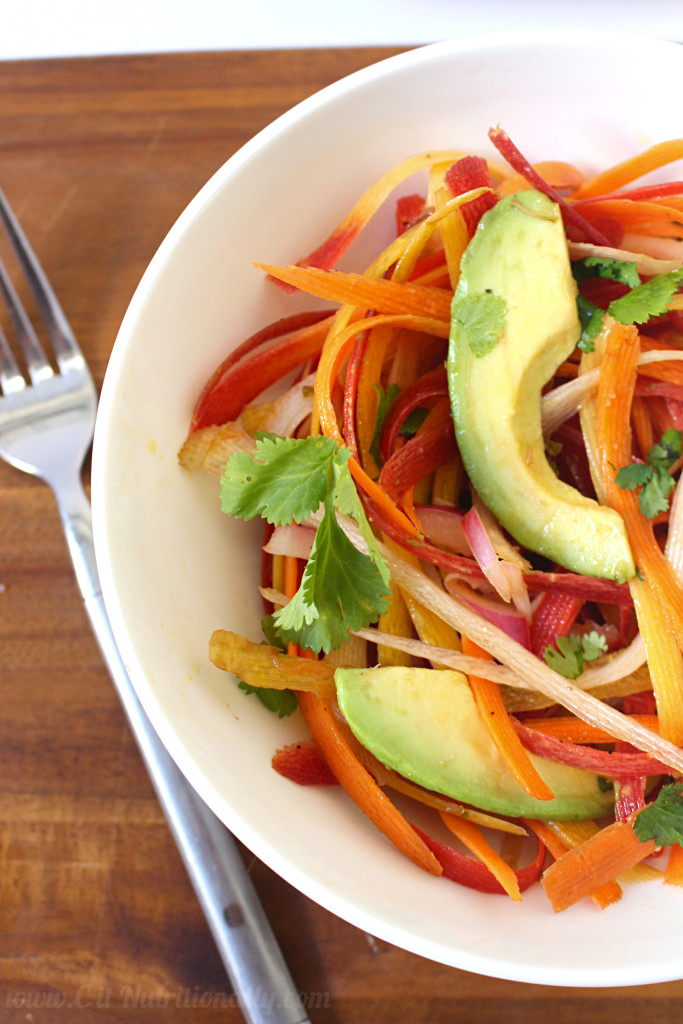 Instead of boring salads, I spruced things up with this ridiculously delicious Shaved Carrot Salad. Ever since I spiralized 50 pounds of carrots of my Market Table at the hospital (No idea what I'm talking about? Click here to find out!), I've been wanting to share a shaved carrot salad. Since I don't want to assume you all have a spiralizer (and spiralizing carrots requires a certain oomph!), I used a vegetable peeler for this one instead.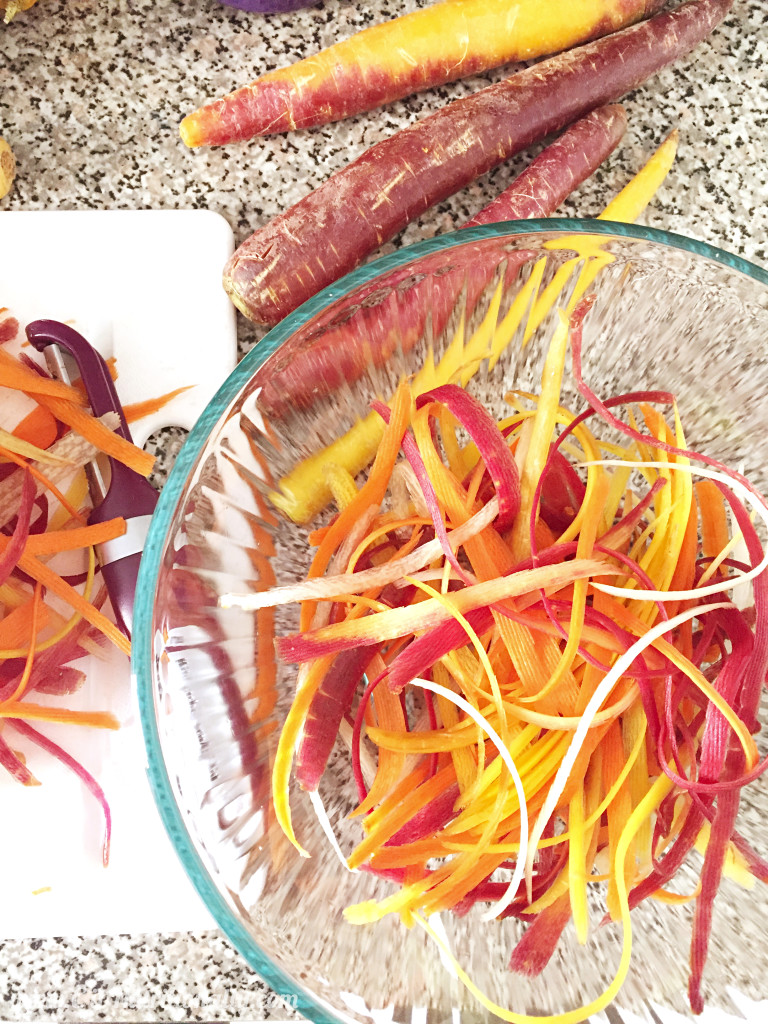 This salad is light and refreshing with a good crunch, but packs soooo much flavor. It's the perfect side to taco night (if you don't want my delish slaw), or really any night, but can also double as a great lunch with some added protein (I'm thinking toasted pepitas would go great!).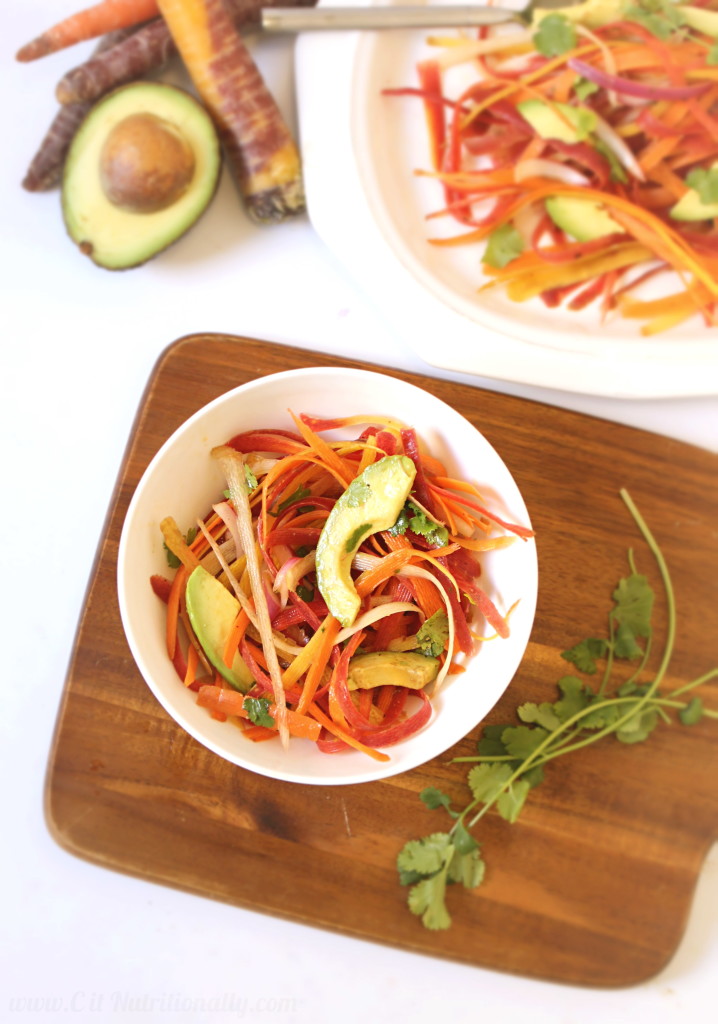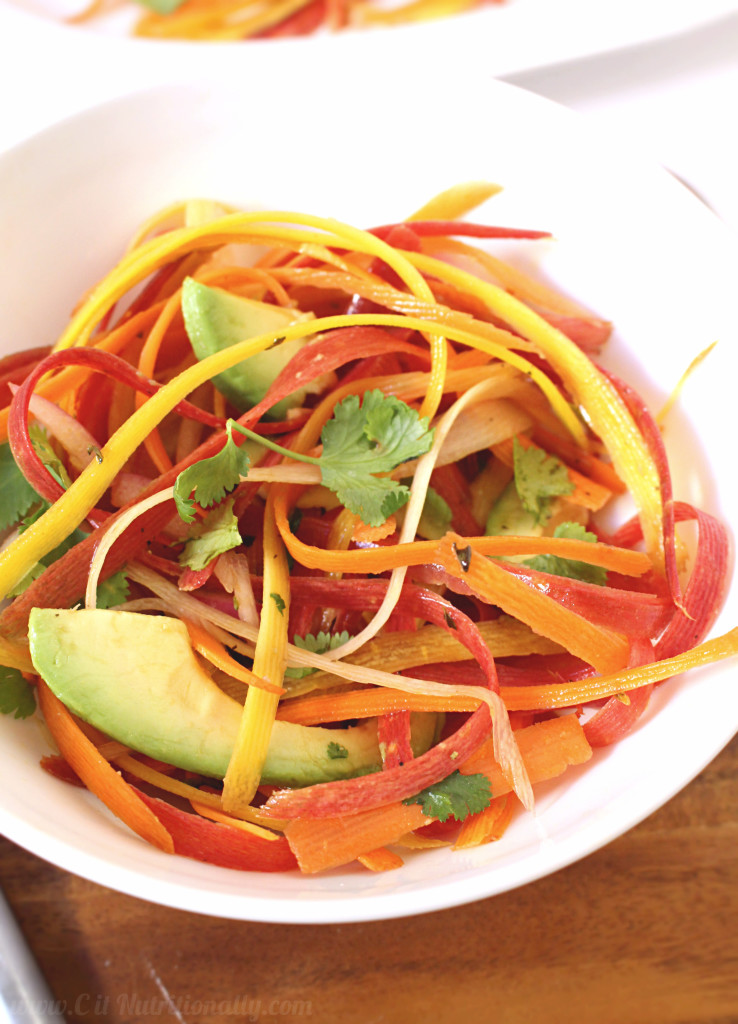 Anywhoooo, this salad is…
Crunchy
Tangy
Refreshing
Springy
Gluten free
Vegan
Grain free
In season!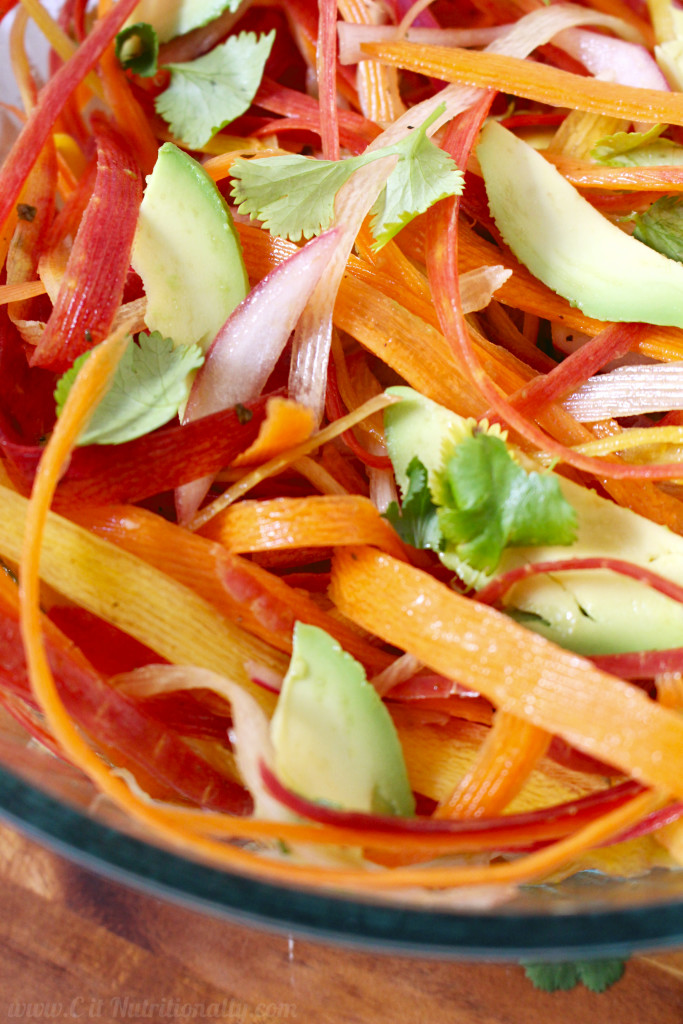 To make this recipe, I used:
Whip out that vegetable peeler and get shavin'!
Shaved Carrot Salad
Author:
Prep time:
Total time:
Enjoy this refreshing salad full of bright flavors from the shaved carrots, pickled red onions, and tangy dressing, well-balanced by creamy avocado. Gluten free. Vegan. Vegetarian. Grain free.
Ingredients
For the salad:
½ medium-sized red onion, thinly sliced (approximately 1/2 cup)
2 tablespoons red wine vinegar
1 lb carrots, shaved or spiralized
3 tablespoons cilantro, chopped
½ avocado, sliced
¼ teaspoon freshly ground black pepper
Pinch of salt, more to taste
For the dressing:
2 tablespoons red wine vinegar
2 tablespoons freshly squeezed lemon juice or lime juice
2 tablespoons extra virgin olive oil
1 garlic clove, finely minced
Pinch of cumin
Large pinch of black pepper and salt
Instructions
In a small bowl, combine red onion and red wine vinegar and let sit while you prepare the other ingredients so the onions can pickle.
While the onions are pickling, shave carrots into long, thin strands using a vegetable peeler or spiralizer and place into a medium-sized bowl. Add cilantro and avocado. Set aside.
To make the dressing, combine all dressing ingredients in a small bowl and whisk vigorously until uniform consistency forms.
Add the pickled red onions and slowly drizzle the dressing over the top, tossing lightly once half of the dressing is added. Taste, then add additional dressing, to taste. Let sit in refrigerator for at least 30 minutes for flavors to meld. Save excess dressing to add before serving. Enjoy ☺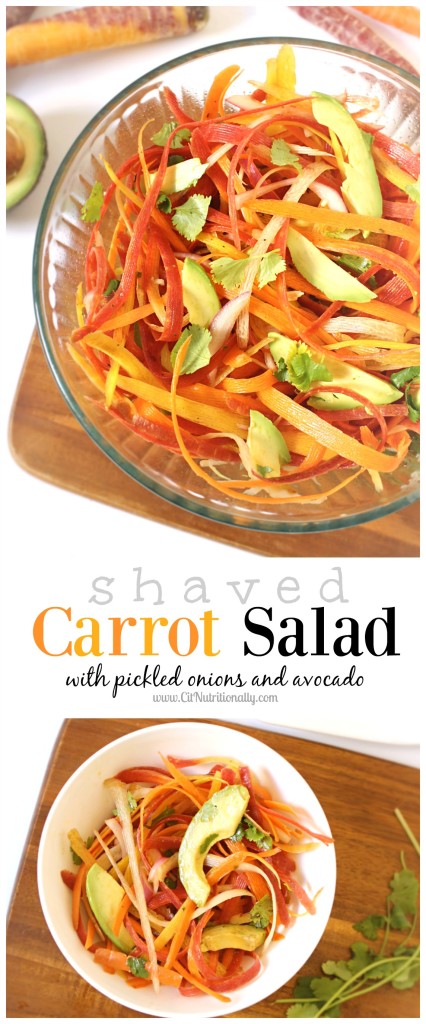 Have a FABULOUS Monday!
XO