Move over boring tofu! This Sheet Pan Tofu Stir Fry is a simple, quick and nutritious weeknight meal that you can throw together with minimal ingredients and just 30 minutes!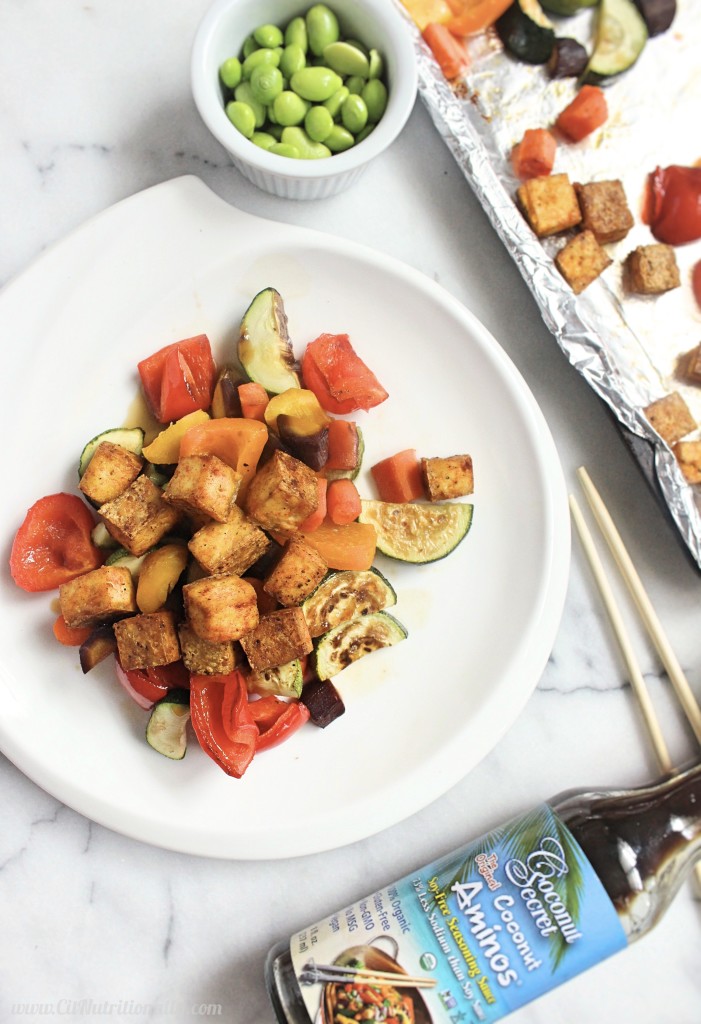 When I take time for food prep on the weekends, multitasking is the name of the game. There's nothing I like more than a sheet pan dinner, which is why I love this month's Recipe Redux theme…
Sheet Pan Meals: We love throwing ingredients together on a sheet pan and roasting for a simple sheet pan dinner. They make busy weeknights a bit more manageable. (And clean-up isn't bad either!) Show us your healthy take on a sheet pan meal.
After sharing my go-to 20 minute sheet pan shrimp dinner and my favorite way to prepare salmon, I'm ready to take on a meat-free version: A Sheet Pan Tofu Stir Fry!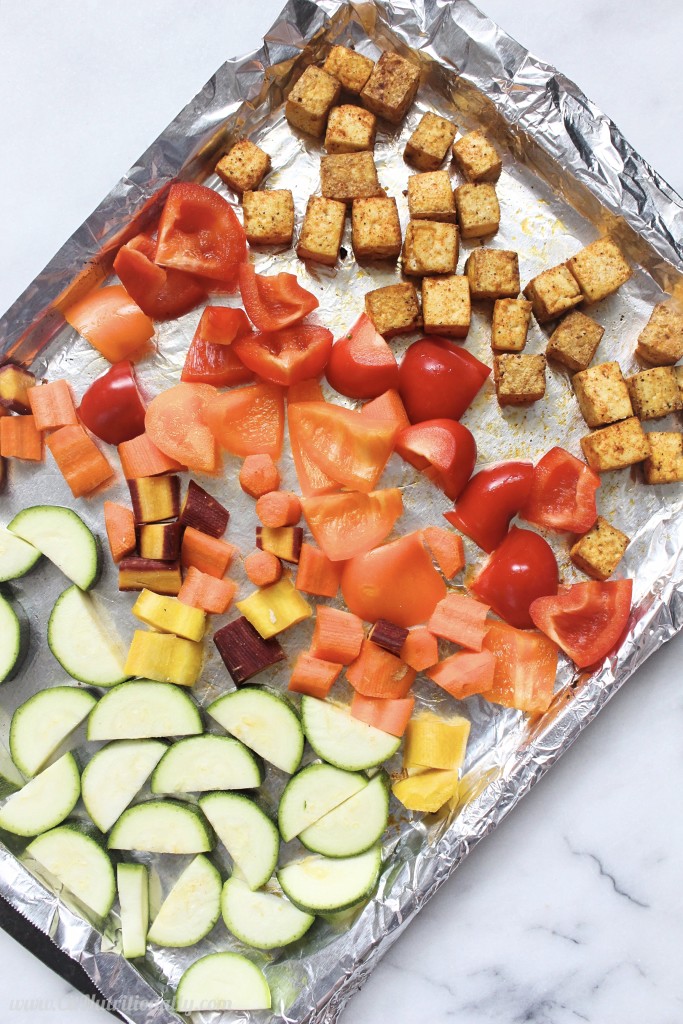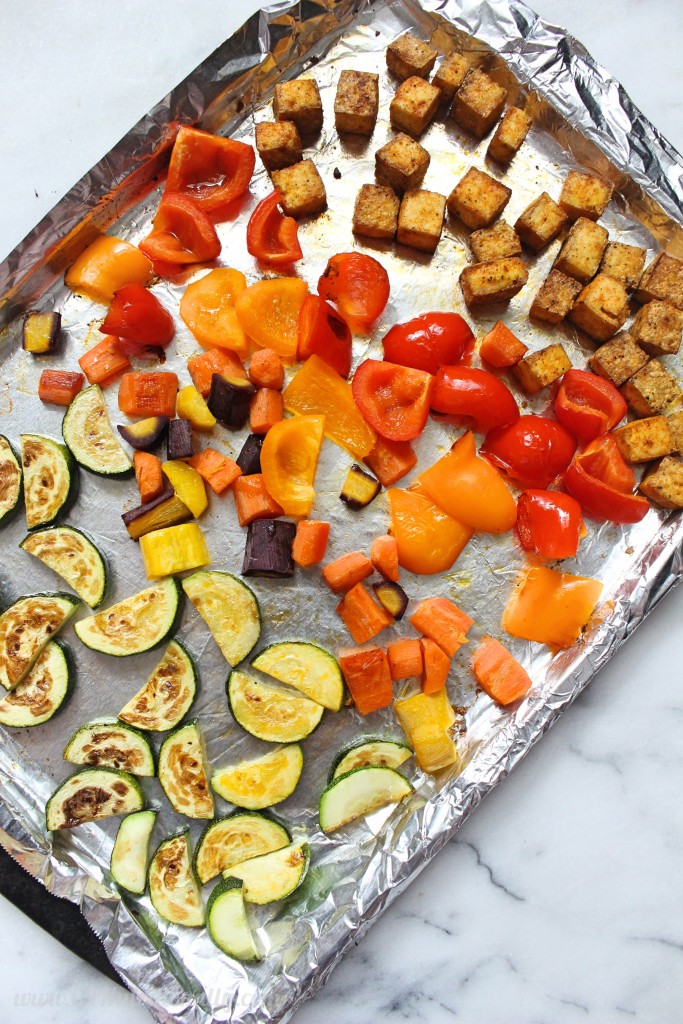 Stir fry dinners are on repeat in our house (we make one at least once every week!), but since we've both been experimenting with some food intolerances lately (more to come on this soon!), our go-to soy sauce has been put on hold. Instead, I used coconut aminos (affil link) in this recipe.
If you've never heard of coconut aminos, meet soy sauce's gluten free cousin that is every bit as delicious! It's a tad sweeter, doesn't really taste like coconut at all, and still has alllll of that umami flavor that we love in a stir fry!
Transferring one of our favorite dinners over to a sheet pan meal has made dinner hands-off, which is totally blissful when you get home from work after your stomach's dinnertime!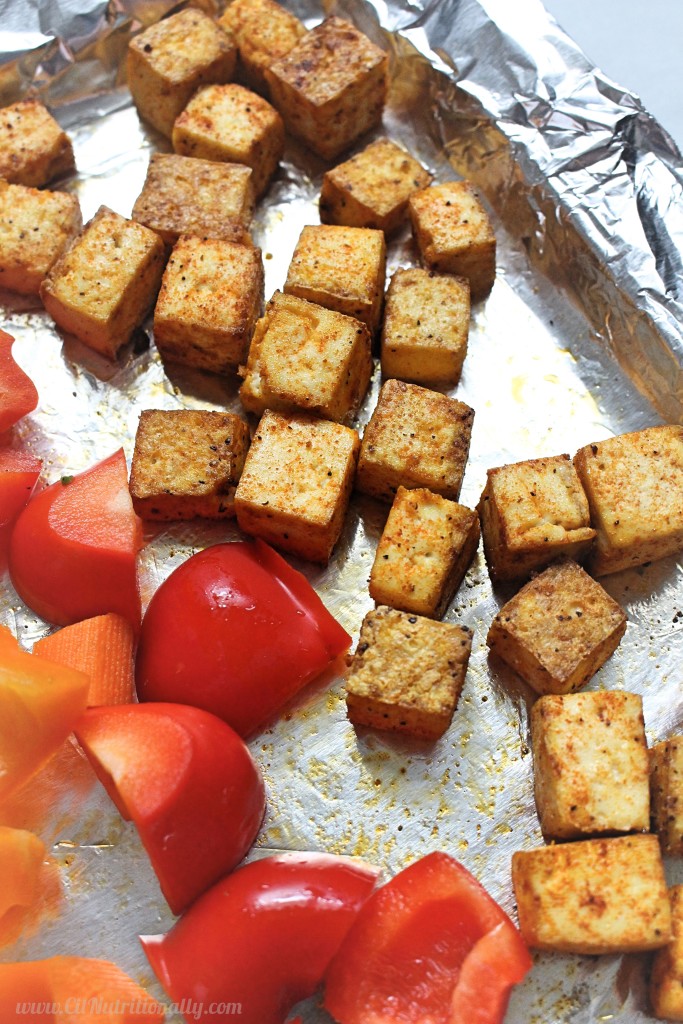 This Sheet Pan Tofu Stir Fry is…
Vegan
Gluten free (thank you coconut aminos!)
Low fodmap
Made in under 30 minutes
Food allergy friendly
Made with just a handful of ingredients
Ingredients
1 package organic extra firm tofu
1 1/2 tablespoons olive oil, divided
1/4 teaspoon freshly ground black pepper
1/4 teaspoon smoked paprika
1 cup roughly chopped bell pepper
1 medium zucchini, sliced lengthwise and cut into half moons
1/2 cup peeled and chopped carrots
1 1/2 tablespoons coconut aminos
1 tablespoon sliced scallions (green part only)
Instructions
Drain package of tofu. Wrap tofu in a paper towel and press tofu using a tofu press or place a heavy pan on top of the tofu for about 1 hour to remove excess liquid.
Preheat oven to 400°F.
Cut tofu into 1/2-inch squares. Drizzle with 1 tablespoon of olive oil, sprinkle with black pepper and smoked paprika and toss on a tin foil-lined baking sheet. Bake for 15 minutes, tossing once while cooking.
Remove baking sheet from oven and add vegetables. Drizzle with 1/2 tablespoon olive oil, and sprinkle with black pepper. Bake for an additional 15 minutes.
Transfer baked tofu and vegetables to a bowl and toss with coconut aminos and scallions. Enjoy warm!
Notes
You can add a drizzle of sesame oil to finish or sesame seeds, however, Chelsey is allergic and omitted these garnishes.
http://citnutritionally.com/sheet-pan-tofu-stir-fry/
Don't forget to PIN IT…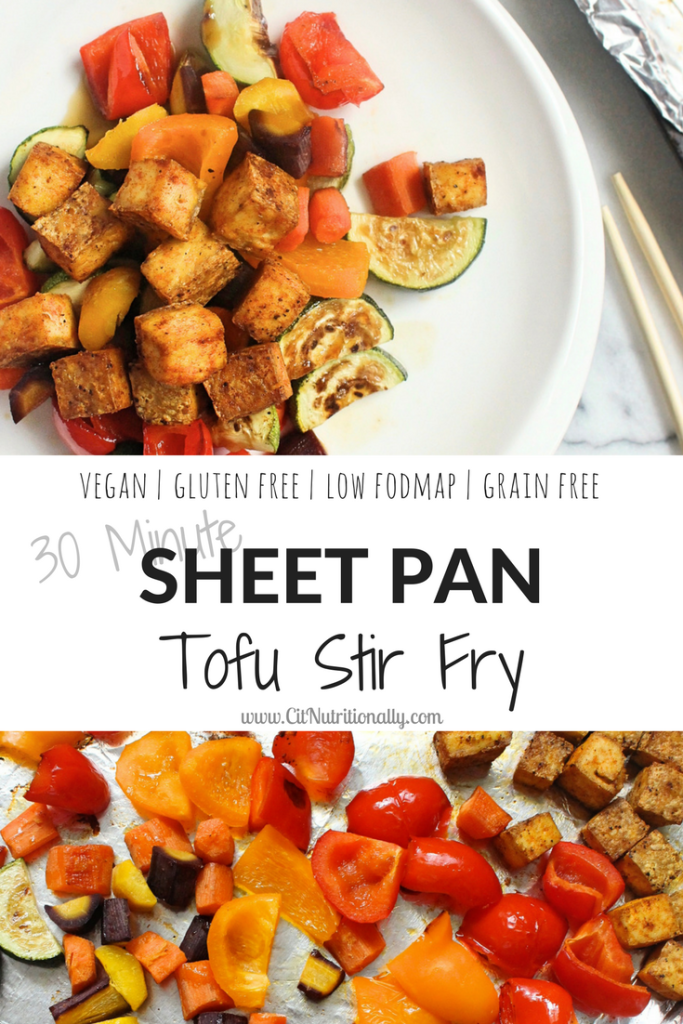 Hope you enjoy this simple meal as much as we did… and then check out all the other delicious sheet pan meals below for easy, peasy, and delicious meals!
XO
If you want to stay connected or you make something from C it Nutritionally I would LOVE to see your creations! Tag me or use the hashtag #CitNutritionally!

Let's get social! 
Facebook: C it Nutritionally
Twitter: @ChelseyAmerRD
Instagram: @CitNutritionally
Pinterest: ChelseyAmer