A lightened-up pasta dish made of spaghetti squash, Mann's Kale Beet Blend and topped with savory and creamy baked goat cheese rounds, my Spaghetti Squash Primavera with Baked Goat Cheese is perfect when hearty comfort food with a healthier twist is calling your name!
Vegetarian, Gluten Free, Nut Free, Soy Free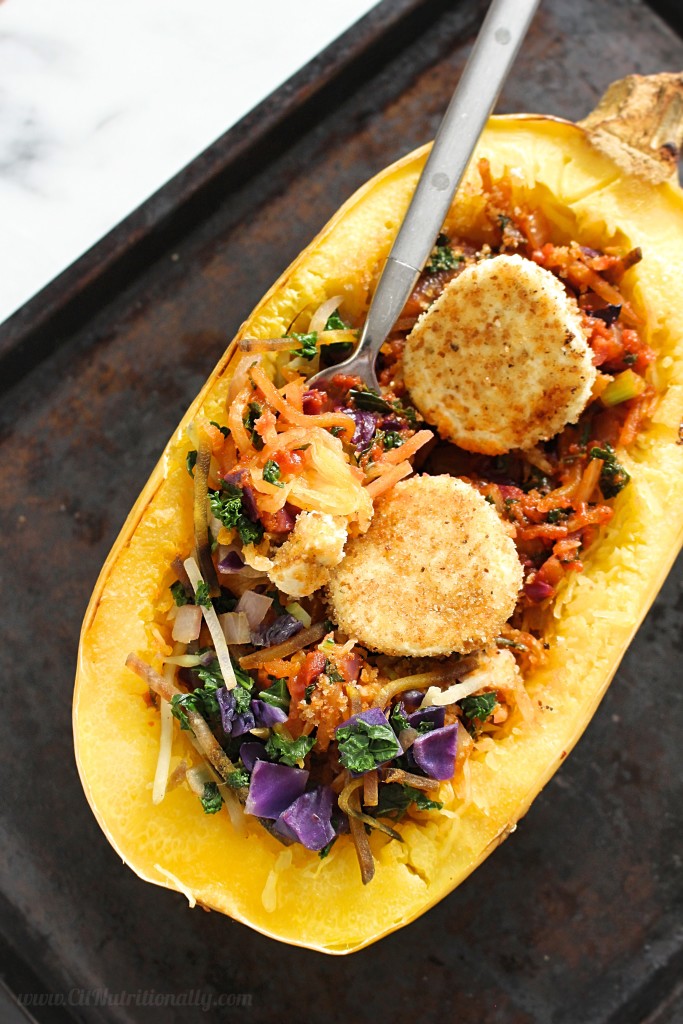 Disclosure: This recipe is sponsored by Mann's. As always, all opinions are my own and I would not share a product with you that I don't regularly use and love myself!
The New Year is upon us, which means now is the perfect opportunity to work on incorporating more sustainable, healthy habits into your life! Personally, I think every day (or even hour) is a great time to start treating ourselves with more love, but since early January is the most popular time of the year to do so, I want to help you out!
Instead of vowing to lose weight this year, I urge you to make a more specific and attainable goal. Maybe eating more veggies?
Focusing on adding more to your life, instead of taking away or depriving yourself, is key to make sure your New Year's resolution lasts well beyond Valentine's Day (did you know that that's when most New Year's resolutions become null and void?).
One of my favorite things to help clients add to their diets is more VEGGIES!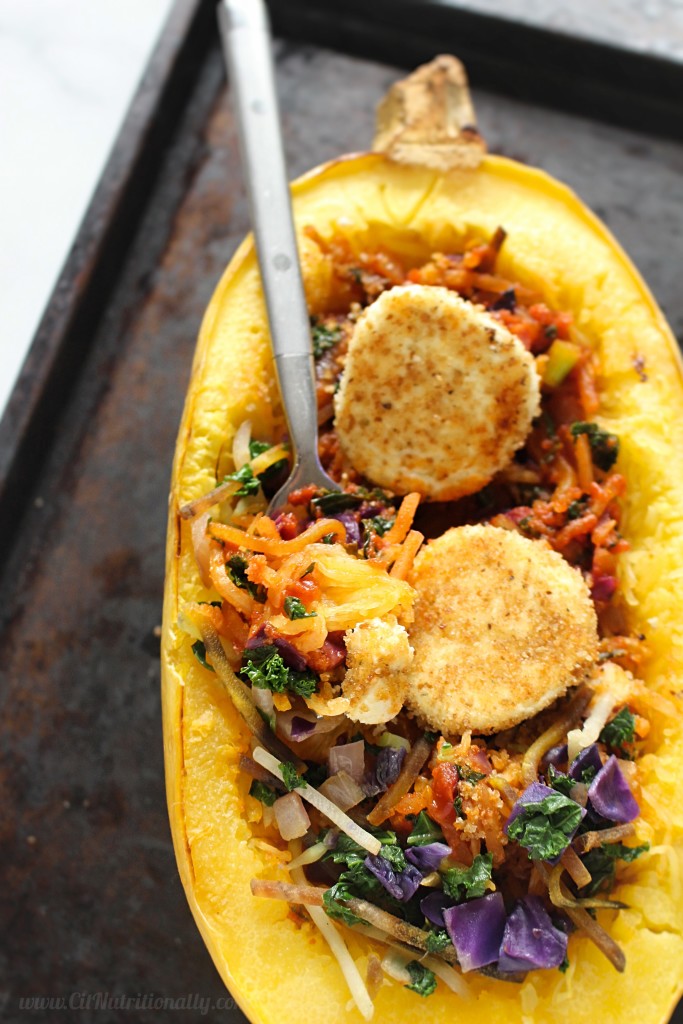 We could all benefit from adding more veggies into our diets… so maybe it's incorporating veggies as part of your afternoon snack, maybe throwing a handful of baby spinach into your morning smoothie or whipping up my 3-Ingredient Frittata so you can include some veggies at breakfast.
Or, maybe you'll try to include a serving of veggies at dinner (scroll down to this recipe to get a delicious and easy recipe!)
Eating more veggies – whatever that means from where you are now – can only benefit your health!
Veggies are full of…
Health-boosting vitamins and minerals
Inflammation-fighting antioxidants
Filling FIBER
Crunch
Sweetness
And much, much more!
That's why I've teamed up with my friends over at Mann's to make eating more veggies EASY!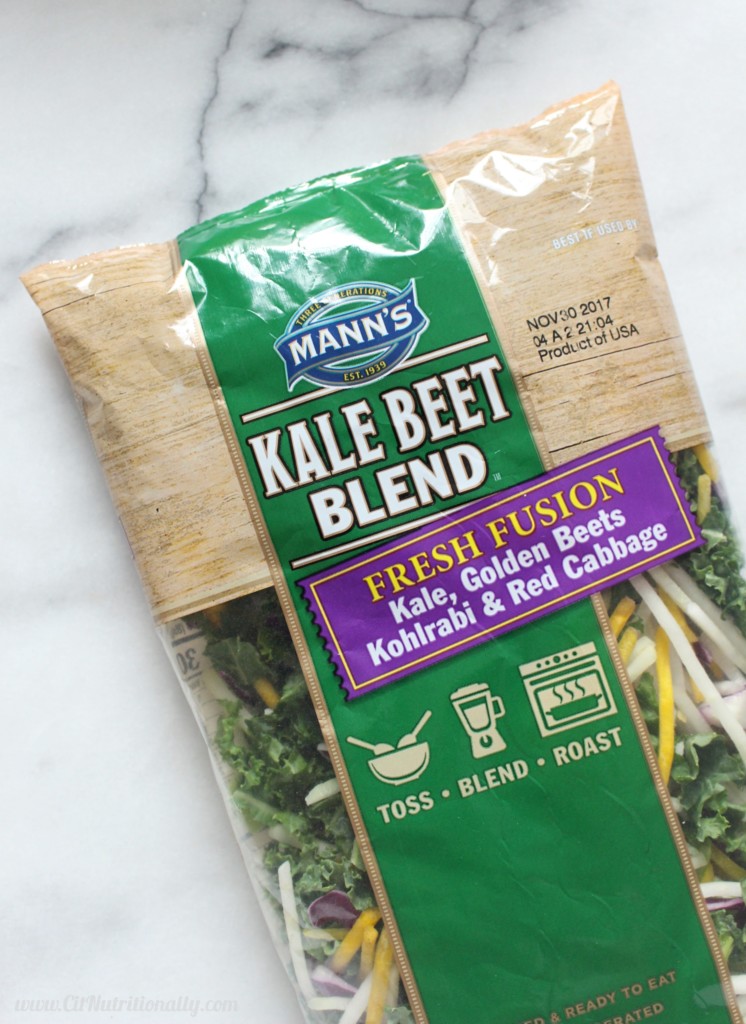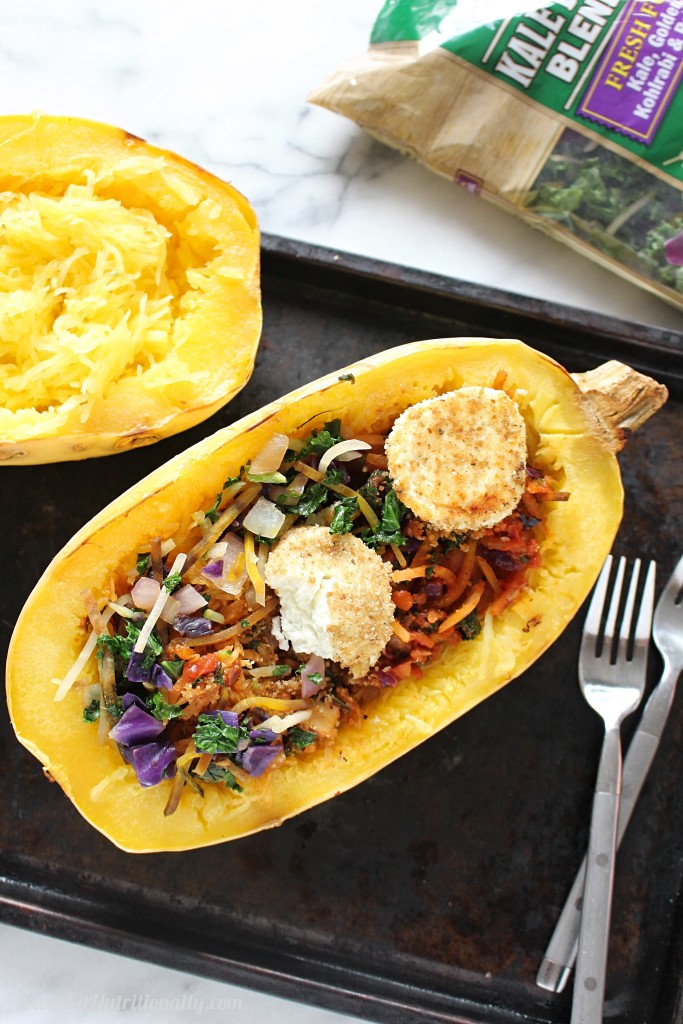 Because I get it… slicing and dicing, chopping and julienning is time consuming. Who has time for all of that after you get home from a long day at work? Not I said the fly!
Mann's makes it easy to include more veggies in any meal because they do the hard part for you. All you have to do is open a bag of their veggie mixes, and BOOM, veggies made easy!

But I know what you're thinking… it's winter. It's cold out there, so you don't want to eat a salad or smoothie. I get it… there's nothing worse than being frozen to the bone and eating cold food!
It's comfort food season! You're craving something satisfying and totally stick-to-your-ribs GOOD!
Sure, you can whip up a big batch of veggie-filled soup to get your veggie fill on, but sometimes we want a little bit more to chew!
That's where spaghetti squash comes in! I think spaghetti squash is one of the comfiest winter foods we can eat, and feel awesome after eating.
Unsure how to prep spaghetti squash? Watch this!
My Spaghetti Squash Primavera with Baked Goat Cheese seems decadent and maybe even a little fancy, but I promise, it's so easy, so creamy, and SO delicious!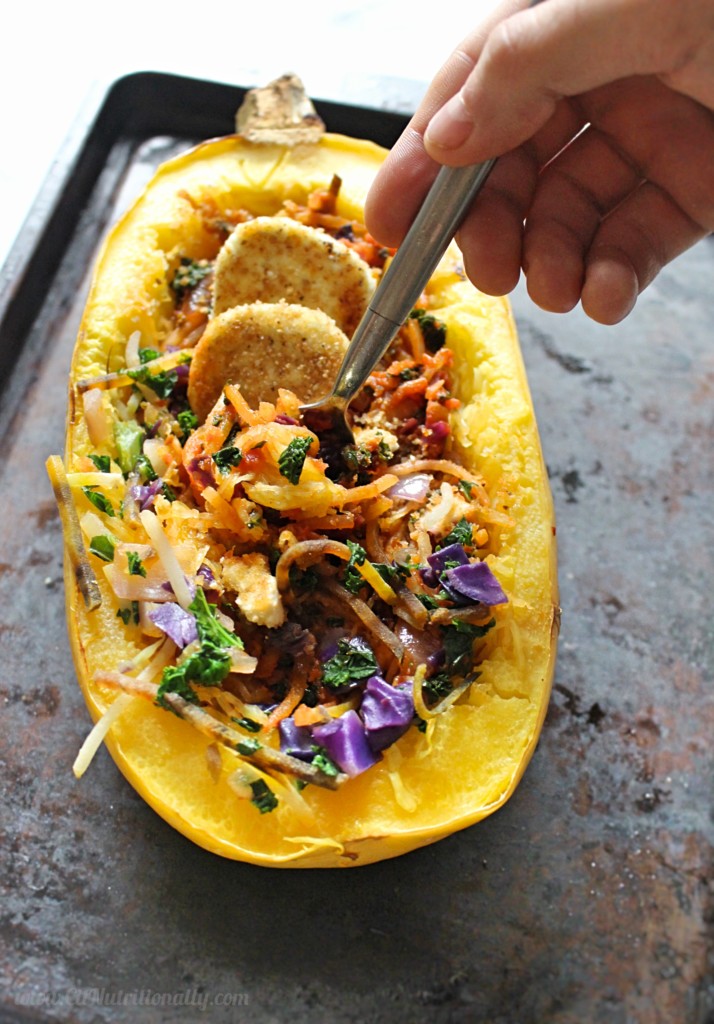 My Spaghetti Squash Primavera with Baked Goat Cheese is…
Hearty
Filling
Full of VEGGIES!
Creamy
Vegetarian
Easy to make with less than 10 ingredients
Made in less than one hour
Even easier to make with some make-ahead food prep!
Let's get cookin…
Spaghetti Squash Primavera with Baked Goat Cheese
Ingredients
1 large spaghetti squash, cut in half lengthwise, seeds scooped out
Olive Oil Spray (I like to use my Misto)
1 4 ounce goat cheese log (organic preferred)
1/4 cup whole wheat bread crumbs (gluten free if needed)
1/8 teaspoon smoked paprika
1/2 teaspoon salt, divided
1/4 teaspoon black pepper, divided
1/2 cup chopped onion
1 clove garlic, minced
1 bag Mann's Kale Beet Blend
2 cups jarred marinara or tomato sauce (no added sugar preferred)
Instructions
To bake spaghetti squash: Preheat oven to 375°F. Place spaghetti squash, cut side down, on a lined baking sheet. Spray with olive oil spray and bake spaghetti squash for about 25-40 minutes, until soft to fork, and the spaghetti strands are easily scraped. Note: Cooking time will differ based on the size of spaghetti squash.
For the baked goat cheese rounds: Cut log of goat cheese into 6 rounds, about 1/4-inch each. Spray with olive oil spray. Set aside. On a small plate, mix together bread crumbs, smoked paprika, 1/4 teaspoon salt and 1/8 teaspoon black pepper. Dip the goat cheese rounds into the breadcrumbs, flipping gently so both sides and the edges are coated. Place on parchment paper-lined baking sheet. Bake for about 6 minutes, until just soft to touch (the rounds will keep their shape).
Coat a large skillet over medium heat with olive oil spray. Add chopped onion and garlic, sautéing until soft and fragrant, about 3-5 minutes.
Add full bag of Mann's Kale Beet Blend, and continue to sauté until kale is wilted. Then, add marinara sauce. Taste, and season with additional 1/4 teaspoon salt and 1/8 teaspoon black pepper, or more to taste.
To serve, combine the scraped spaghetti squash strands with sautéed veggies and marinara sauce. Place warm goat cheese on top. Enjoy warm!
http://citnutritionally.com/spaghetti-squash-primavera-baked-goat-cheese/
Don't forget to PIN IT…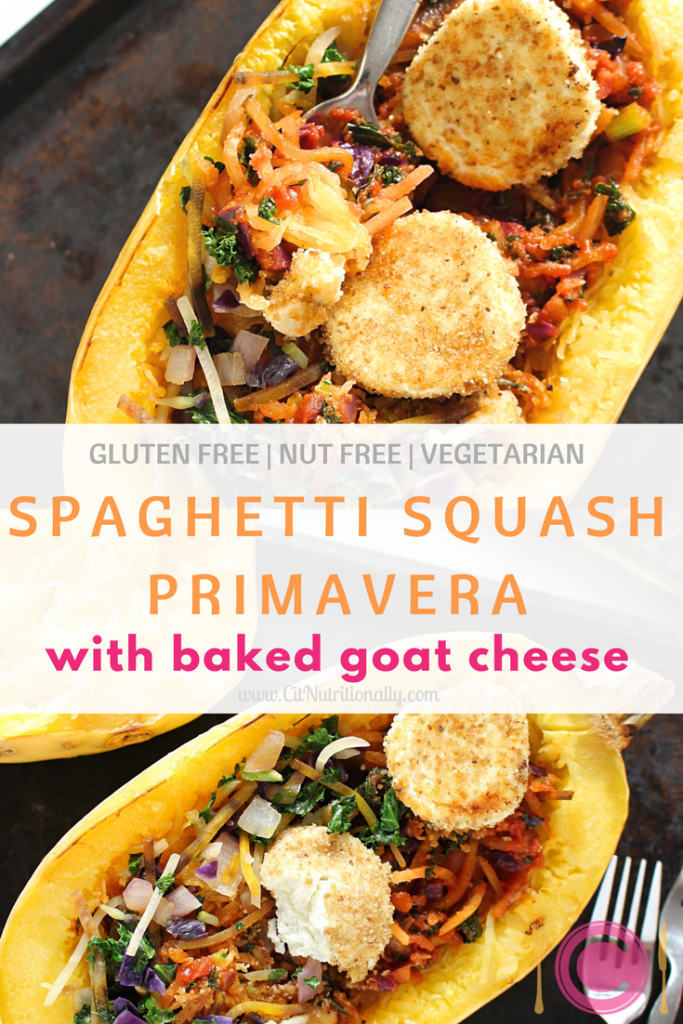 I hope you enjoy nourishing, cozy comfort food as much as we do! 

Stay warm,
XO