Warm, sweet and spicy, soft and chewy, these spicy ginger cookies are exactly what your holiday cookie swap needs! Plus, there's a vegan option; tree nut and peanut free, soy free, egg free.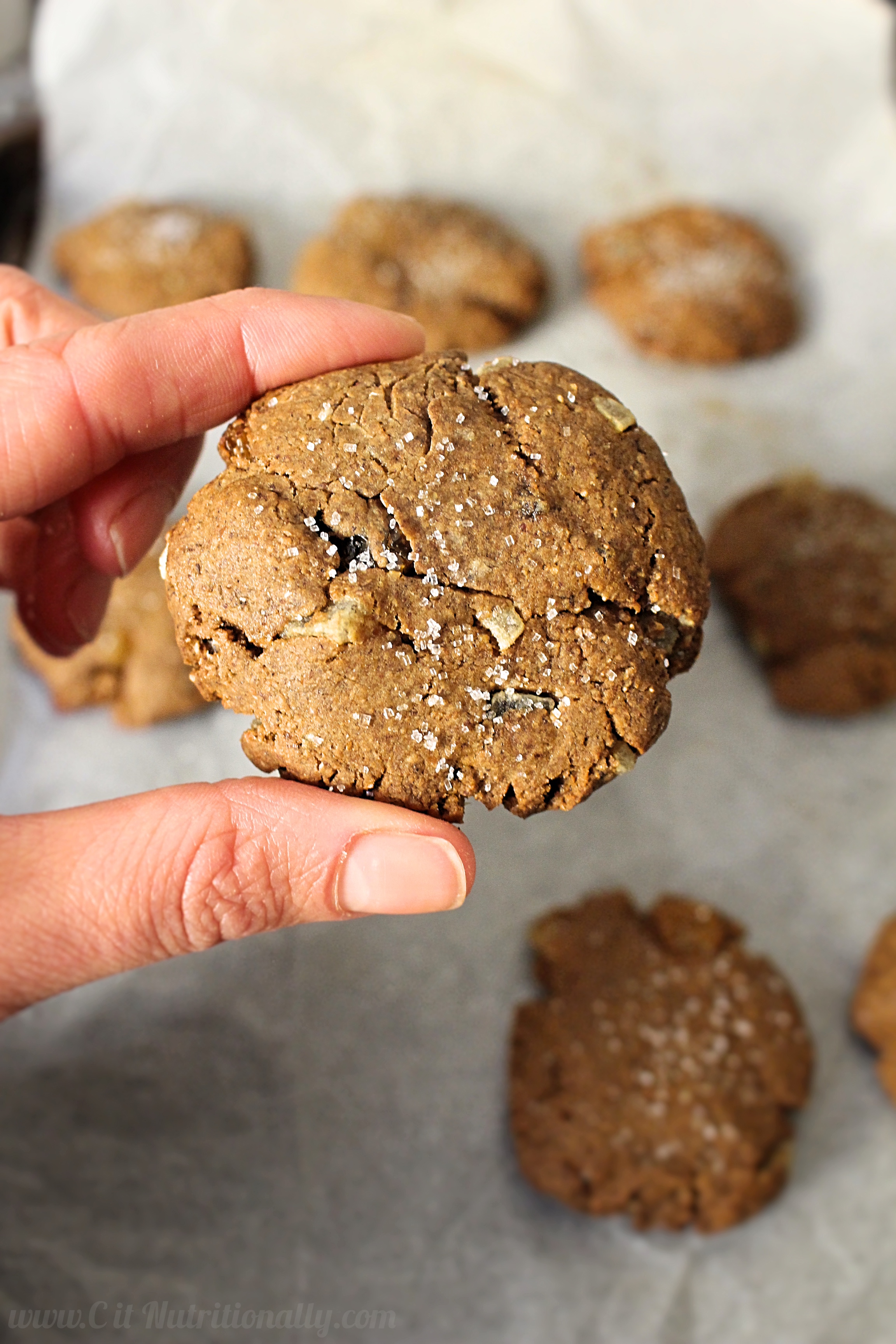 Oooooh I think you're going to be glad you stopped by today! It's that time of the month again…Recipe Redux time! If you have NO idea what I'm talking about, you can check out these other Redux posts. With the holidays around the corner, what do you think this month's theme is???
Well, we're Trimming The Table…
The holiday baking season is upon us. Time to pull out all the stops. Show us the healthy dessert you will be sharing with family and friends this season.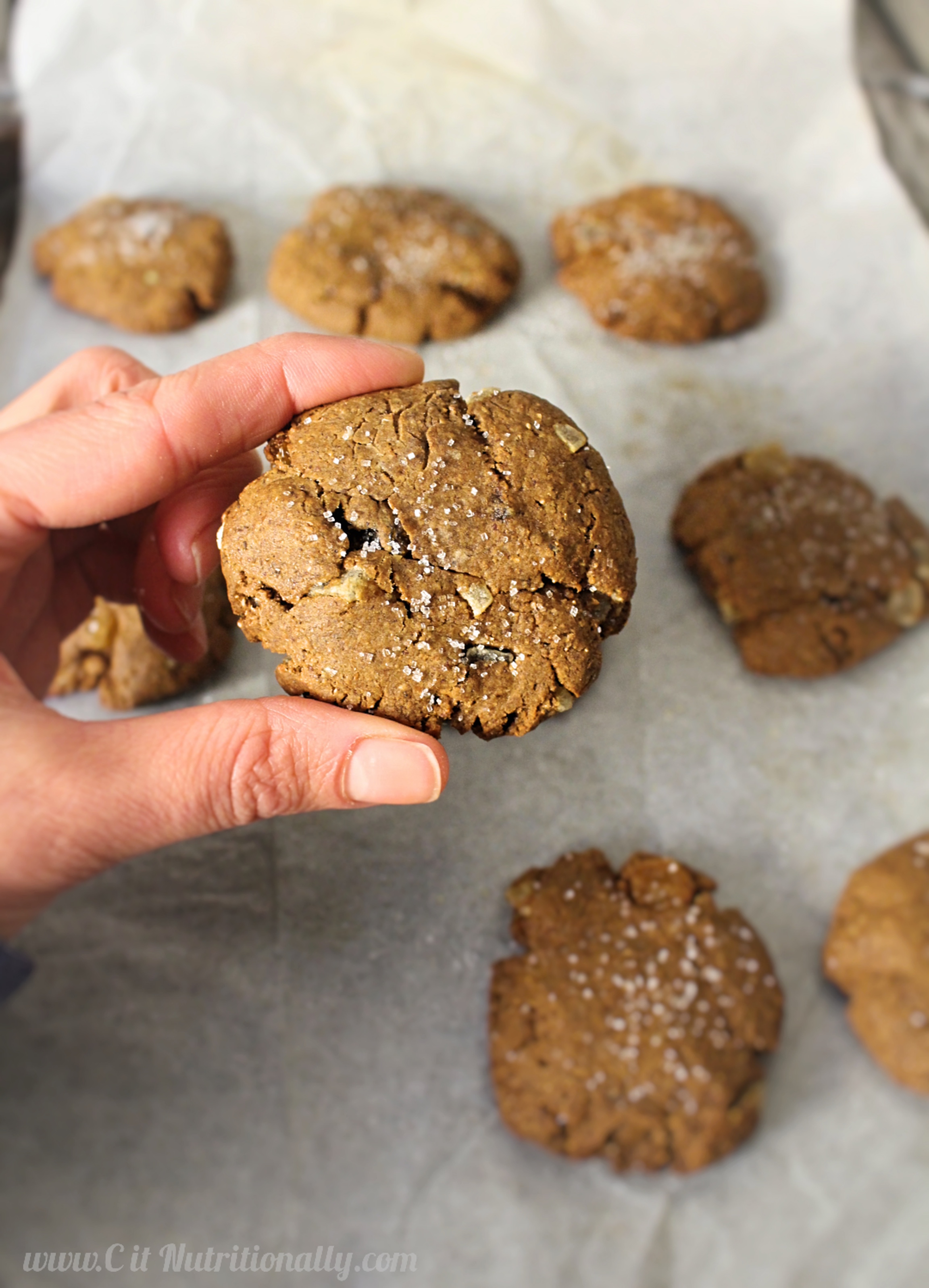 Baking is mah jam…but having a healthy food blog doesn't quite leave much room for traditional butter/sugar/eggs/more butter/more sugar/all purpose flour kinda baking in my life. It's usually the flax egg, whole wheat flour, quinoa flakes, dates as sweetener kinda baking. 
And don't get me wrong, I totally L-O-V-E LOVE my healthier experiments in the kitchen because they're just as delicious, but even more nutritious …and that's exactly what this recipe entails… but since 'tis the season, I didn't go quiiiite as far as I typically do with "healthifying" this recipe. You gotta live a little!
Let's get social!
Facebook
Instagram
Pinterest
Twitter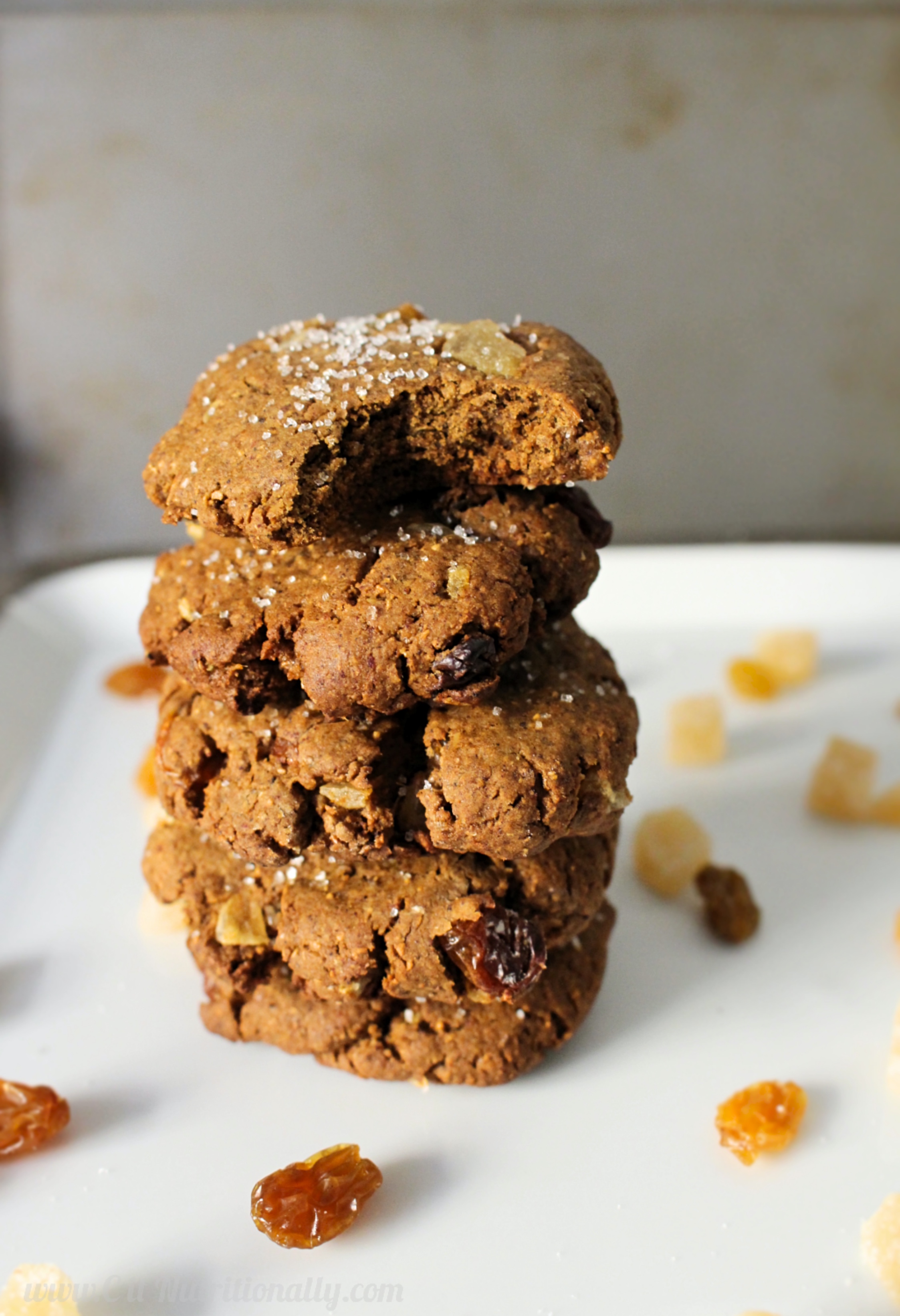 So how did these Spicy Ginger Cookies come to be?! About a month ago I went to see a taping of The Chew (and totally fan-girled out!) and the special guest was Ina Garten! Who doesn't LOVE Ina?! First of all, I feel like I know her. And second, ALL of her recipes WORK. And are delicious. She's basic…and that's what I love about her! At the taping, she made a recipe from her newest cookbook (Cooking for Jeffrey) — spicy hermit bars. They remind me of a gingerbread cookie bar taken up a notch. I couldn't wait to get into my kitchen to make them and try to re-create a sliiightly healthier version.
So here we are!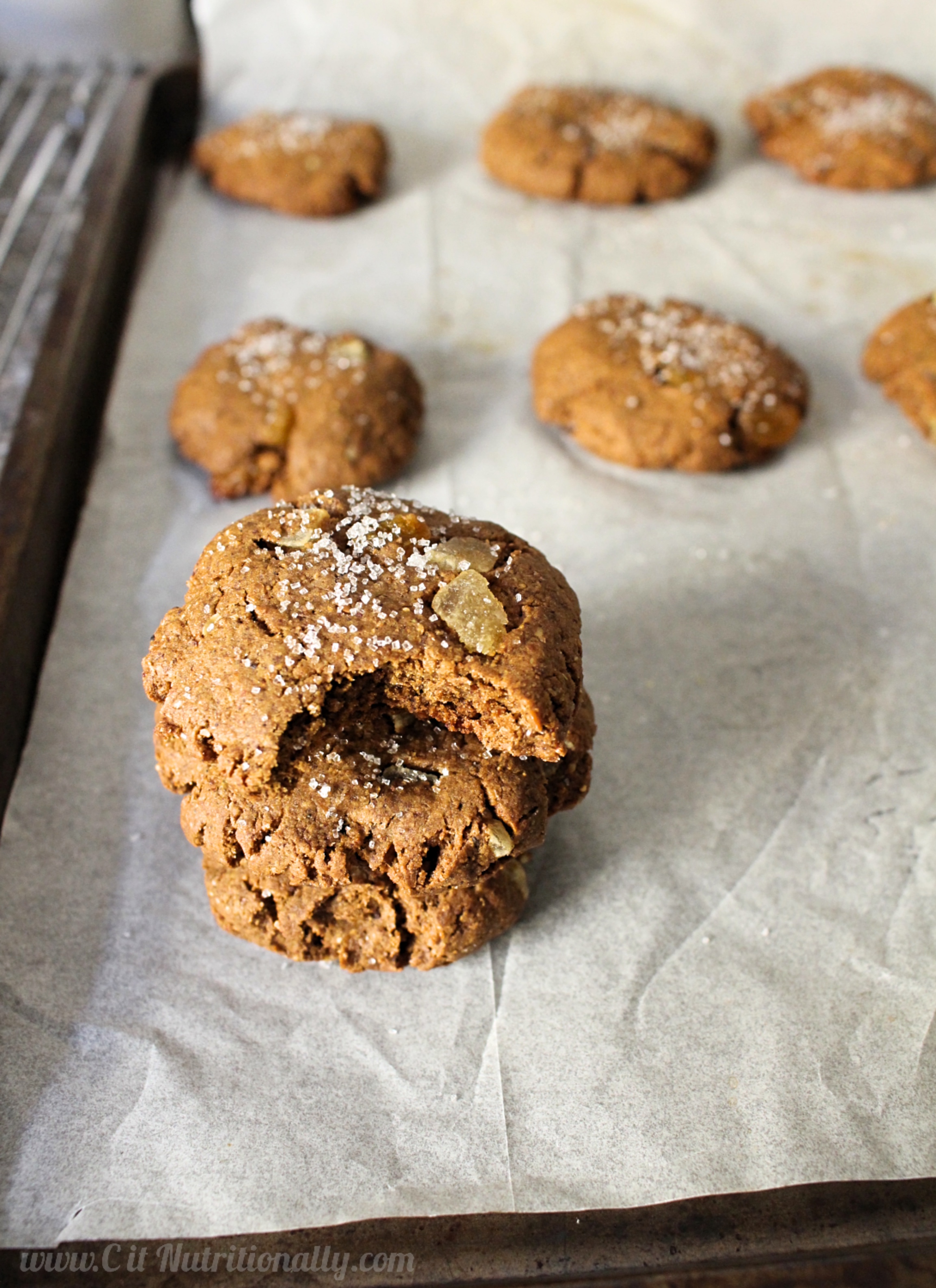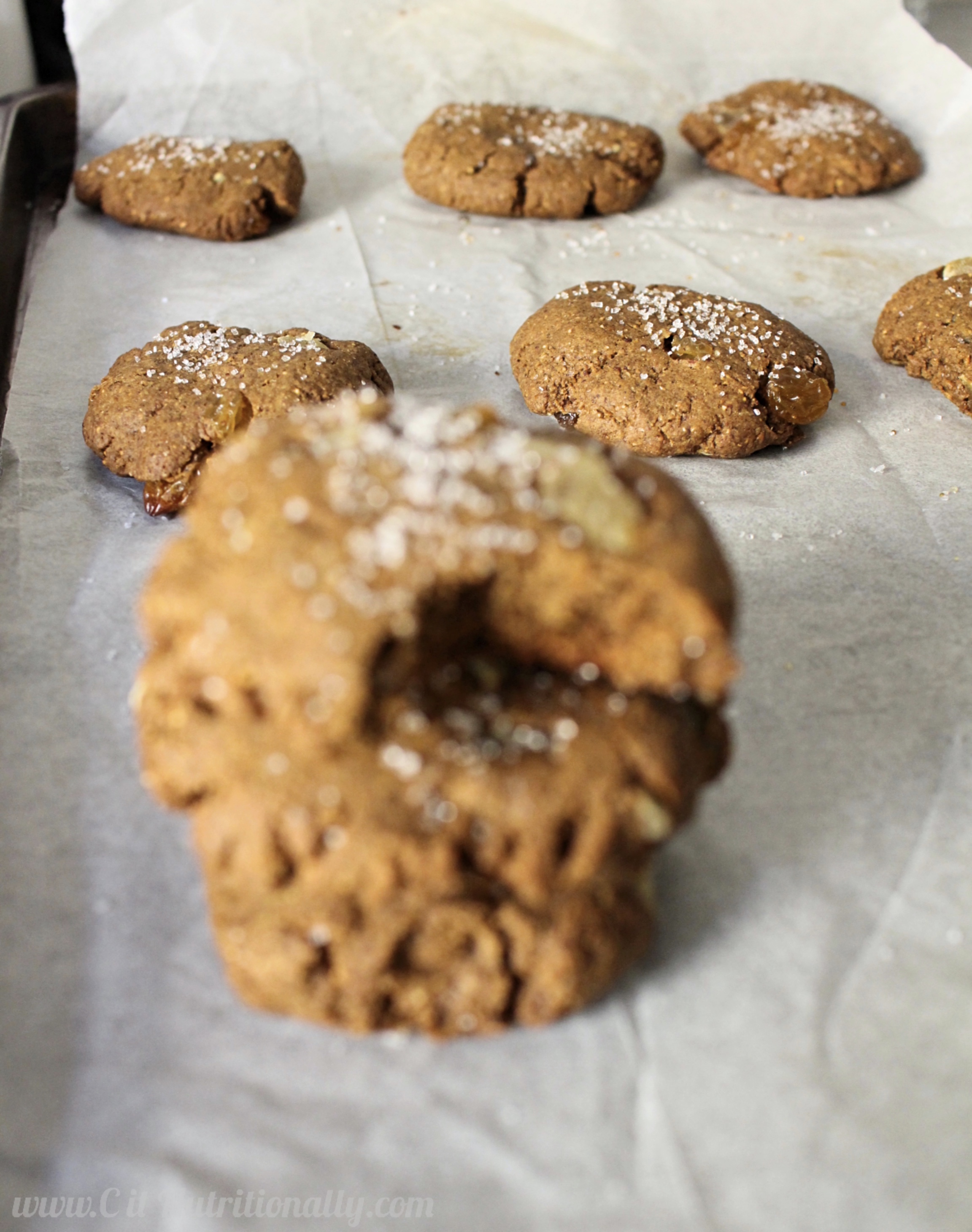 Here's how I healthified this recipe…
I used

half whole wheat flour + half all-purpose flour. I wasn't worried about this replacement because gingerbread cookies are a heartier cookie (or at least I think so). Plus, this simple swap added more fiber.

I replaced the brown sugar with

date sugar

, which is just dates pulverized until a powdery consistency forms, a la sugar! Although this is still a form of sugar, it's a more natural form of sweetness!

I replaced the eggs with

flax eggs to make the recipe vegan, plus add in some good-for-you omega 3s! You can also use a vegan buttery spread (like

Earth Balance

) to make these 100% vegan

I omitted the frosting and

used less sugar

as a finish sprinkled on top of each cookie (you can omit this, however, if desired, but the cookies truly are elevated to the next level with this extra layer of sweetness!).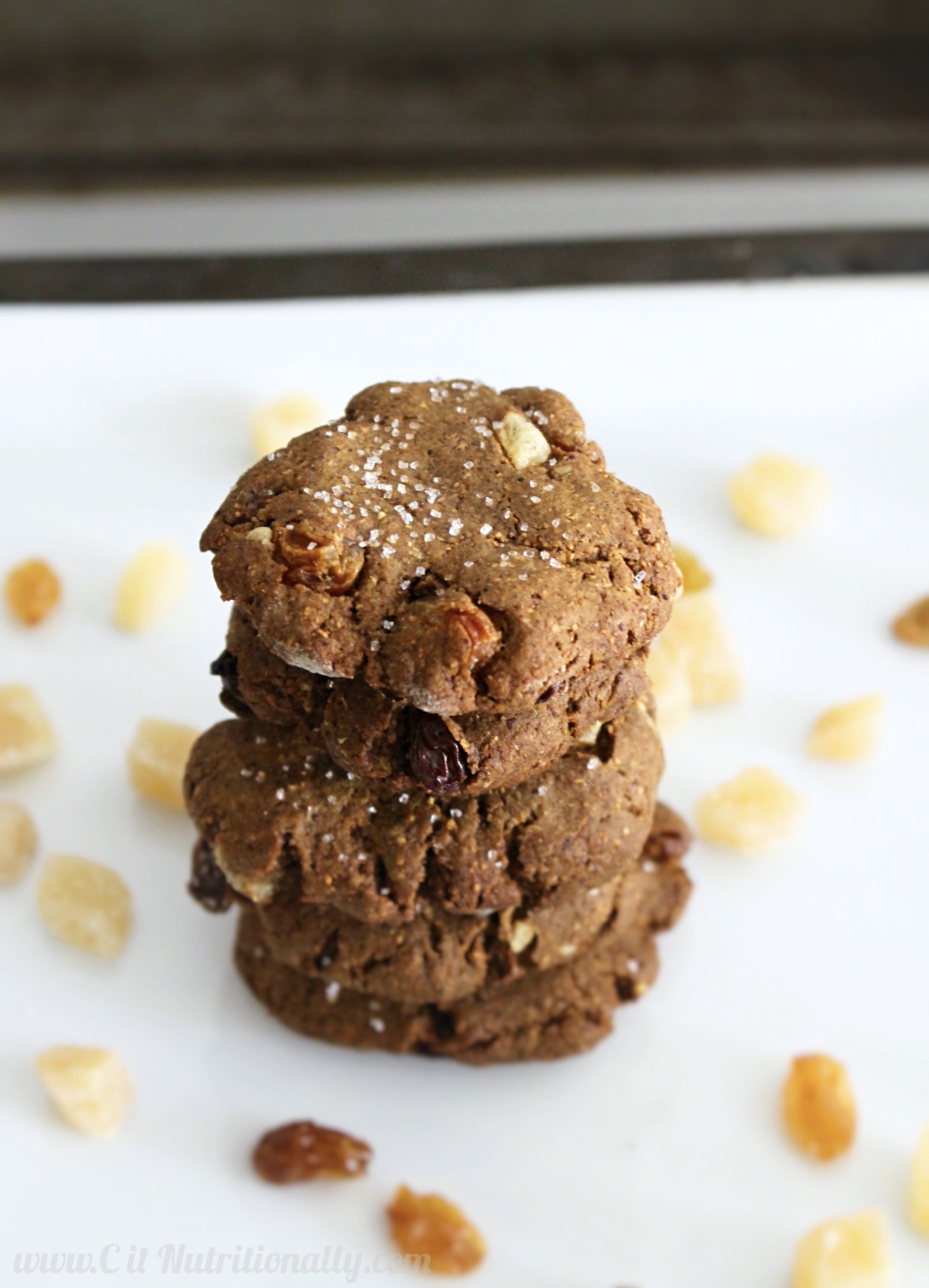 The changes I made above do make the cookie a little bit healthier, but I wouldn't go so far as to say these are a "healthy food." HOWEVER, the holiday season comes around once a year, so I think it's a time to indulge with awareness in these special foods that certainly are not everyday foods.
So if you're looking for an updated ginger cookie this season, this is your recipe! NOM!
Here are some things you'll need to make my Spicy Ginger Cookies…
Ingredients
1 1/2 tablespoons ground flax seed
1/4 cup unsalted, grass fed organic butter or vegan butter substitute (like Earth Balance), at room temperature
1/2 cup date sugar*
2 tablespoons unsulphured molasses
1/2 cup + 1 tablespoon whole wheat flour
1/2 cup all-purpose flour
1 teaspoon baking soda
1 teaspoon ground ginger
1 teaspoon ground cinnamon
3/4 teaspoon ground cloves
1/4 teaspoon salt
1/4 cup raisins (regular or golden)
3 tablespoons minced crystallized ginger (dry, not in syrup)
Optional: Additional sugar for dusting on top
Instructions
In a small bowl or ramekin, combine ground flax seed with 3 tablespoons water and mix to create a "flax egg." Set aside.
In a large bowl, beat butter and date sugar with a hand mixer on low to medium speed until light and fluffy, about 1 minute.
Once your flax egg is set (all of the water should be absorbed), add it to the bowl and incorporate on low speed. Scrape down the bowl, then add the molasses.
In a small bowl, combine flours, baking soda, ground ginger, cinnamon, cloves and salt and whisk together.
With the mixer on low speed, slowly add the flour mixture to the butter/sugar mixture, mixing until just combined. Mix in the raisins and crystallized ginger.
Gather the dough into a ball and wrap it in plastic wrap and refrigerate for at least 30 minutes or up to overnight. The dough should be able to stick together, but if it is too crumbly, you may add 1-2 tablespoons of water before forming the dough into a ball (I added 2 tablespoons of water, but did so 1/2 tablespoon at a time).
When you're ready to bake the cookies, preheat oven to 350°F and line a baking sheet with parchment paper or silicone baking mat.
Break off 1-2 tablespoons of dough and roll into a ball, about 1 inch in diameter. Press the ball between the palms of your hand to flatten. Place on the parchment paper-lined baking sheet. Repeat with the remaining dough. You should be able to form ~12-15 cookies. The cookies do not expand much when cooking, but be sure not to overcrowd your baking sheet. Sprinkle the cookies with coarse (decorating) sugar (optional).
Bake cookies for 12-15 minutes, until the edges just begin to brown. Be careful not to burn the bottom! Let cool mostly on the baking sheet, then transfer to wire cooling rack. Enjoy!
Cookies will store well for 5-7 days in an air-tight container or (I assume) frozen for up to 3 months.
Notes
*Alternative: light or dark brown sugar
Nutrition Facts (per cookie, assuming 12 cookies are made): 122 calories, 4.3g fat, 157mg sodium, 21g carbohydrates, 1.2g fiber, 1.5g protein
http://citnutritionally.com/spicy-ginger-cookies/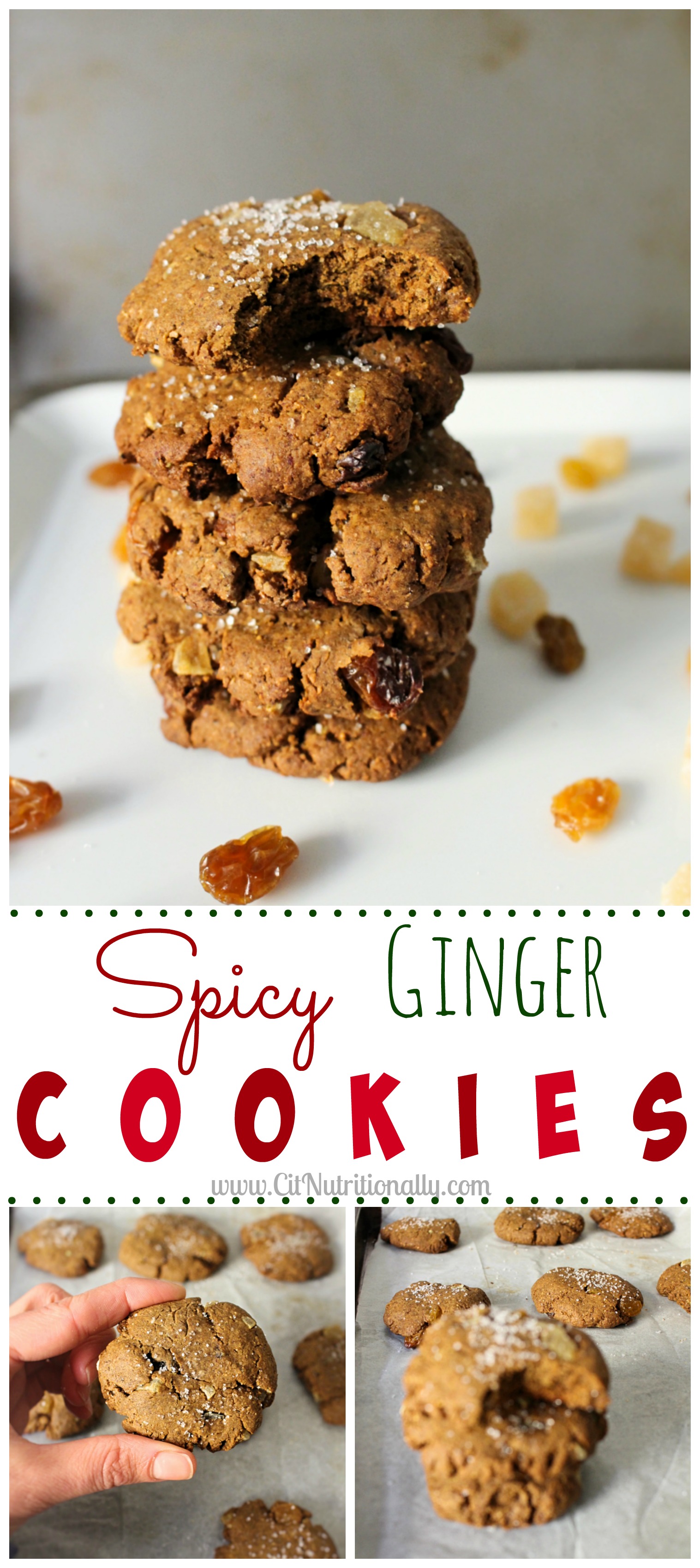 Happy baking season!!
XO
Please note, this post does contain affiliate links! Thanks for supporting C it Nutritionally!