Give your classic tuna salad a delicious makeover with an extra punch of protein in this simple and nutritious lunch…spinach, egg white and tuna salad!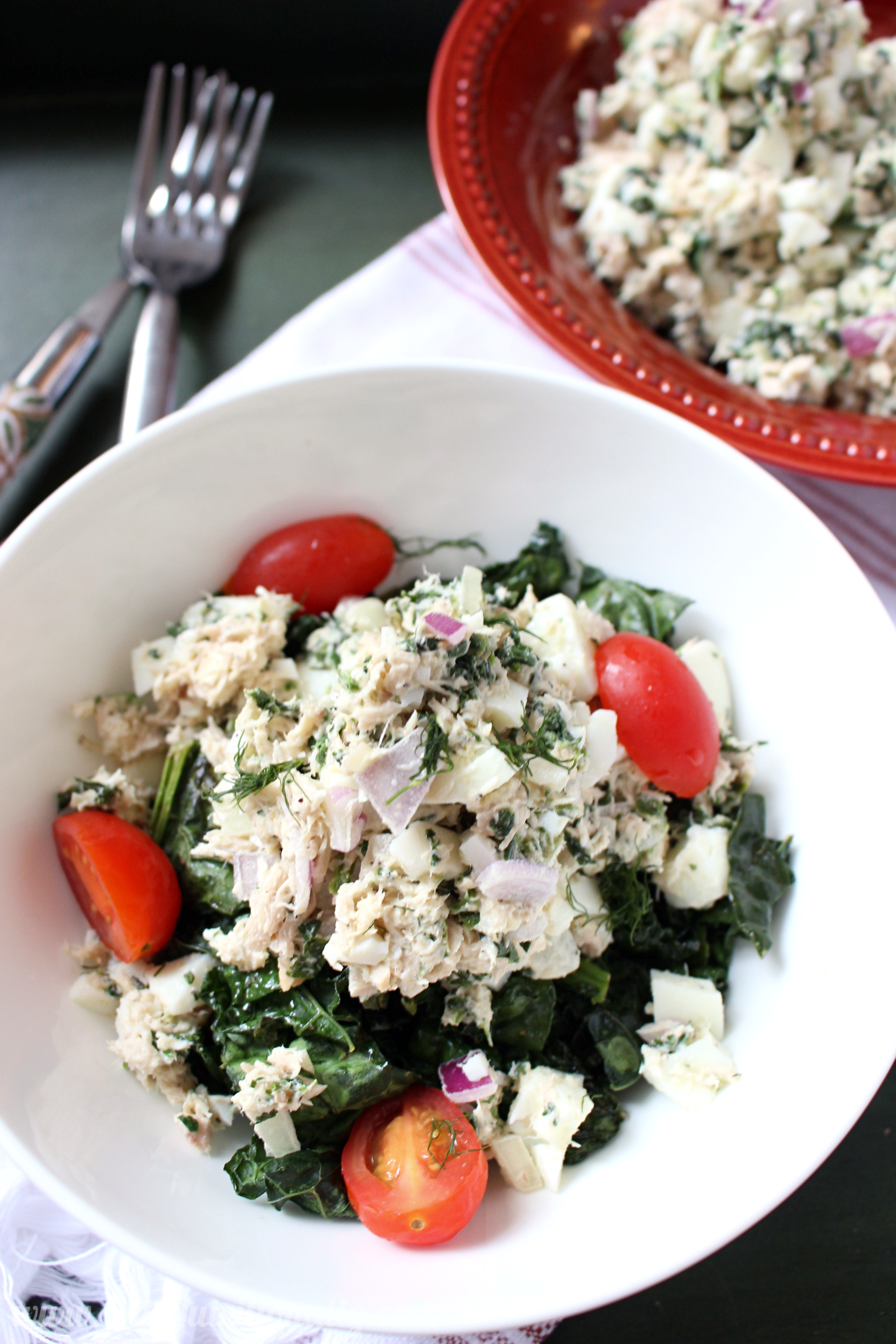 This semester my #lunchgoals have been to get the most nutrient bang for the least time consuming buck. For all my busy ladies (or men) out there, this recipe is for you!
I whipped up this new take on tuna salad while I was knee-deep in midterms, so this fresh lunch idea checks off all the required "lunch boxes"…((get it??))
All things delicious (duh!)

Prevents an afternoon energy crash
Takes less than 15 minutes to prepare
Veggie-rific! (because brain power!)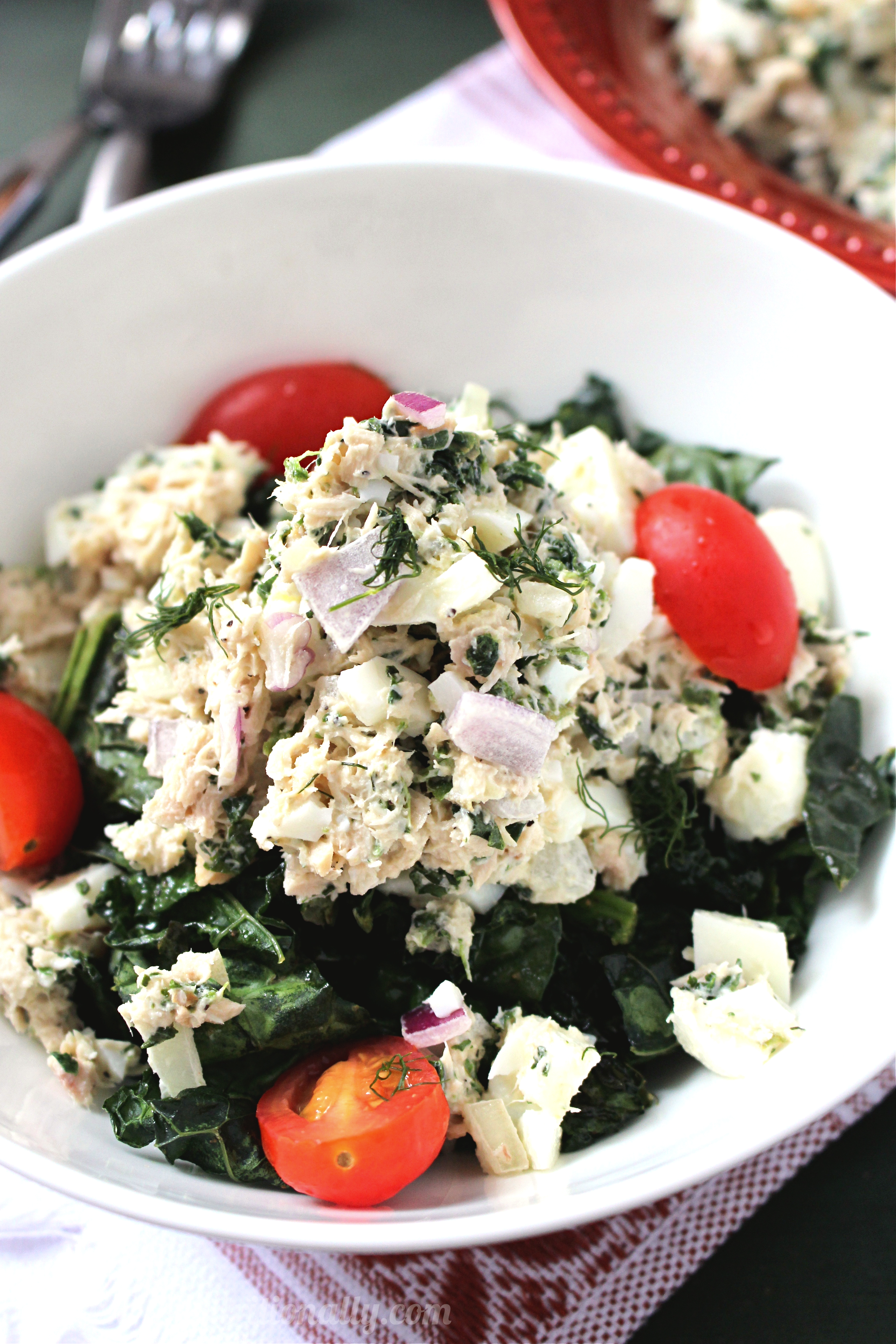 Now I know people are tuna salad lovers or tuna salad haters, but this recipe may change your mind! Personally, I'm a tuna salad lover and my brief stint on a strict vegan diet ended with tuna salad. #truth
This recipe is inspired by a bagel store back home that features this DELISH spinach/egg white/tuna combo. I try not to purchase tuna salad at bagel stores all that frequently because they're typically loaded with excess fatty mayo, so re-creating it at home allows me to control the fat content while retaining the bomb dot com flavor I crave!
I quickly boiled a few eggs, cracked open a can of tuna, and threw some frozen chopped spinach in the microwave.
((It sounds weird…I know…Don't judge yet!))
I flaked the tuna into a reusable container (because things are SO not as glamorous as they seem and I eat 95% of my meals straight from plastic storage containers — BPA free — most of the time!), chopped up some onion, added my condiments, threw in defrosted frozen spinach (the importance of a well-stocked freezer!), and waited for my eggs to boil.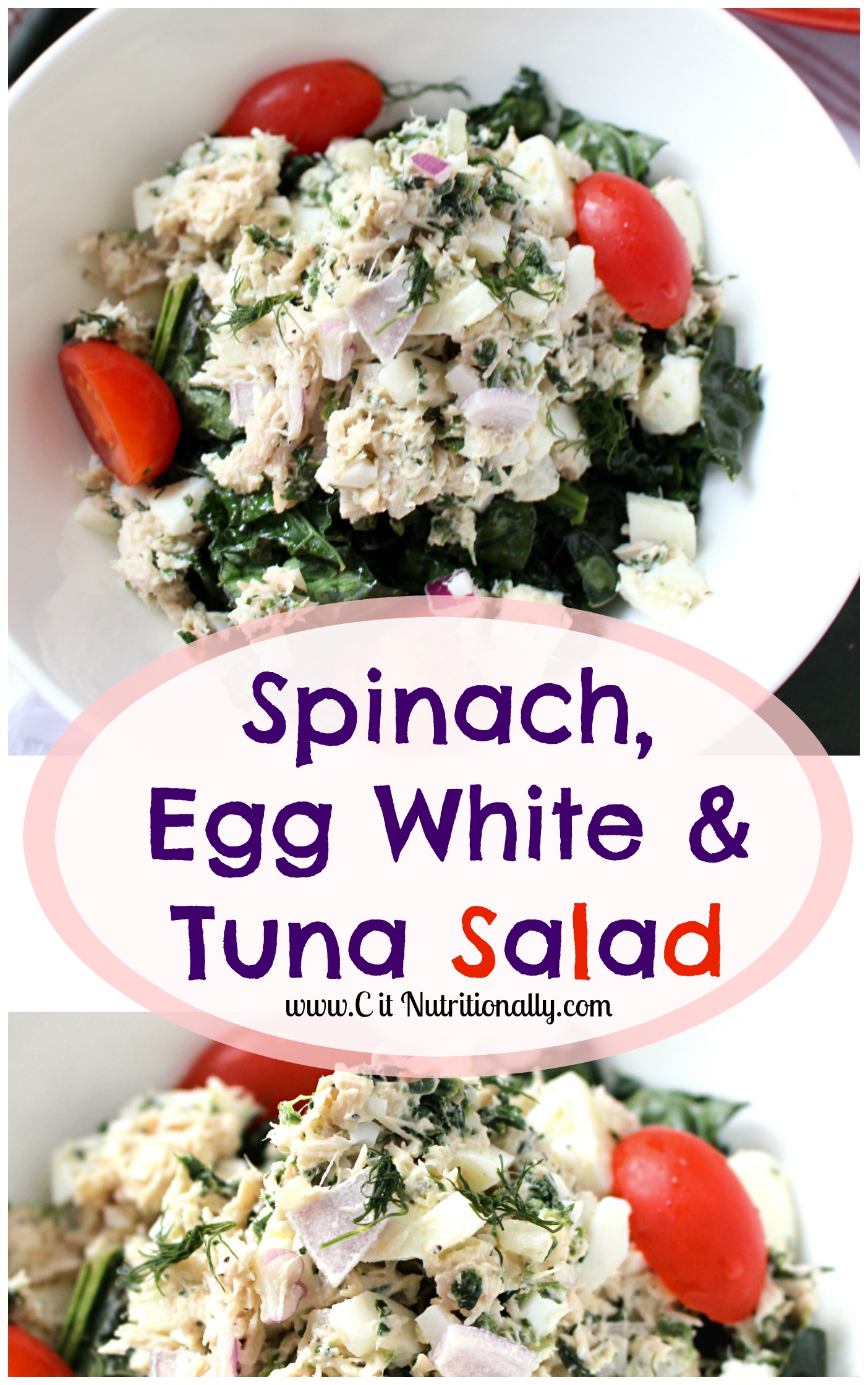 This protein-packed spinach, egg white, and tuna salad (is not only a mouthful to say), but LOADED with protein that will definitely keep you full until dinner. Plus, it has an antioxidant and iron boost from the spinach — Popeye wasn't joking around! Throw it atop a salad, on whole grain bread or crackers, or eat it straight up with cucumbers and grapes (one of my favorite ways to eat tuna!).
If you're not a mayo fan (even though it's just 2 tablespoons) you can swap in smashed avo instead with a pinch of salt. (I desperately needed to go food shopping so didn't have any avocados around!)
Get your fork ready…

Spinach, Egg White and Tuna Salad
Cuisine:
Deli, American, Gluten Free
Author:
Prep time:
Cook time:
Total time:
Your simple and nutritious lunch requests are answered with this spinach, egg white and tuna salad. Give your classic tuna salad a delicious makeover with an extra punch of protein!
Ingredients
4 eggs
1 5oz can white albacore tuna, in water, with excess water squeezed out
½ cup frozen spinach, thawed with excess water squeezed out
1/8 – ¼ cup red onion, chopped
2 tablespoons mayonnaise (substitute: 1/2 avocado, mashed, with a pinch of salt)
1 tablespoon Dijon mustard
¼ teaspoon freshly ground black pepper
¼ teaspoon dried oregano
1 tablespoon dill, chopped
Instructions
Prepare hard boiled eggs: Bring a medium pot of salted water to a boil. Once a rumbling boil is achieved, add the eggs and boil for 10 minutes. When eggs are done, drain water and run under cool water. Peel eggs, discard yolks, and chop whites. Refrigerate while you prepare the rest of the ingredients.
Flake tuna into a medium-sized bowl. Add chopped egg whites, thawed, frozen spinach, onion, mayonnaise, mustard, spices and herbs. Mix well to combine. Enjoy over salad, with whole grain crackers, or on a sandwich!
Refrigerate if not serving immediately.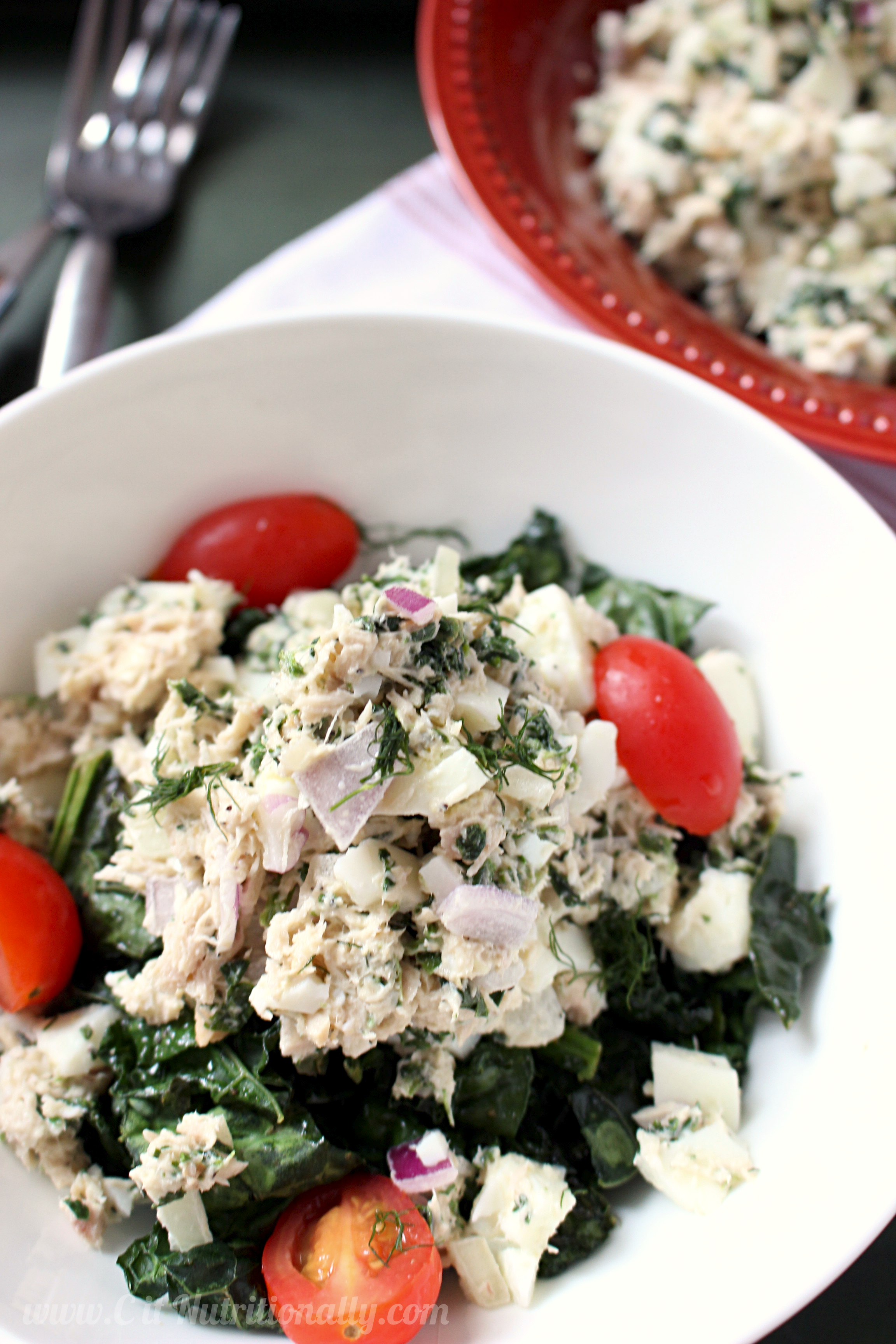 Let your tuna pride flag fly! Enjoy!
XO