One-ingredient creamy, nutty, homemade seed butta that is 100% sugar free and oil free too? YUP, it can be done! My sugar free, oil free sunflower seed butter is an essential in our house! Free of the top 8 food allergens, Paleo, Whole 30-approved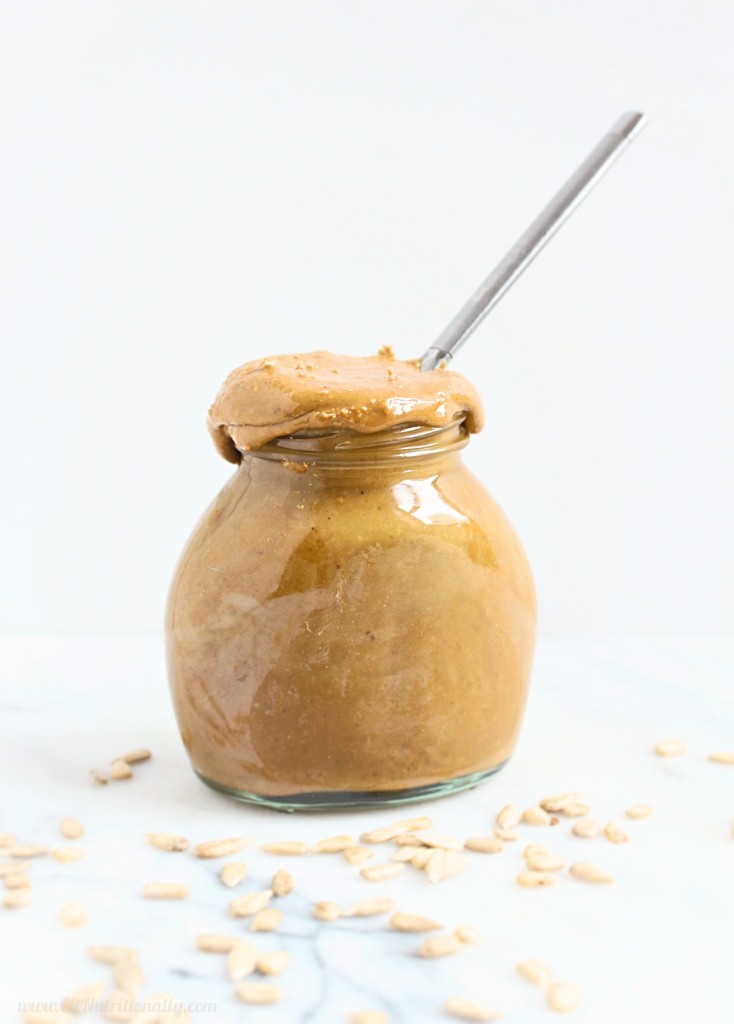 You guys… I made the butta that broke my baby food processor's back. And by back I mean engine, durr.
But now that I'm ENGAGED to mah bae ((cue all the AHHHHHS and heart-eyed emojis!!)) we'll register for a new one ASAP so we can make more oil free sunflower seed butter! On that note, THANK YOU for all of your warm messages on Instagram and Facebook. S and I are SO excited for this new phase of our lives and we cannot wait to share it all with you guys — because you are my family as well!!!
When S and I went added sugar free (full recap coming next week!) I took a goooood look at every single label in our house and the only one that really posed a problem was my sunflower seed butter addiction.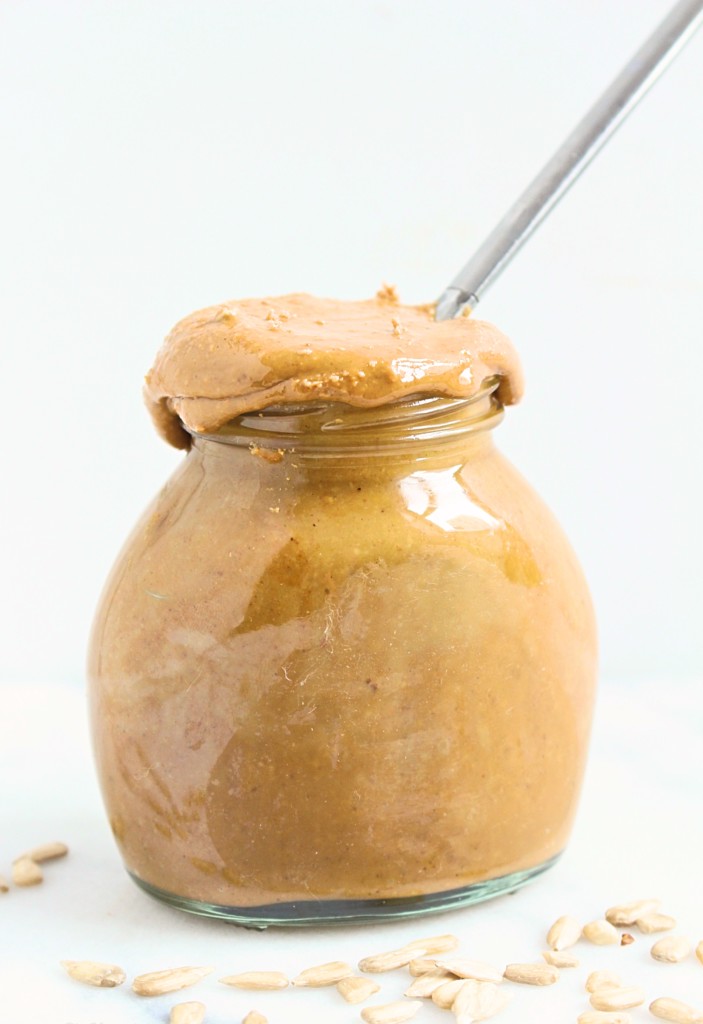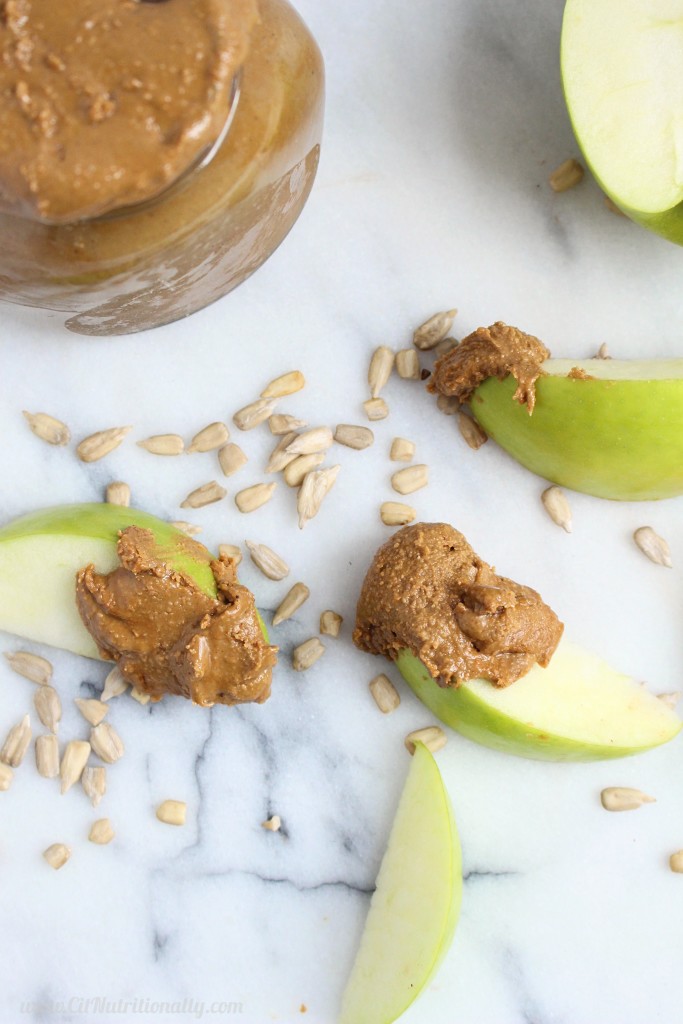 To be honest, sunflower seed butter can be bitter if not made properly. There can be a slightly strange aftertaste, which is why companies often add a touch of organic cane sugar. And I honestly think that's OK…if it's just a touch (look for less than 5 grams of sugar per serving!). 
BUT since we were strictly added sugar-free for a week, even the 2 grams in my usual SB choice was too much. So I got to roasting my seeds and making my own…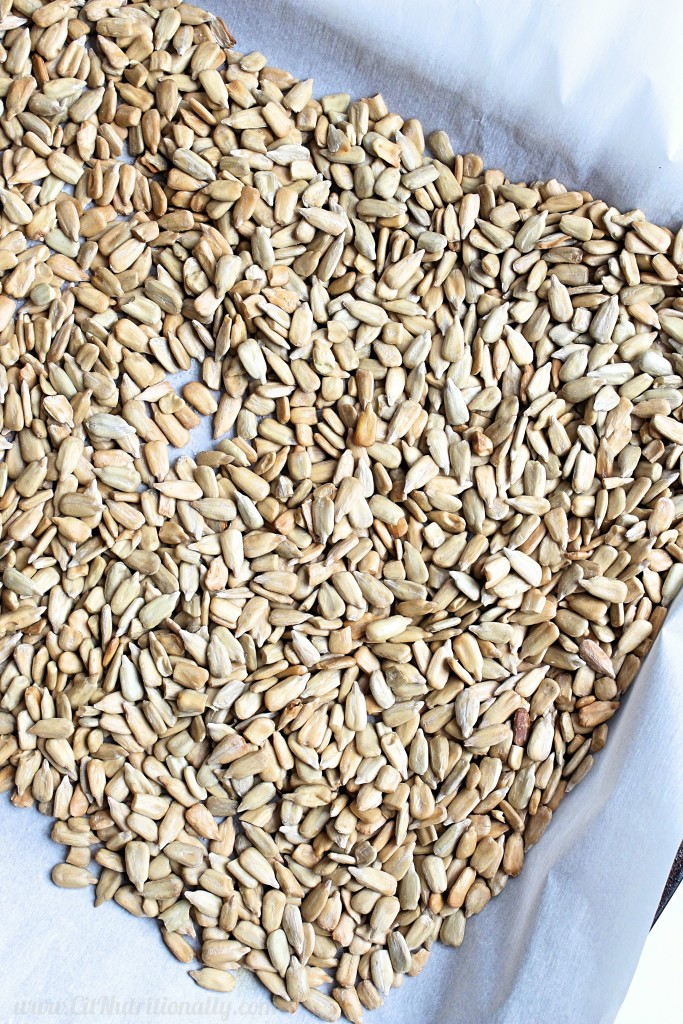 Now, I'm no stranger to DIY SSB ((and my brother told me I write in too many ABBREVS this weekend…huummmmphh))…
Have you tried my no added sugar version sweetened with medjool DATES?!
Or this chocolate version (hello nut free nutella)???
Or my maple cinnamon SSB?! 
Well, now I have a new one to add to the mix…
Oil Free Sunflower Seed Butter!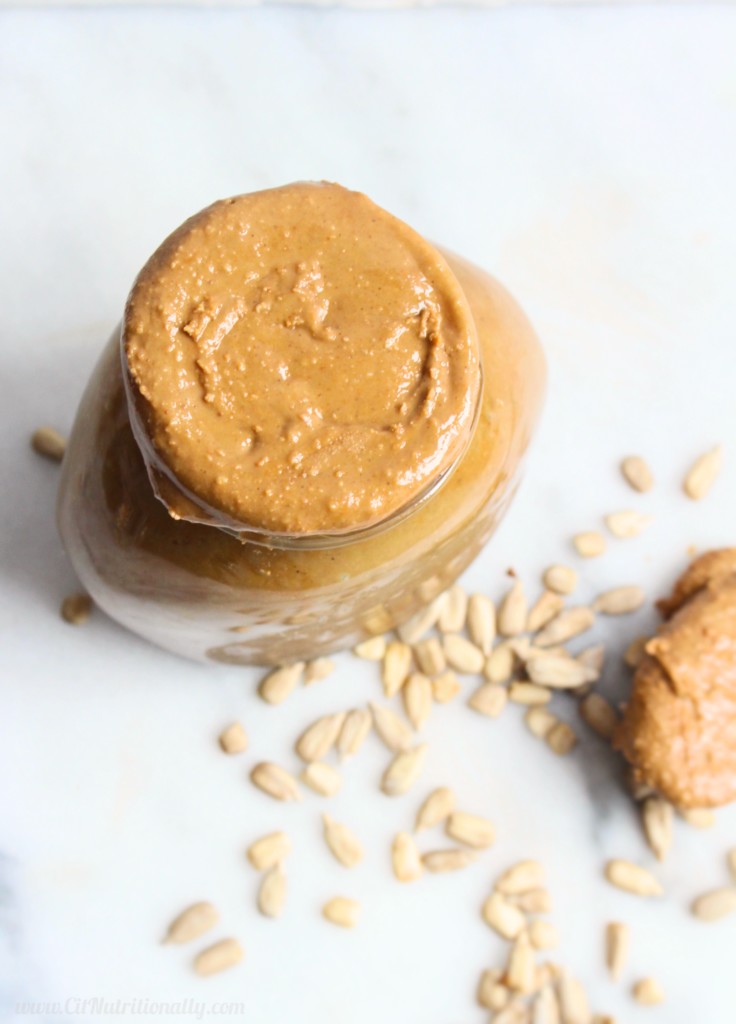 This butta is made with pretty much one ingredient: sunflower seeds!! I added a generous pinch of sea salt and ground cinnamon too, but those don't count, right?! 
The secret to making this SSB extra buttery is to roast the raw seeds so the heat releases some of their natural oils and then to JUST. KEEP. GRINDING. ((Finding Nemo style))
It will take over 10 minutes, but that's OK and that's normal! Pause your food processor every once in a while and scrape down the sides, but then just keep grinding!
And grinding. And grinding.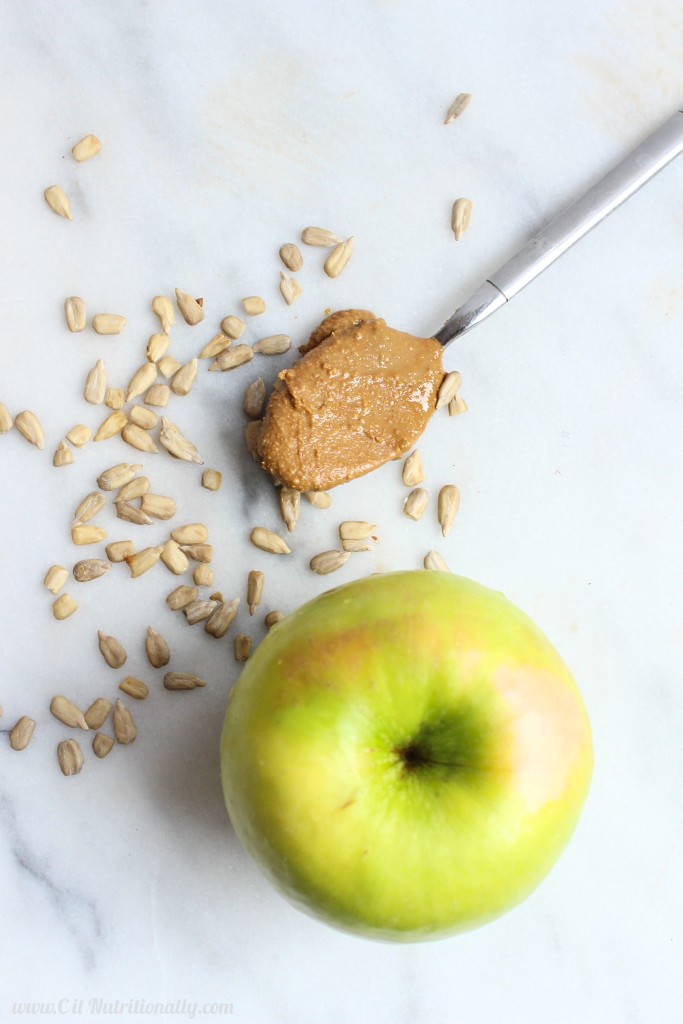 And lick all the spoons a gazillion times…
It's THAT GOOD!!!


Sugar Free, Oil Free Sunflower Seed Butter
Ingredients
2 cups raw sunflower seeds
Sea salt
Ground cinnamon
Instructions
Preheat oven to 350F.
Place sunflower seeds on a parchment paper-lined baking sheet and roast for 7-10 minutes, until golden brown. Be careful not to burn!
Carefully transfer roasted sunflower seeds to the bowl of a food processor. Grind until smooth, occasionally scraping down the sides of the food processor. It will take approximately 10-20 minutes, depending on your food processor.
Store in an air-tight container. Sunflower seed butter will stay fresh for about 1 week unrefrigerated and for 2-4 weeks refrigerated. Enjoy! :)
http://citnutritionally.com/sugar-free-oil-free-sunflower-seed-butter/
Don't forget to PIN IT…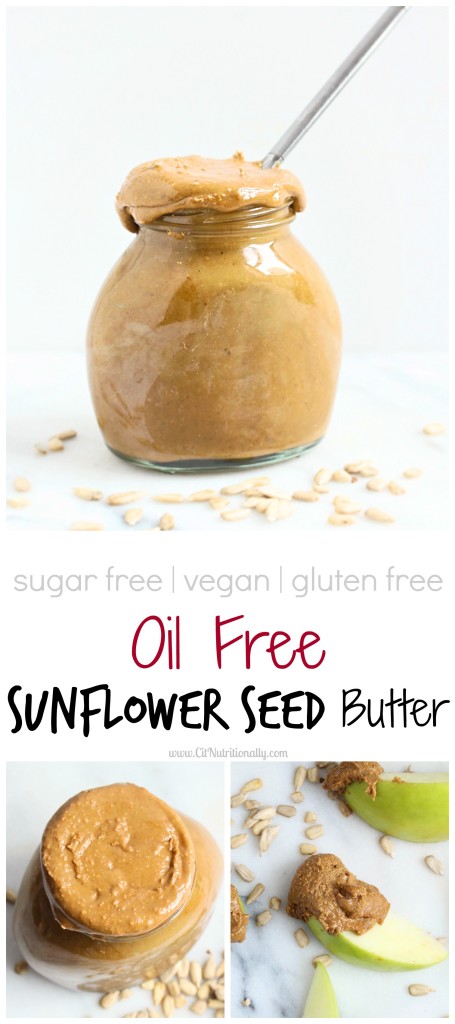 Have you ever made your own nut or seed butter? 
Kick off your week deliciously…
XO
Note: This post does contain affiliate links, which means I receive a small commission if you buy a product through the link on my site, at no additional cost to you!

Let's get social!
Facebook: C it Nutritionally
Twitter: @ChelseyAmerRD
Instagram: @CitNutritionally
Pinterest: ChelseyAmer