Bright, filling, and delicious, this Summer Quinoa Salad with arugula pesto dressing is sure to be a crowd pleaser…or at least impress your taste buds for a simple "Weeknight Cooking" recipe! Vegan, Nut free, Dairy free, Gluten free option.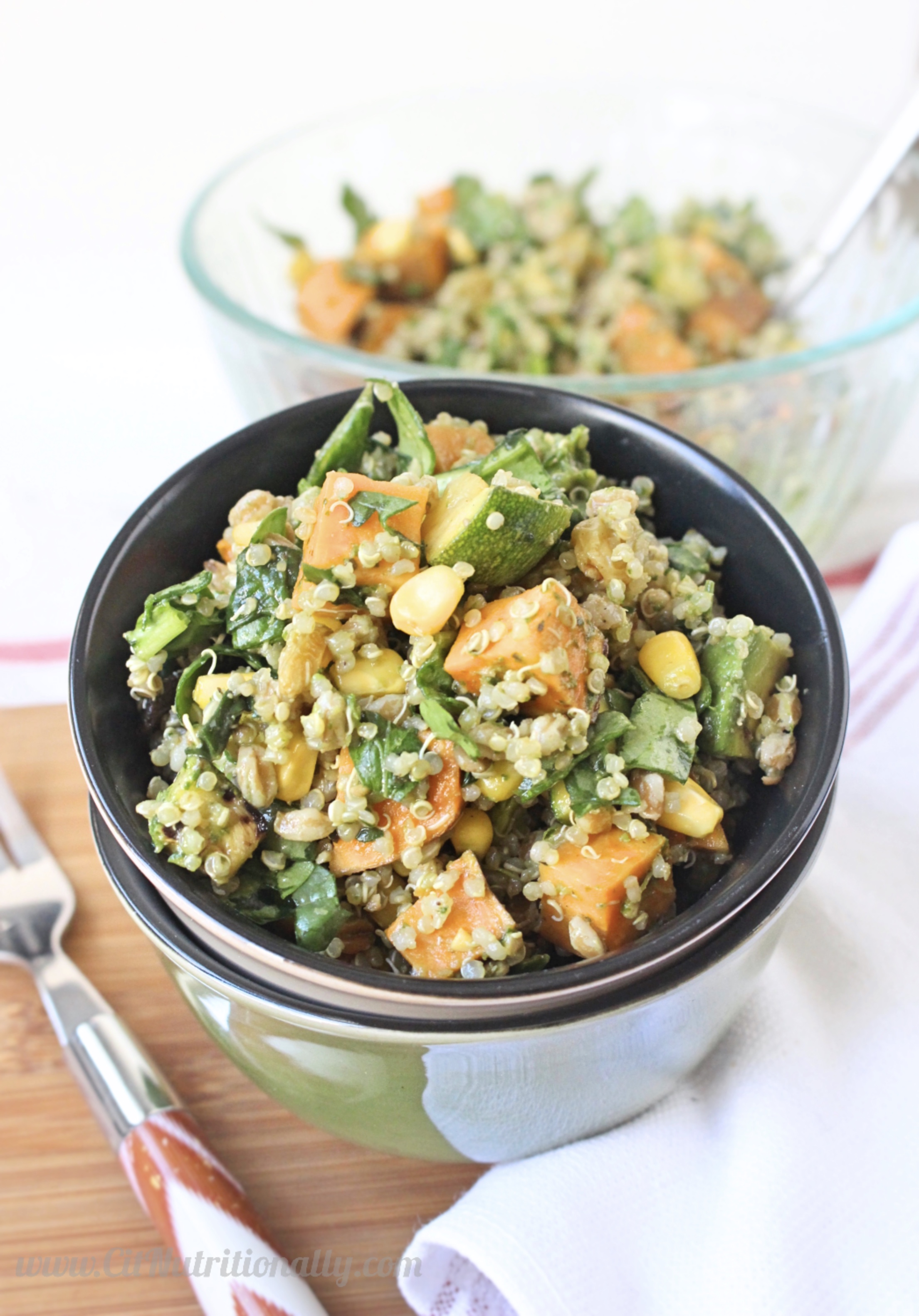 I'm totally a cook once, eat twice (or usually three or four times) kinda gal. Life's too busy to spend the time cooking and then not know what to do with leftovers…which is why this Weeknight Cooking recipe is SIMPLE beyond simple AND uses leftovers (OR lezzzbehonest, store-bought [nut free] pesto, if it's a typical week).
If you follow me on Instagram and now Snapchat (@chelseyamer <– follow me!), you know I'm a huge fan of quinoa salads, frequently noshing on grain salads for a hearty and filling lunch. Or for dinner when it's 90 plus degrees outside and I'm dying and the LAST thing I want to do when I get home from work is turn on my oven, because like WHYYYY?!
So last week I was eyeing leftover pesto in the fridge and knew it would be a delicious dressing for a grain salad. There's a lot of chatter on the world wide web about grains… if you should eat them (YES!) and if they're inflammatory (likely, NO), so I want to clear that up.
100% whole grains (including the germ, bran and endosperm) are an EXCELLENT source of nutrition…
They're chock full of B vitamins and minerals, such as manganese, selenium, and magnesium.
They're a good source of FIBER, which most Americans do not get enough of.
They DO contain PROTEIN. In fact, quinoa and farro each provide 12 and 14 grams of protein per 1/2 cup (dry). 

There are SO many varieties…let your imagination go wild! Try teff, amaranth, barley, bulgar, millet, quinoa, farro — they ALL contain the plethora of nutritious benefits I just mentioned.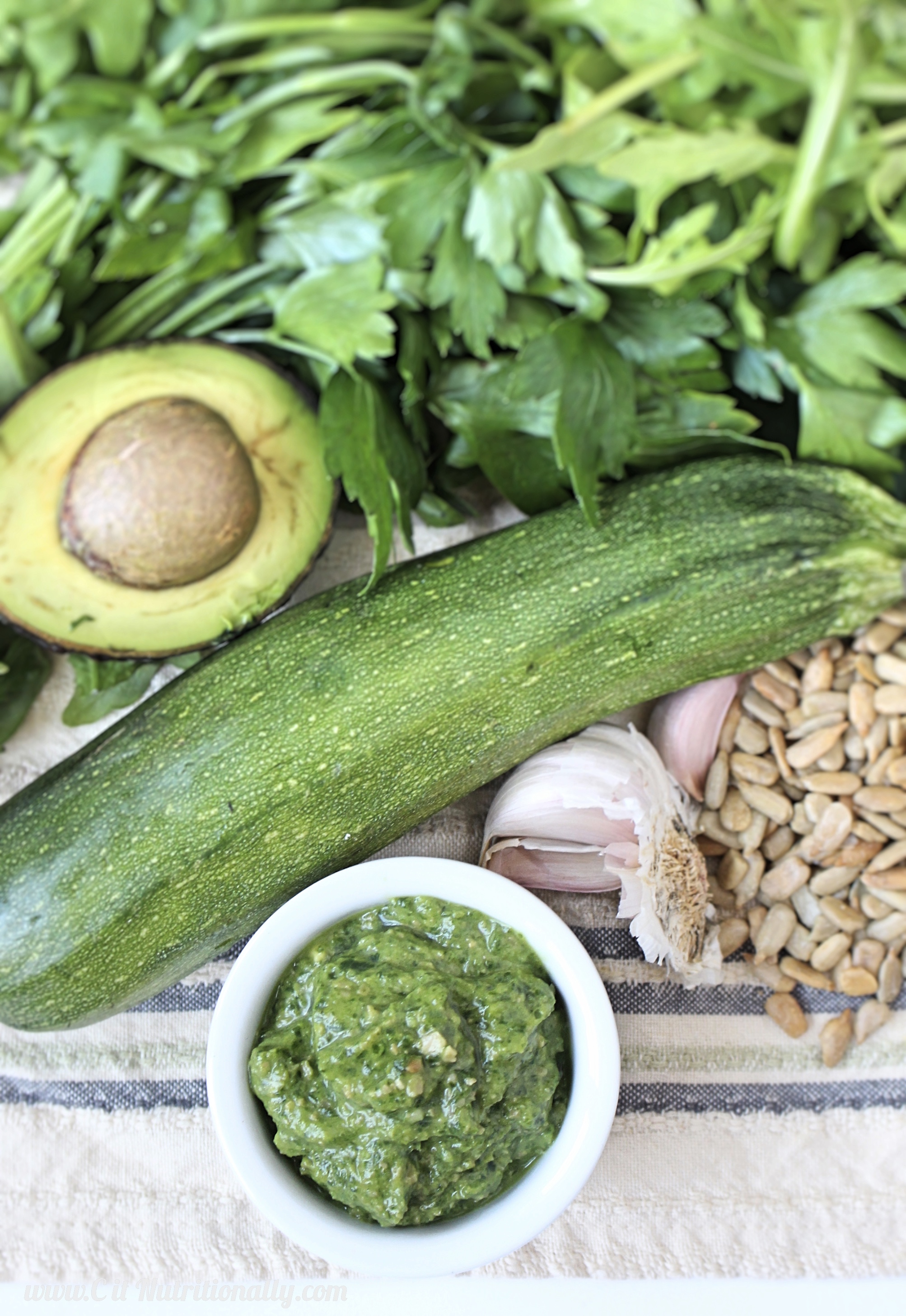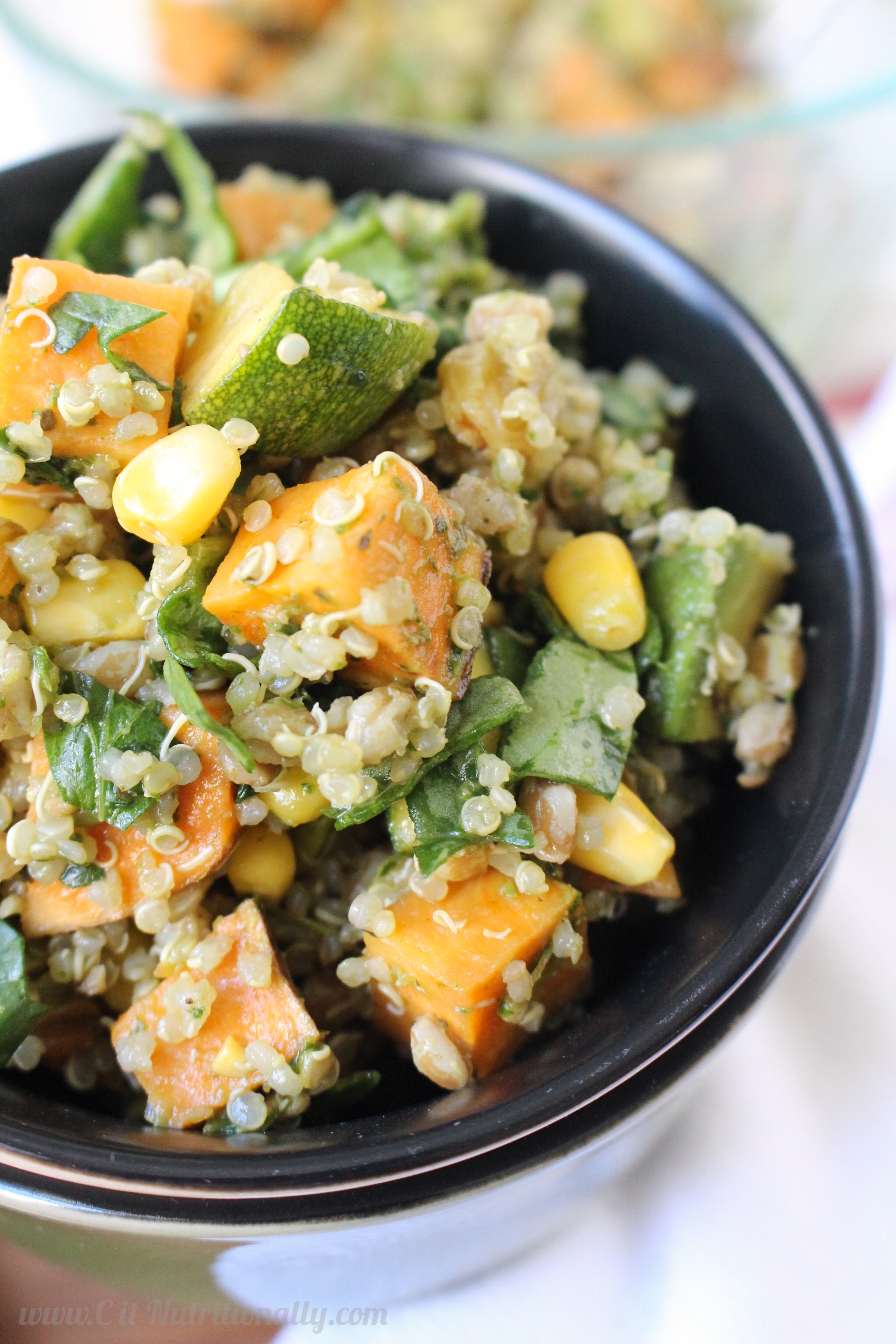 Plus, studies show including more whole grains in your diet is associated with increased longevity, reduced risk of chronic diseases, such as heart disease and diabetes, decreased inflammation and less of a cognitive decline. #winning
This Summer Grain Salad is…
Hearty

Satisfying

Delicious

Full of fresh summer flavors

Vegan

Dairy free

Nut free

Made in under 30 minutes!
Get in mah bellllyyyy!!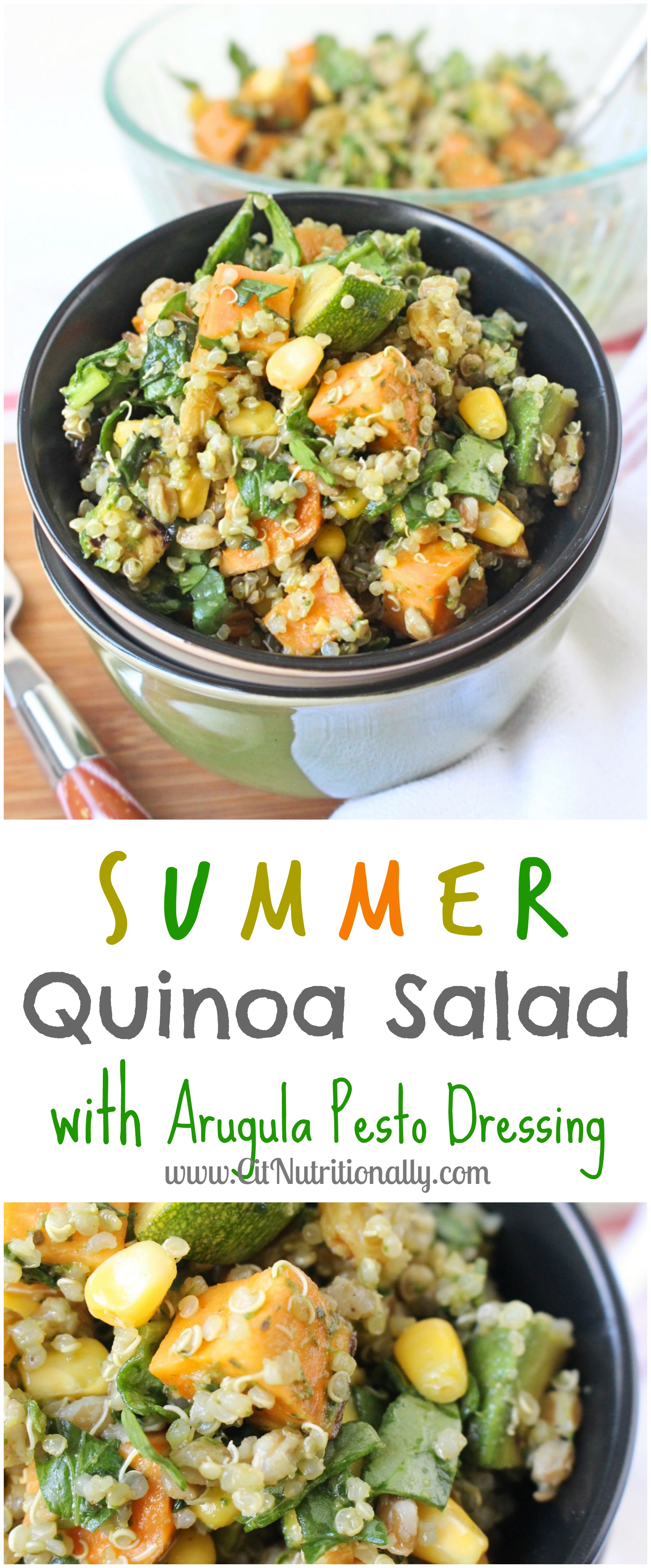 Here are a few things you may need to make this recipe:
Quinoa & Farro
Sea Salt
Heavy-bottomed Saucepan
Mixing bowl with lid ← for easy prep AND storage!
Weeknight Cooking: Summer Quinoa Salad with Arugula Pesto Dressing
Author:
Prep time:
Cook time:
Total time:
A bright, filling, and delicious summer quinoa salad with arugula pesto dressing is sure to be a crowd pleaser, or at least impress your taste buds for this simple Weeknight Cooking recipe! Vegan, Nut free, Dairy free, Gluten free option.
Ingredients
For the salad:
1 cup dry quinoa/farro mixed (for gluten free option, use 100% quinoa)
½ small sweet potato, cubed (~½ cup)
½ zucchini, chopped (~½ cup)
½ cup corn off the cob
2 tablespoons yellow raisins
2 cups spinach, chopped
⅓ cup fresh parsley, destemmed and roughly chopped
¼ teaspoon freshly ground black pepper
¼ teaspoon sea salt
¼ teaspoon dried oregano
For the dressing:
3 tablespoons Arugula Sunflower Seed Pesto (or your favorite store-bought pesto) – get the recipe here: http://wp.me/p4eJLc-1U9
1/2 tablespoon extra virgin olive oil
1 tablespoon freshly squeezed lemon juice
Instructions
Prepare quinoa and/or farro according to package instructions. Here's how I do it: Add ½ cup of each grain with 2 cups water and a pinch of sea salt in a saucepan. Bring to a boil, then reduce to a simmer, cover, and cook for ~10 minutes. Turn off the heat and let sit for another 10 minutes.
While the grains are cooking, microwave sweet potato cubes for ~2 minutes, until just tender to fork. Then add the zucchini and microwave for another 1 minute.
In a medium bowl, combine sweet potato, zucchini, corn, raisins, spinach, parsley and spices. Add the grains when fully cooked and toss to combine.
Toss the mixture with pesto, olive oil and lemon juice.
Taste, adjust spices to your preference. Enjoy room temperature or cold!
Serving size:
1/8-1/4 recipe
Calories:
129-258 kcals
Fat:
3-6 g
Fiber:
3-6 g
Protein:
4.5-9 g
***
Looking for some other great grain salads? These are some of my favorites:
8-Ingredient Green Quinoa Salad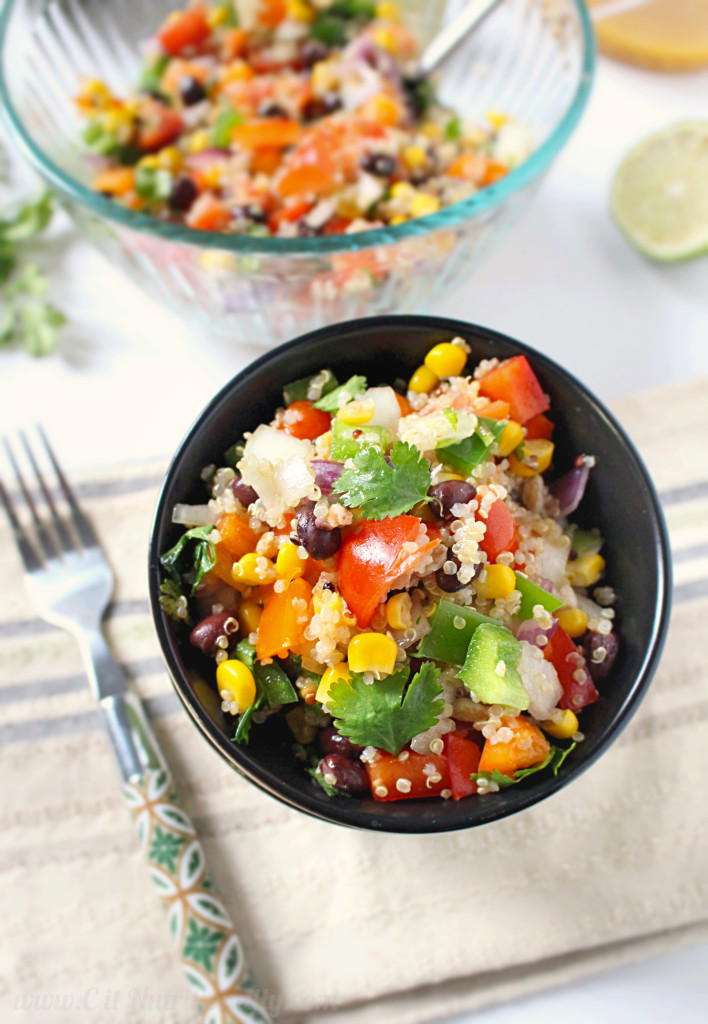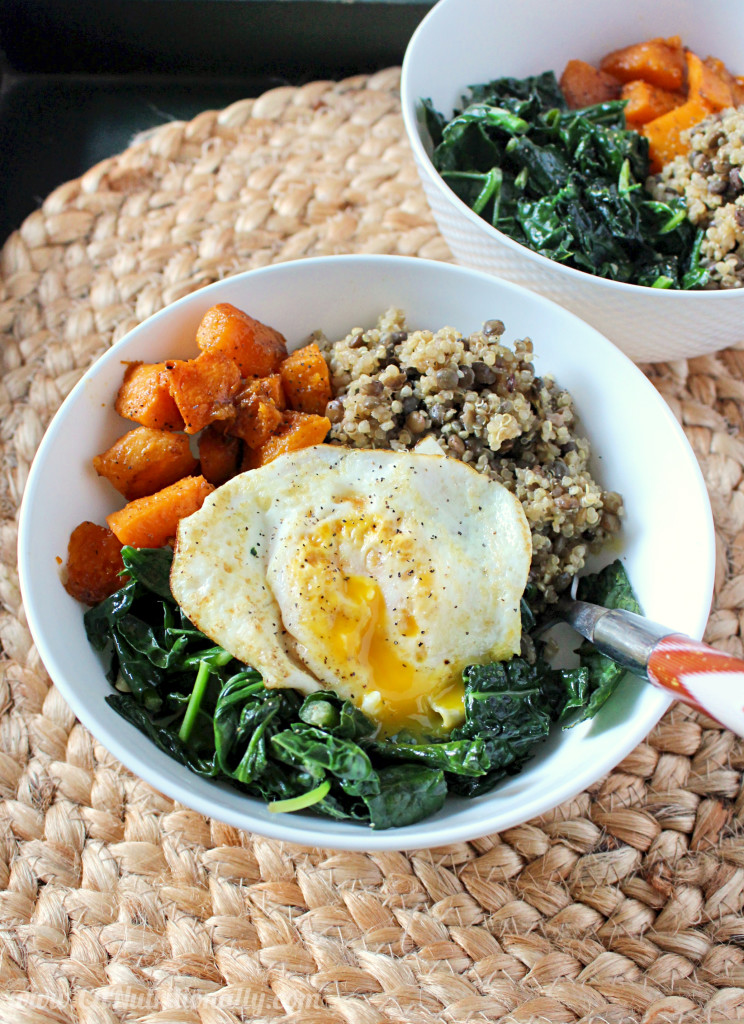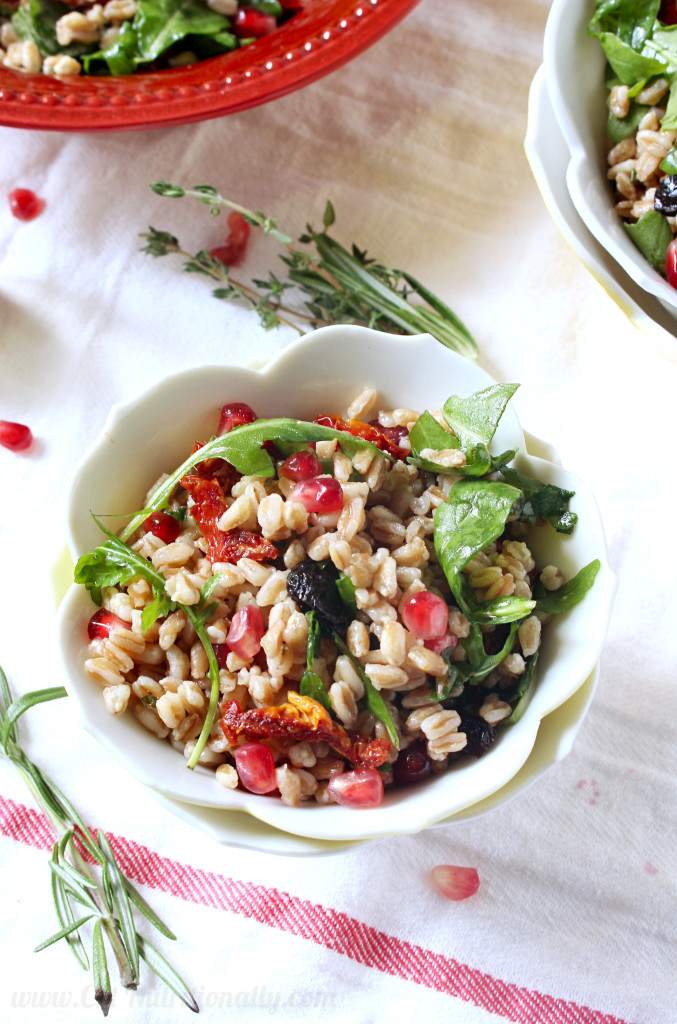 (try swapping in raspberries or sliced strawberries instead of pomegranate seeds in the summer!)
Have a fabulous Monday and stay cool out there!

 
XO