If you're looking for healthier comfort food fit for your entire family, look no further than my Sweet Potato Spaghetti and Meatballs, made in 30 minutes with less than 5 ingredients!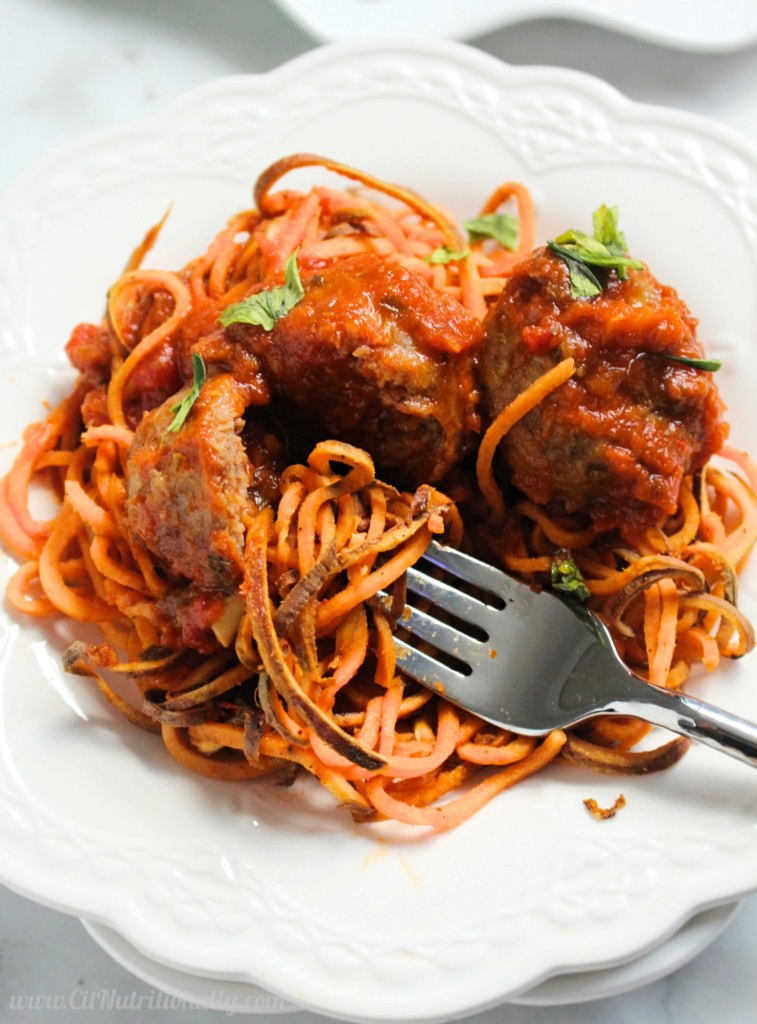 Disclosure: This is a sponsored post written by me on behalf of Bertolli® and Carando®. All opinions are entirely my own.
There's something about changing seasons that always gets to me. It's kind of like Mondays and the first of every month: BEGINNINGS. As the seasons turn, we're given a new blank slate. And that's not to say I'd like to totally wipe out the past season, but there's a new energy when the seasons change… and especially as we enter the holiday "sprint" (as I like to call it) from Halloween to New Year's.
The holiday "sprint" also happens to be my favorite time of year because who doesn't love festive energy (yeah, I know… The Grinch!)? And with so many holidays, gatherings and celebrations (helloooo my birthday is in there!!), this time of year also means lots of family time!
And there's nothing I enjoy more than family meals! Now that the biggest meal of the year (Thanksgiving, duh!) is approaching, we can look forward to more intimate family meals.
Did you know that family meals are associated with…
Higher academic performance
Greater self-esteem
Healthier body weight
…and much, much more?
But who has time to prepare a big elaborate meal every time you want some QT with the fam? Not I! I'm all about quick, satisfying, easy to prepare meals that don't take hours of labor in the kitchen, but my entire family will enjoy… and trust me, there are A LOT of cooks in the kitchen… if you know what I mean 😉
So I rely on a family favorite: Spaghetti and meatballs… with a deliciously nutritious twist!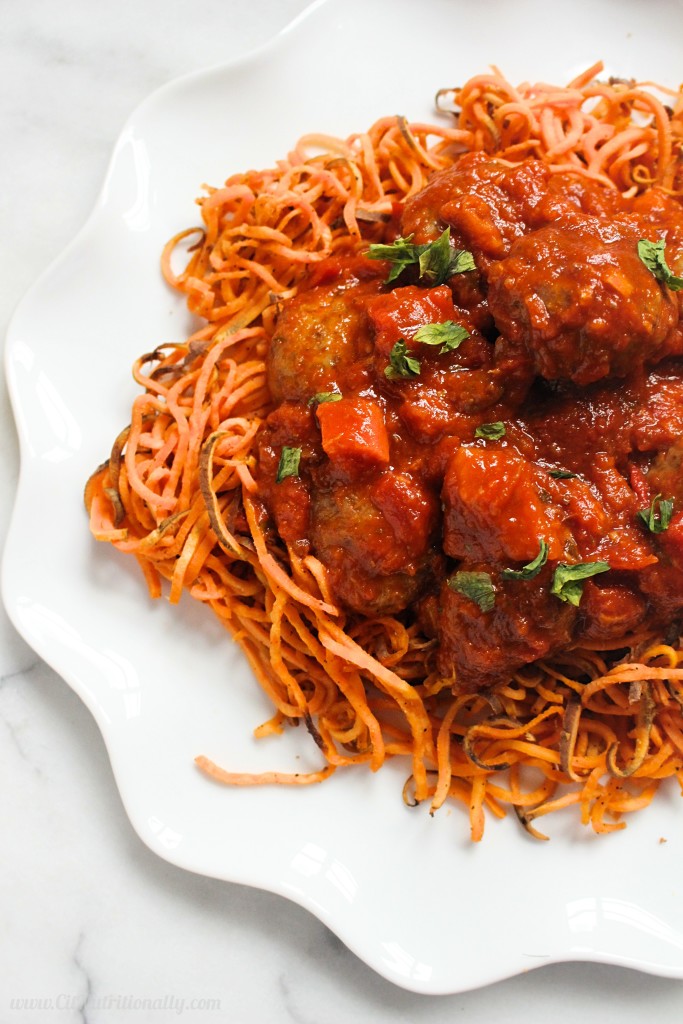 Growing up, spaghetti and meatballs was one of two meals I would eat at my grandparents (not kidding you!). To this day, every time I see spaghetti and meatballs on a menu I get a warm and fuzzy feeling inside because it reminds me of dinners with my cousins and siblings at my grandparents' home. There's something about this family staple that's comforting, delicious, and actually quite nutritious too!
I know my grandma felt good about serving us a hearty meal, and we ate up every minute of love! Even when I went away to college and only got to visit my grandparents while on break, I always requested spaghetti and meatballs for dinner!
So when Bertolli and Carando invited me to create a deliciously simple, quick (and obviously nutritious, because, well, it's me!) meal, I jumped at the chance to recreate a childhood family favorite with a Chelsey twist! And I was able to purchase everything at Stop & Shop in Oceanside (make sure to visit their coupon page and save!)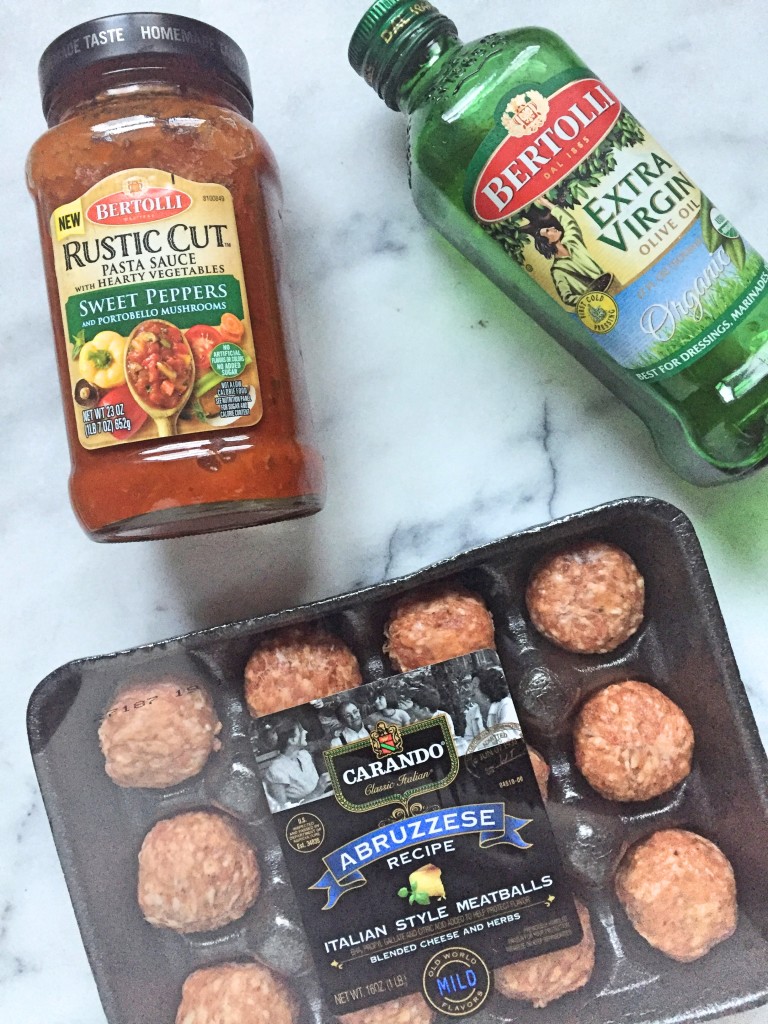 Instead of traditional spaghetti, I decided to use hearty sweet potato noodles to add more nutrients, heart-healthy fiber, and sweetness for all of my delicious memories!
My Sweet Potato 'Spaghetti' and Meatballs are…
Made with just 5 ingredients
Easy to whip up in less than 30 minutes
Gluten free and Grain free
Perfect for Sunday supper
Delicious for the whole family!
Sweet Potato 'Spaghetti' and Meatballs
Ingredients
1 package Carando Italian Meatballs
2 large sweet potatoes
1 tablespoon Bertolli Extra Virgin Olive Oil
1 jar (23 oz) Bertolli Rustic Cut Traditional Marinara Pasta Sauce or Rustic Cut Marinara Pasta Sauce with Vegetables
Salt and pepper to taste
Optional: Parsley and/or basil for garnish
Instructions
Preheat oven to 375ºF.
Place Carando Italian Meatballs on a tin foil-lined baking sheet and bake according to package instructions – about 20 minutes.
While meatballs are cooking, spiralize 2 sweet potatoes with a spiralizer to form "spaghetti." Place sweet potato noodles in a large glass bowl and microwave for about 2 minutes to speed up the cooking process. Then transfer sweet potato noodles on to a baking sheet, lined with parchment paper. Lightly drizzle with one tablespoon Bertolli Extra Virgin Olive Oil and sprinkle with salt and pepper.
Bake sweet potato noodles for 15-20 minutes (can be at the same time as the meatballs), until cooked through and crispy on the edges.
Heat up one jar of Bertolli Rustic Cut Traditional Marinara Pasta Sauce in a medium-sized stock pot. When the meatballs are cooked through, add to the sauce.
To assemble, layer sweet potato spaghetti in a large serving plate or bowl and top with meatballs and sauce. Add an extra drizzle of Bertolli Extra Virgin Olive Oil immediately before deserving, if desired. Enjoy!
http://citnutritionally.com/sweet-potato-spaghetti-meatballs/
Don't forget to PIN IT…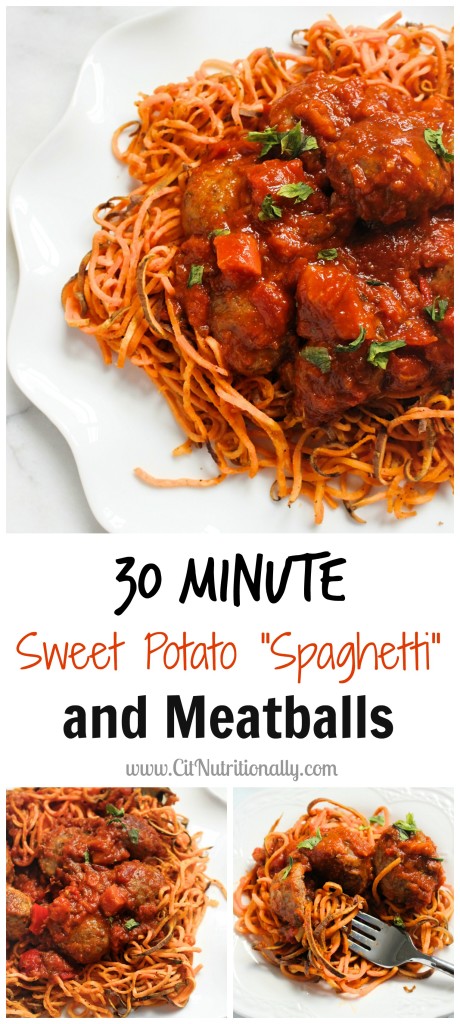 A delicious, family-friendly meal in just 30 minutes? I'll take it! For more recipe inspo and information (and coupons!) visit this page!
Here's to many family meals this fall!
XO
If you want to stay connected or you make something from C it Nutritionally I would LOVE to see your creations! Tag me or use the hashtag #CitNutritionally!

Let's get social! 
Facebook: C it Nutritionally
Twitter: @ChelseyAmerRD
Instagram: @CitNutritionally
Pinterest: ChelseyAmer