Aromatic herbs and fresh vegetables make this simple baked ratatouille a beautiful weeknight staple. Stay warm with this comforting vegetable dish that won't weigh you down!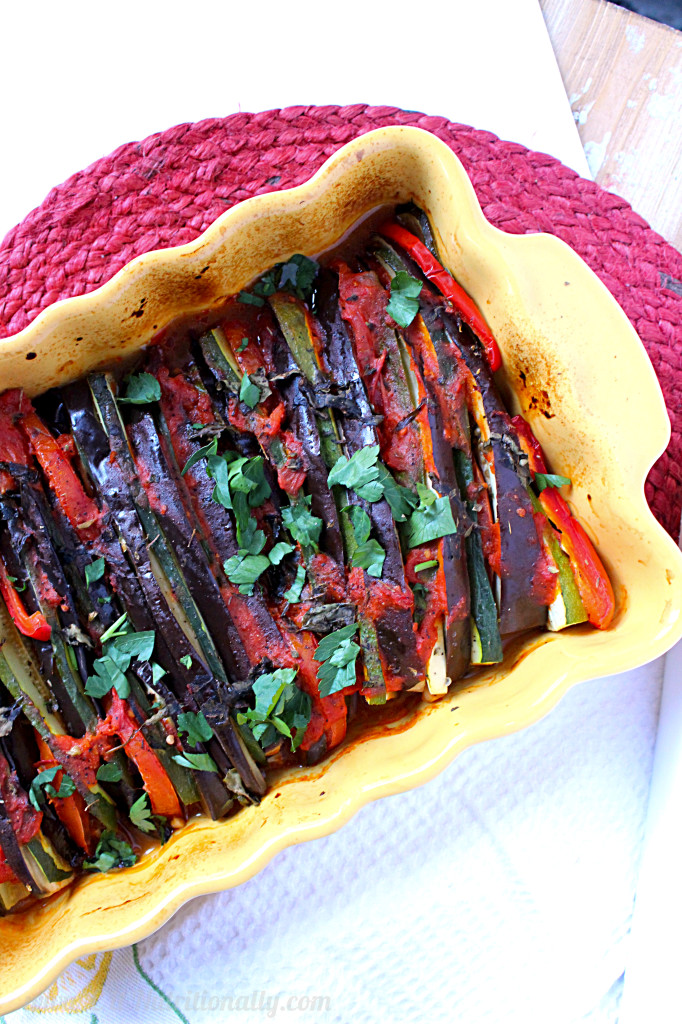 How on earth was your weekend?! It was be-youuuu-tifulll out on Sunday so I was slushin' around (is that a word?!), dancing my butt off, and getting some work done before I hunkered down to watch the Oscars! Do you like watching award shows? I know some people despise it, but I LOVE it (especially for the fashion!).
On movies…One college break I made plans to go to the movies with a friend. I forget if there was nothing else in theaters at the time or if we specifically made plans to see Ratatouille, but either way, we went. And were also the only ones in the theater without children. There's something about seeing an animated film in the theater, when you're an "adult," that is totally awesome and brings you back to your childhood.
If you haven't seen the movie, Remy (a rat) wants to be a chef, which is, of course, ludicrous because restaurant kitchens are probably one of the most rat-phobic places. Ever. Over the course of an exciting and funny (and sometimes skeevy…ya know, because of so many rats!) movie, Remy (spoiler alert!) achieves his dreams! 
After seeing the movie I distinctly remember viewing rats differently…like how I pondered if toys really do come alive when I was out of the house after seeing Toy Story. 
Anywayysss…after seeing that movie I asked my mom to make ratatouille and it is now one of my favorite recipes to have when I go home! Delicious over a warm bed of quinoa, pasta, a bed of spinach, etc., it's such a great make ahead dish! A sprinkle of parmesan and voila…heavenly!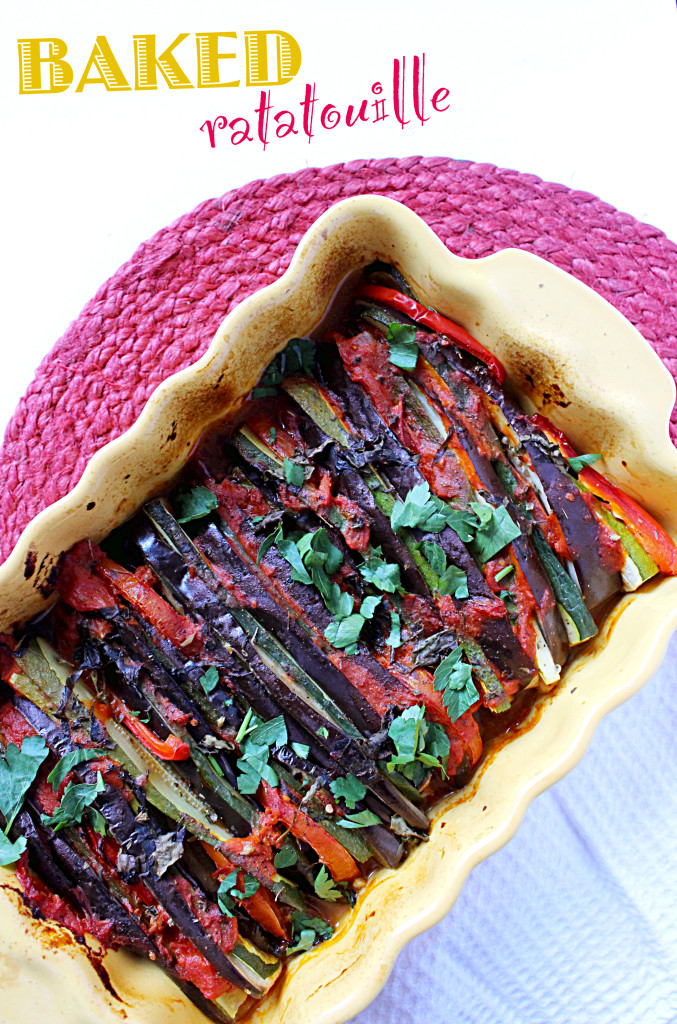 I didn't, however, realize that "ratatouille" adheres to specific guidelines. According to Wikipedia, it's a traditional French Provencal "stewed vegetable" dish that originated in Nice, France. While there's a lot of discussion about the proper preparation of the dish, which vegetables are included, etc., I'm not all that proper so I kind of threw the rule book out the window. 
My mom's ratatouille is more stew-like made on the stove (like most traditional ratatouille recipes). Today, I'm sharing a layered ratatouille that is BAKED in the oven! Baked ratatouille…or like hands-free ratatouille! 
I wanted to title this dish something creative like ratatouille lasagna (ya know, because it's kinda layered), but then I'd be breaking all sorts of culinary definitions and that just didn't seem right (guess that's my type A rule-follower coming out…boy am I contradicting myself right now!). 
This baked ratatouille has less of a mushy consistency that traditional ratatouille is known for. So I guess I'm still breaking culinary definitions…sorry chefs! Instead, all the vegetables are intact, and softened to perfection, but not overdone. 
Traditional ratatouille contains eggplant, zucchini, bell peppers, onions, and tomatoes. Since it's not yet tomato season, I decided to limit fresh tomato, but provided the tomato-y flavor with marinara sauce. If you have a family heirloom homemade sauce recipe, this is the perfect way to use it! If not, I used Rao's marinara sauce. I particularly love Rao's (and I'm not paid for this), because you can recognize all of the ingredients on the label (SO important when buying packaged foods!). There's NO added sugar like many tomato sauces, with minimal sodium!
To make this layered baked ratatouille, simply sauté sliced onions with garlic in some extra virgin olive oil. When onions are nearly translucent, remove from the heat and place at the bottom of a casserole dish. Combine with marinara sauce. 
While your onions are sautéing, slice your eggplant and zucchini, longitudinally. Lightly sprinkle the eggplant with salt and pat excess moisture out (like you would if you're making eggplant parmesan). Eggplant contains tons of water and if you skip this step you'll have an excessively soupy dish.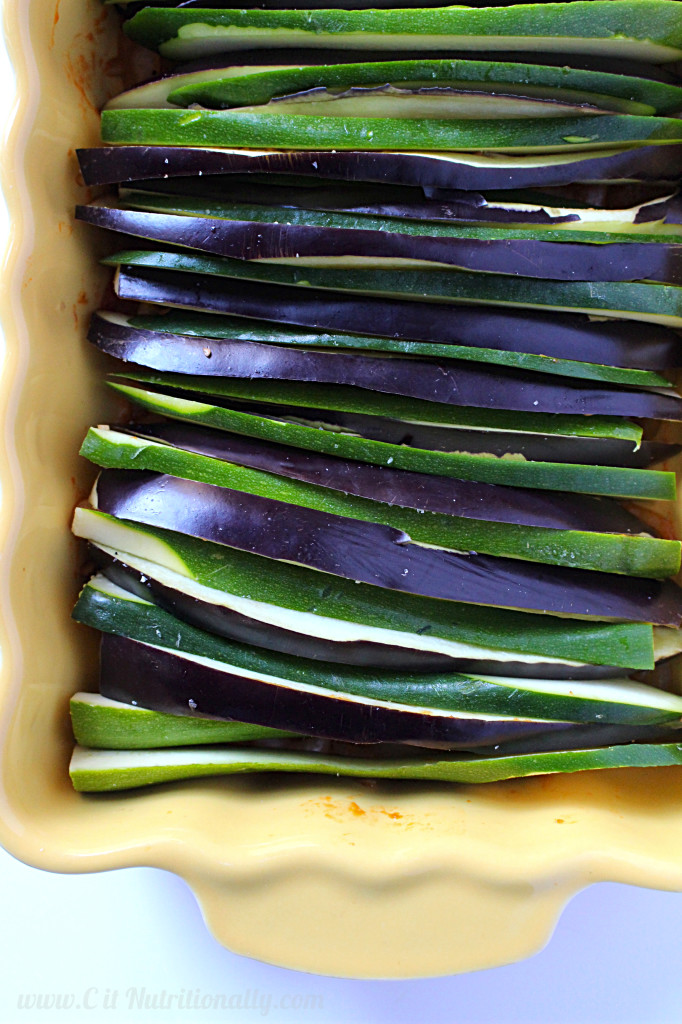 In the casserole dish, layer zucchini and eggplant, sticking some slices of bell pepper and fresh tomato in there as you go. It's really a stunner!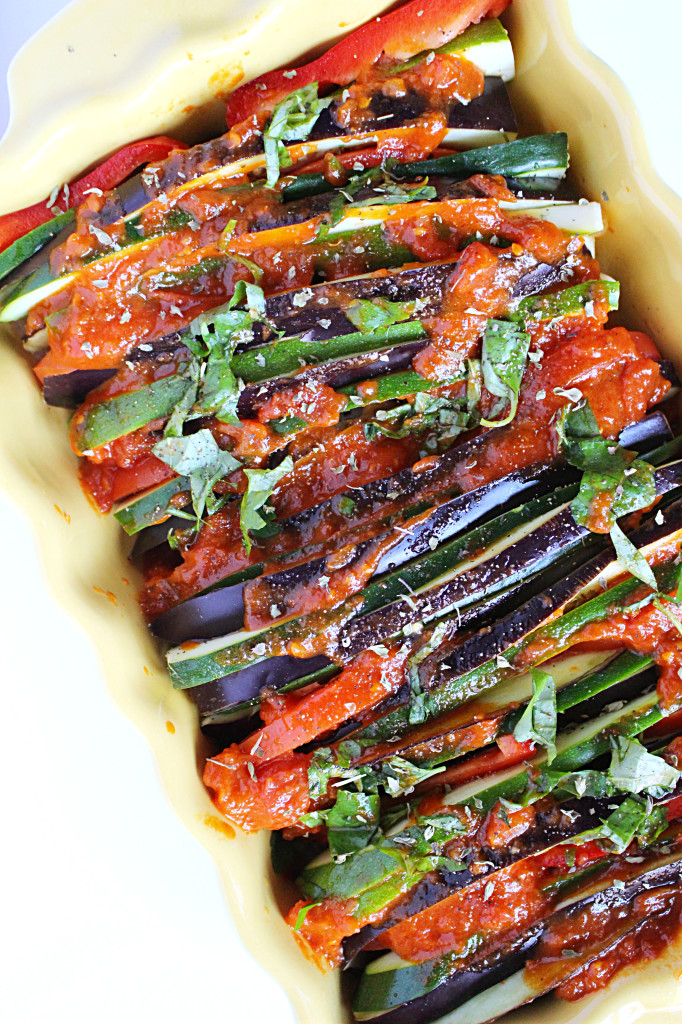 Scatter fresh parsley and basil, some oregano, and black pepper on top. Then drizzle the rest of the marinara sauce on top. Cover and bake!
I have to say, this baked ratatouille recipe is BURSTING with flavor! It's easy to make, there's less chopping involved, and it's an excellent make ahead (or at least prepare ahead) meal. Top with some parmesan cheese, crack open a can of cannelloni beans, and you have a fiberlicious, proteinaceous, vitamin-filled, balanced #MeatlessMonday meal! 
Preheat that oven…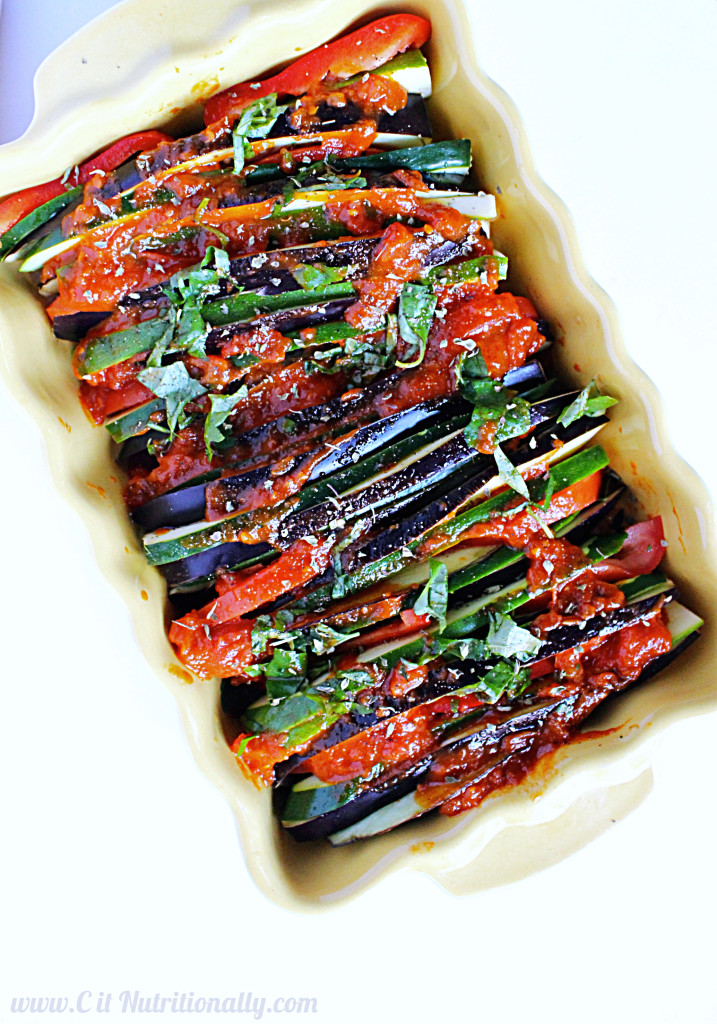 Ingredients
1 yellow or Spanish onion, sliced in rings
2 cloves garlic, chopped
1/2 tablespoon extra virgin olive oil
1 cup marinara sauce, divided
1 eggplant, sliced vertically
3 medium zucchinis, sliced vertically
1 Roma tomato, sliced
1/2 bell pepper, sliced
2 tablespoons fresh basil (more for garnish)
1 tablespoon fresh parsley (more for garnish)
1 teaspoon dried oregano
Salt and pepper to taste
Optional: top with parmesan cheese
Instructions
Saute onion and garlic over medium heat in olive oil until translucent.
While onions are sauteing, place eggplant slices on a paper towel and sprinkle with salt. Let sit for a few minutes, then blot dry with a paper towel to remove excess moisture. Do not skip this step!
When the onions are translucent, scatter them on the bottom of a casserole dish. Mix with ¼ cup marinara sauce. Make sure the onions and garlic are evenly distributed in the dish.
Arrange eggplant, zucchini, tomato, and pepper slices vertically in casserole dish (as pictured above). If you're using a larger eggplant, you may need to cut the vertical slices in half, longitudinally so they are about the same width as the zucchini slices.
Sprinkle salt and pepper, basil, parsley, and oregano on top. Then drizzle the remaining marinara sauce on top.
Cover the casserole dish with tin foil and bake at 375°F for 55 minutes.
Remove foil and broil for 5 to 7 minutes.
Serve over quinoa (or another grain), whole grain pasta, a bed of spinach, or as is with a sprinkle of parmesan cheese. Add additional fresh herbs, to taste. Enjoy!
http://citnutritionally.com/vegan-baked-ratatouille/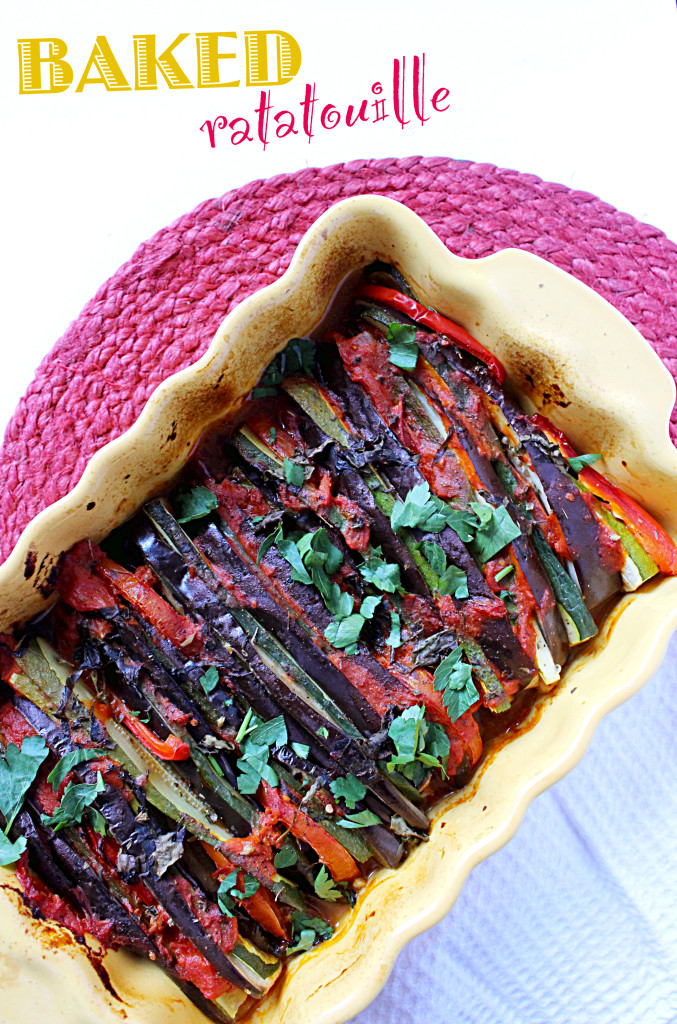 How are you having a healthy and happy #MeatlessMonday?!
XO
***
Here's what else I'm eating today:
Breakfast: Another green smoothie (best way to start the week!)
Lunch –> This "Hippie Bowl" from Davida at The Healthy Maven. How great is that name?! It's just like the salad I've been throwing together for lunch nearly everyday!
Snack –> Healthy Fried Plantains from Lexi's Clean Kitchen
Dinner: Leftover Baked Ratatouille (see above!)
Dessert –> Flaxseed Fudge muffins from Healthful Pursuit