Moist, chocolatey greatness wrapped into a muffin so good for you, but no one will know! My Vegan Chocolate Banana Muffins with No Added Sugar are made with 100% whole wheat flour and a serving of fruit & veggies. Vegan, Dairy Free, Nut Free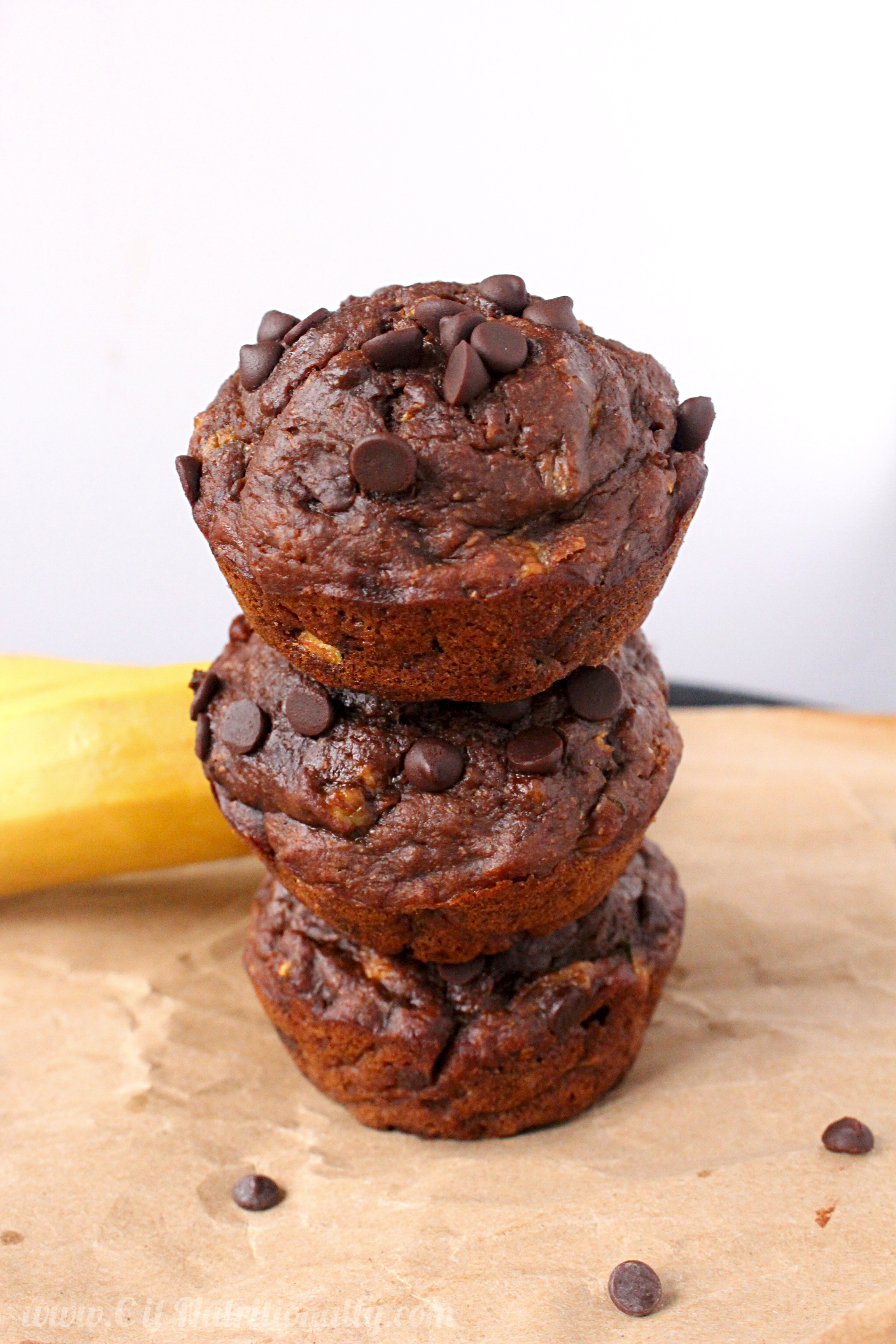 The boyf (let's call him S…get ready to hear more from him soon!) and I invited his parents over for brunch as a "come see our new apartment" + early Mother's Day food & show the love fest this weekend. I was feeling the heat because a) I had just gotten over some flu-like virus that knocked me into bed most of last week and b) My boyf's mom is a damn good cook herself, always talks to me about cooking, and helloooo, I have a food blog, so the expectations were high!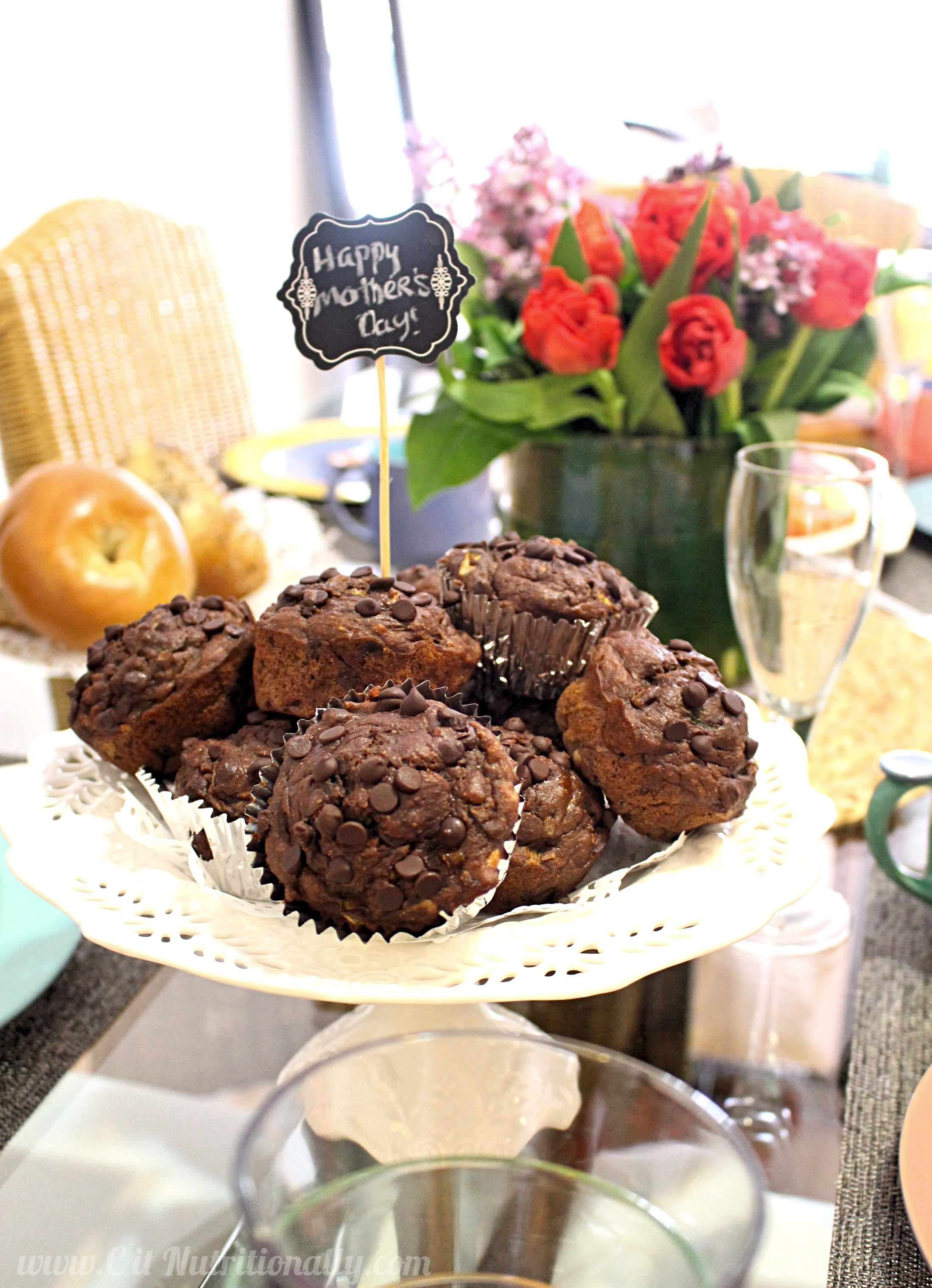 In order to ease some of my burden, S decided we should order in classic (Jewish) faves — bagels and lox and the fix 'ins – but I also wanted to make some delicious homemade stuff too. Since everyone is trying to eat a little healthier these days, I only indulged with a small French toast breakfast bake and chocolate banana muffins ….wait, scratch that!
The latter are actually healthy, superfood-filled deliciousness rolled into a muffin because despite their title — chocolate banana muffins with no added sugar – they're…
Made with 100% whole wheat flour
Vegan – so no eggs nor dairy!
Full of antioxidants
Contain a serving of fruits and veggies!
Made with NO refined sugar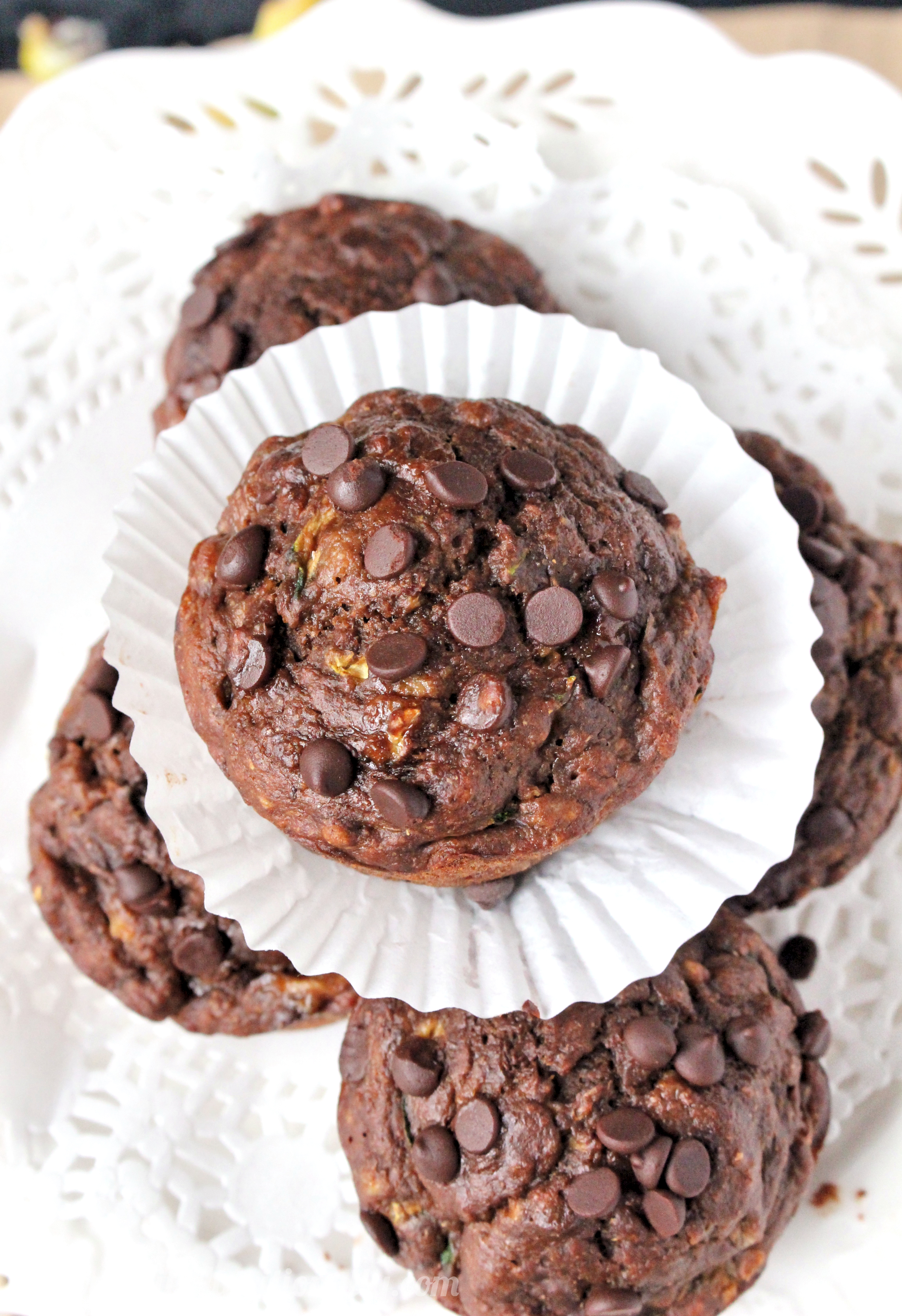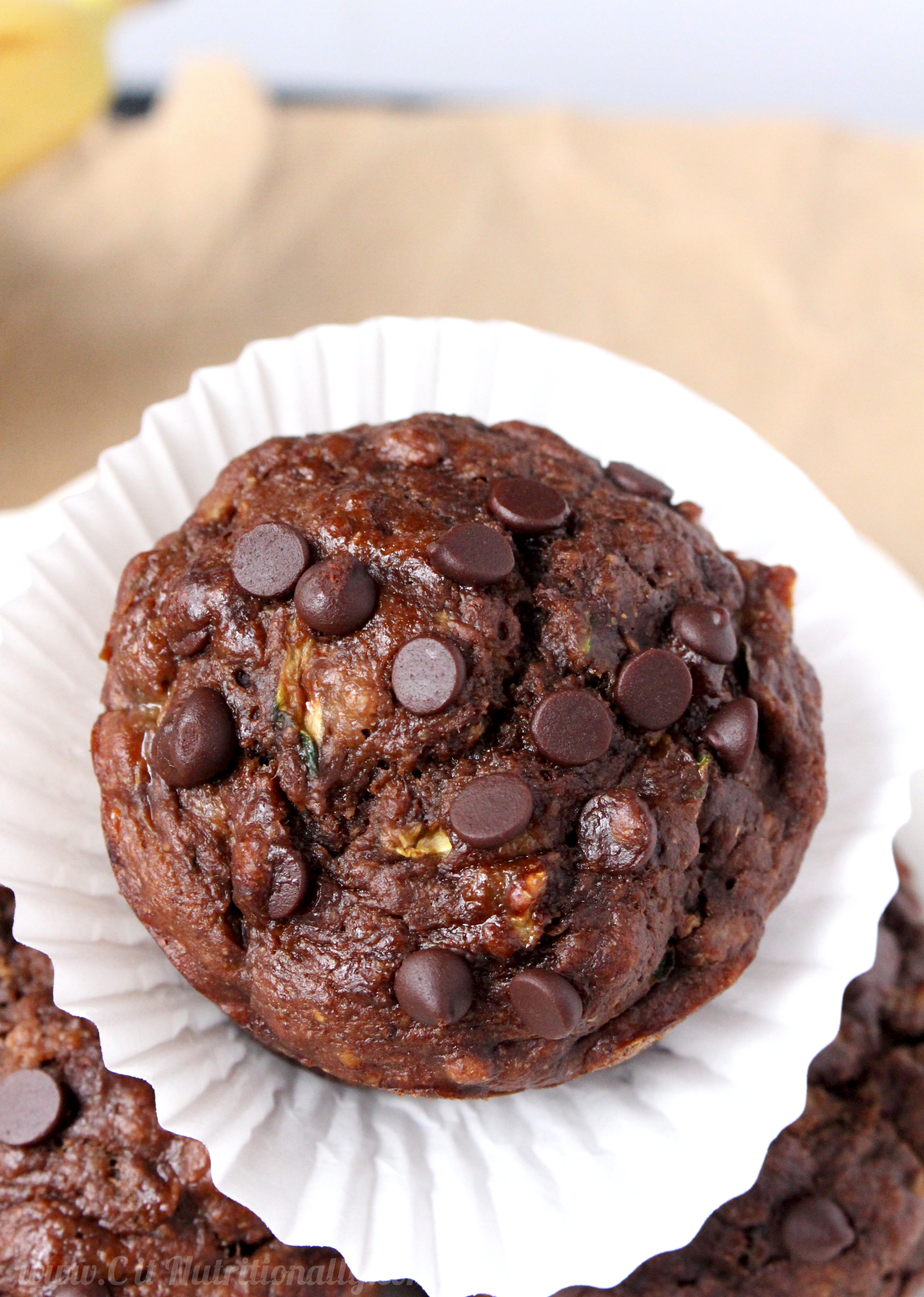 Yup, you got that right….if I hadn't told anyone (once asked) what was in the muffins, no one would've known that they had NO, ZILCH, ZERO, NADA refined sugar added to them. My secret weapon (that you've totally seen before)??? DATES!
I used medjool dates, along with the naners, to add sweetness from nature's candy! And NO ONE KNEW!!! I even threw in some shreded zucchini to boost the nutrition factor and add moisture. I even stumped the boyf! #missionaccomplished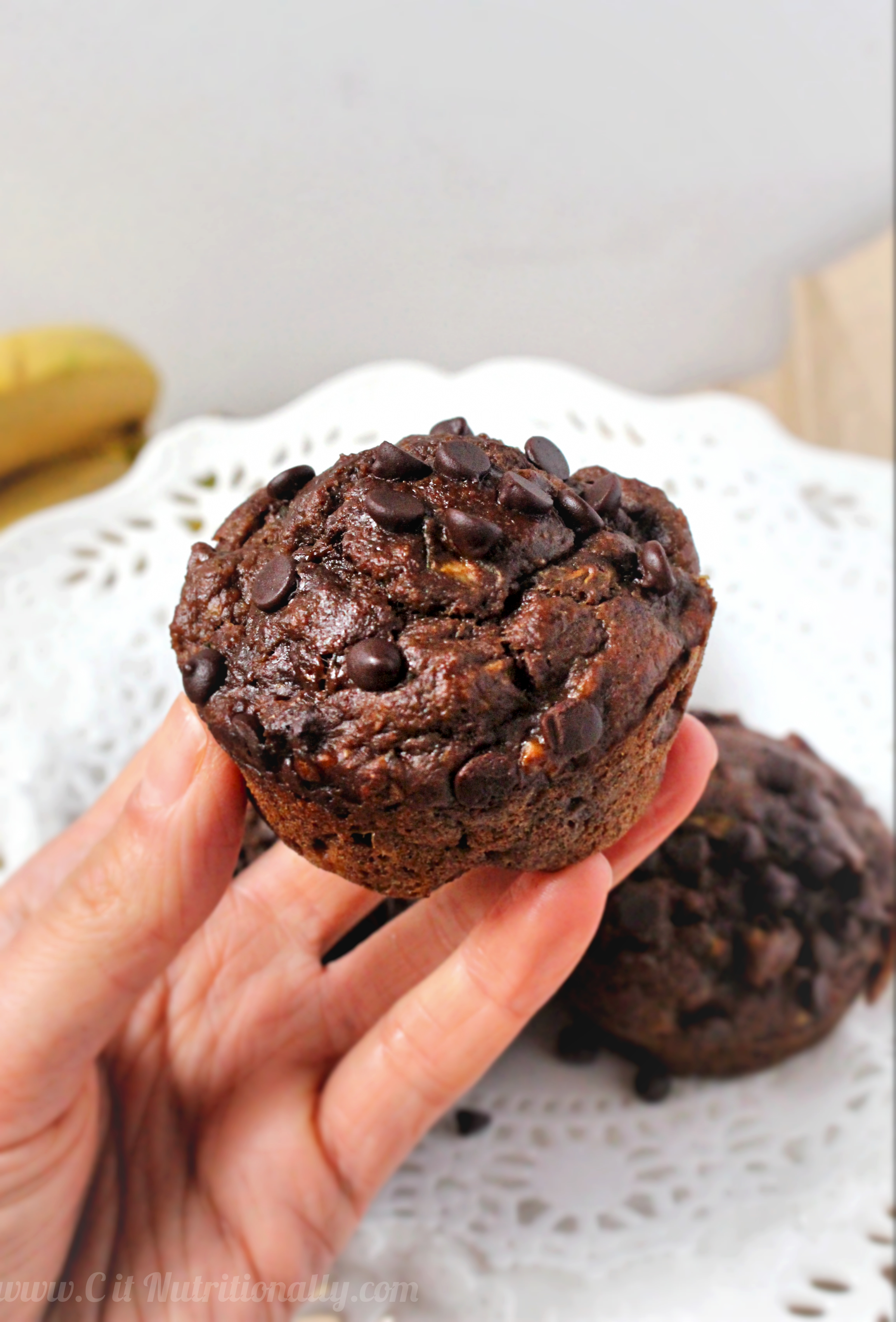 Here are a few things I used to make this recipe:
Oxo mixing bowls
Cuisinart mini food processor
Enjoy Life mini chocolate chips
Medjool dates
Vegan Chocolate Banana Muffins with No Added Sugar
Ingredients
3/4 cup medjool dates
1/4 cup milk (I used soy milk, but any will do)
2 teaspoons vanilla
3 large extra ripe bananas, mashed
1/4 cup vegetable oil or coconut oil
1 1/4 cup whole wheat flour
1/4 cup unsweetened cocoa powder
2 teaspoons baking powder
1/4 teaspoon baking soda
1 teaspoon cinnamon
1/2 teaspoon salt
1 cup shredded zucchini, excess moisture squeezed out
1/4 cup dark chocolate chips (additional for sprinkling on top)
Instructions
Preheat oven to 350°F.
In a food processor, process dates, milk and vanilla until relatively smooth. Some small remaining lumps is fine. Transfer this mixture to a large bowl.
To the date mixture, add mashed bananas, oil and all dry ingredients (flour, cocoa powder, baking powder, baking soda, cinnamon and salt). Mix until just combined. Be sure not to overmix.
Fold zucchini and chocolate chips into the mixture.
Divide muffin batter among 12 lined muffin cups.
Bake for 22-25 minutes, or until a toothpick inserted comes out clean. Allow to cool in the tin. Enjoy!
http://citnutritionally.com/vegan-chocolate-banana-muffins-no-added-sugar/
Recipe was inspired by my Vegan Banana Bread Muffins!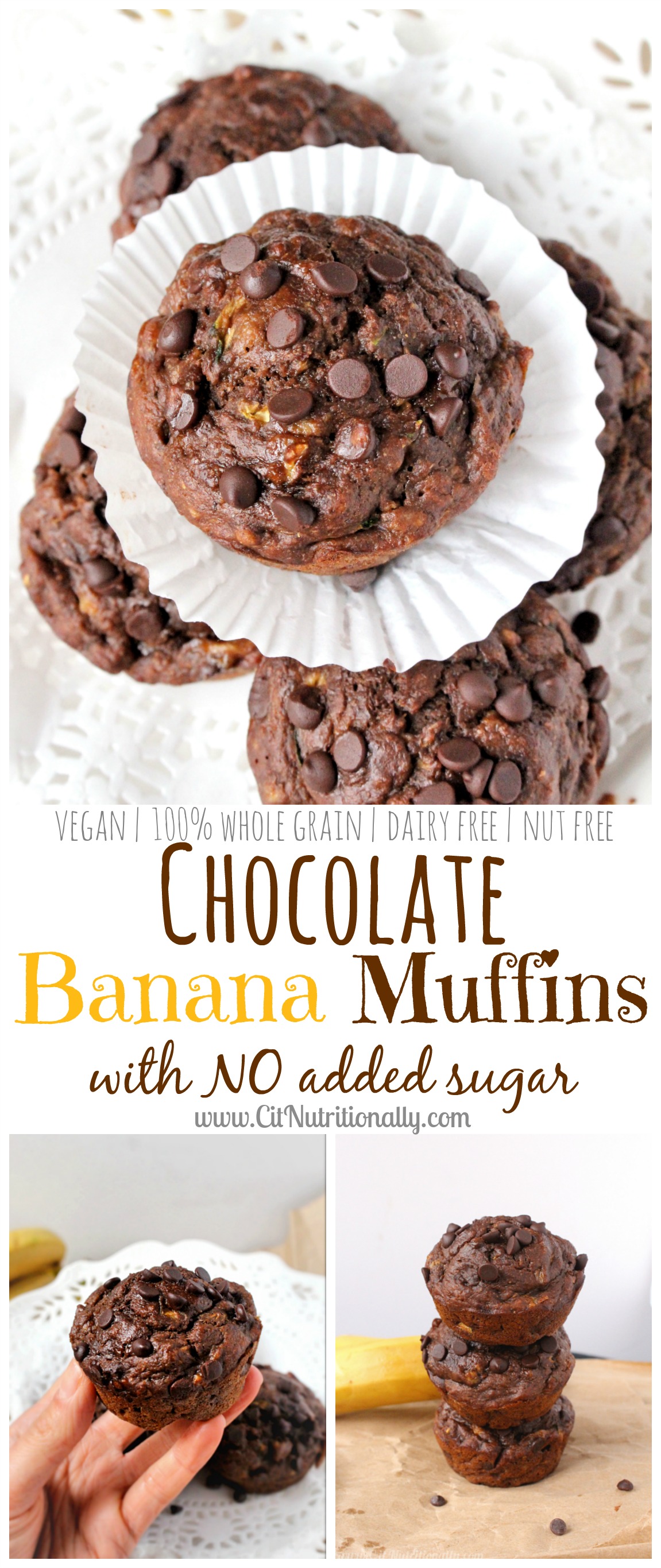 Now that's a way to get through a Monday! Happy baking!


XO