Relish the flavors of fall with these naturally sweetened vegan chocolate chip pumpkin muffins that are full of cinnamon, ginger, cloves and pumpkin, with just the right balance of crumble, for any time of day!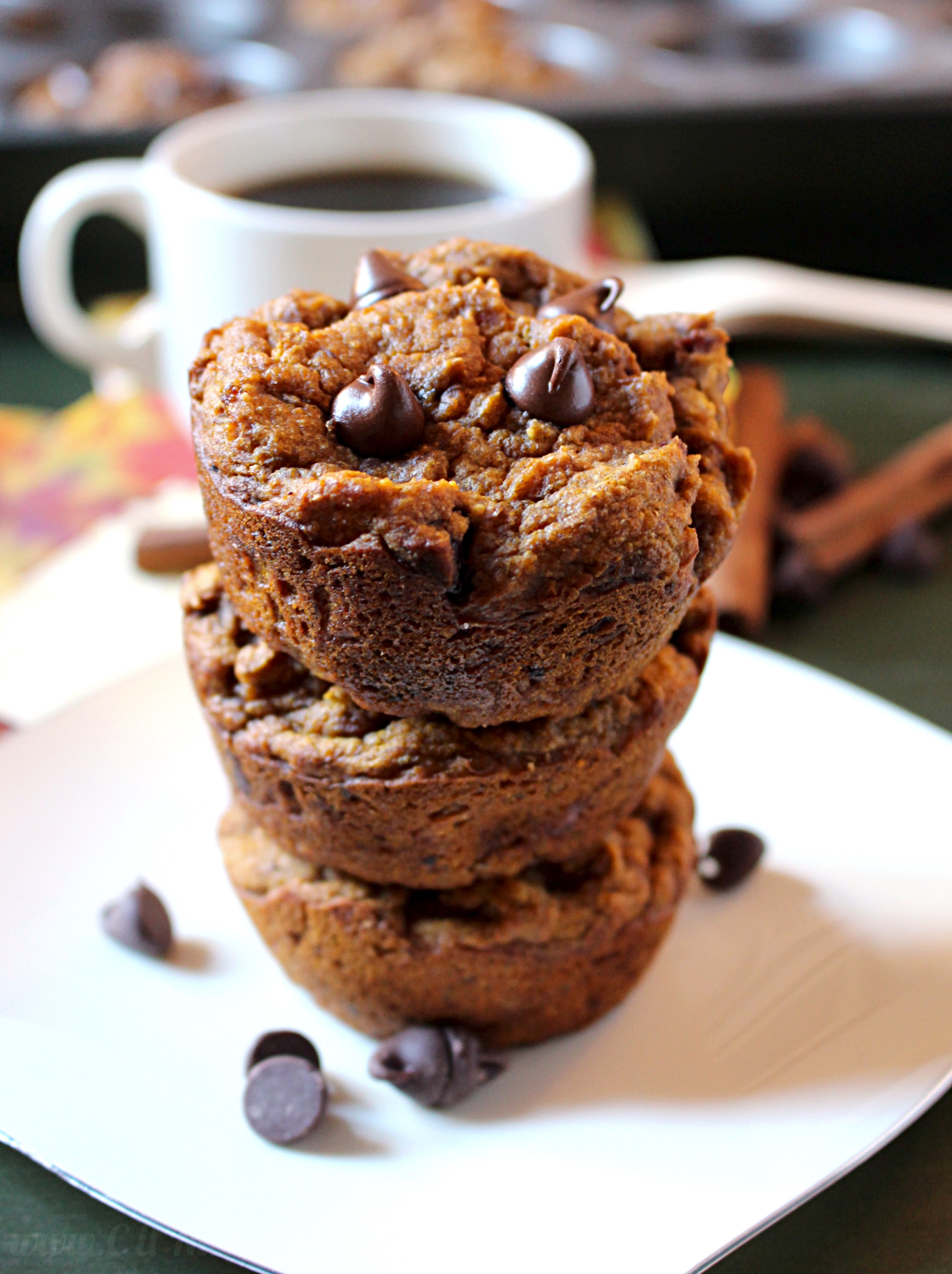 There's a lot going on today!
Post-midterms this week is the first I feel like I can actually breathe since starting my dietetic internship…so I naturally spent some quality time bonding with my oven on Monday! I re-made the pumpkin pizza crust I teased on Instagram on Friday night (recipe coming Monday!) and chocolate chip pumpkin muffins with NO ADDED SUGAR.
Cause it's fall.
And fall deserves muffins. Made with pumpkin.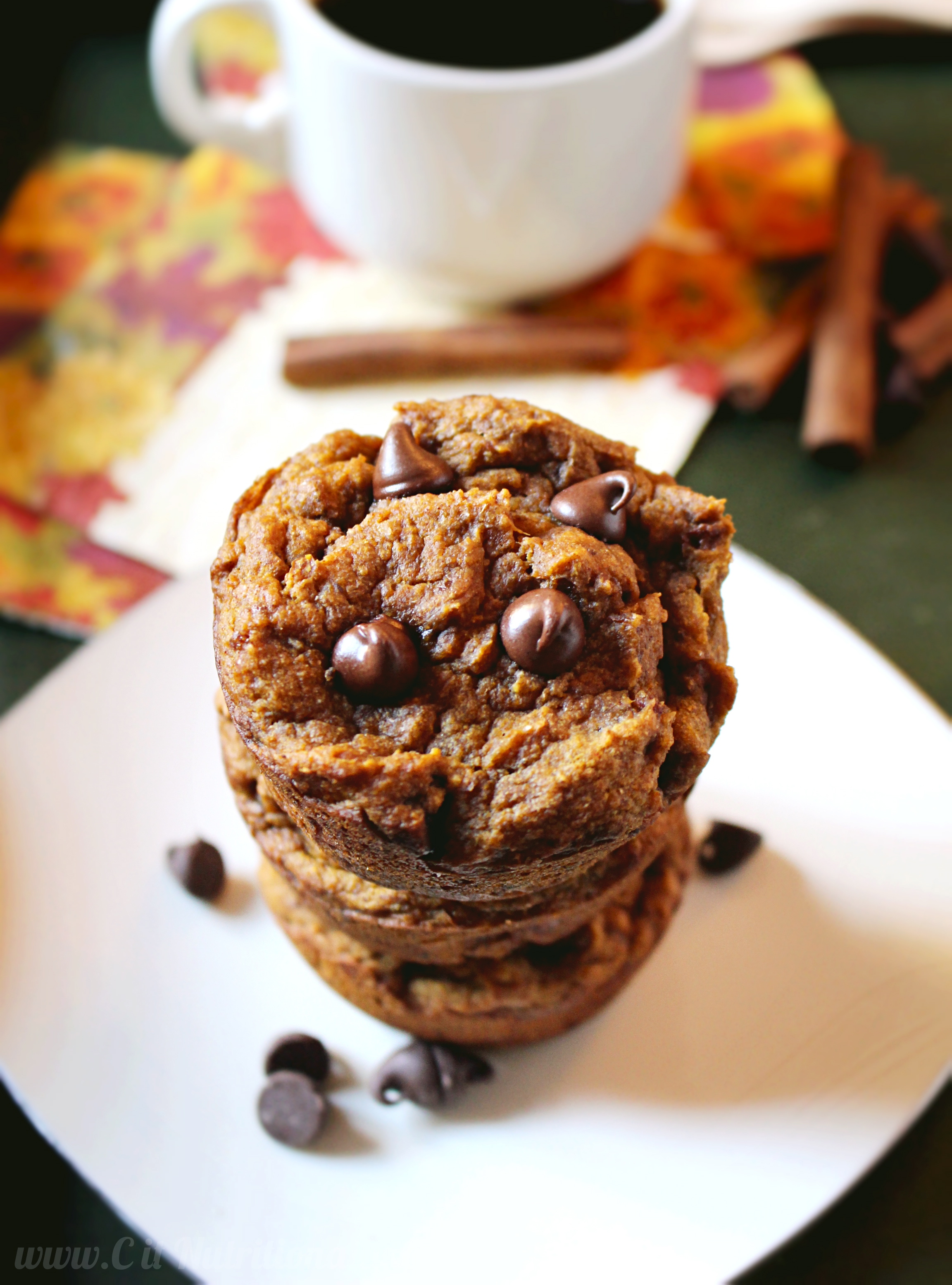 I couldn't wait to share this recipe with you!
You neeeeed Vegan Chocolate Chip Pumpkin Muffins in your life, like yesterday!
I adapted this pumpkiny, cinnamony, chocolatey recipe from this recipe and used my secret sweet weapon — DATES (affil link) — to sweeten this fall treat without adding any added sugar (less those few chocolate chips, but we don't have to go there).
These muffins use 100% whole wheat flour so you can feel good about starting your day with a good dose of fiber along side those chocolate chips 😉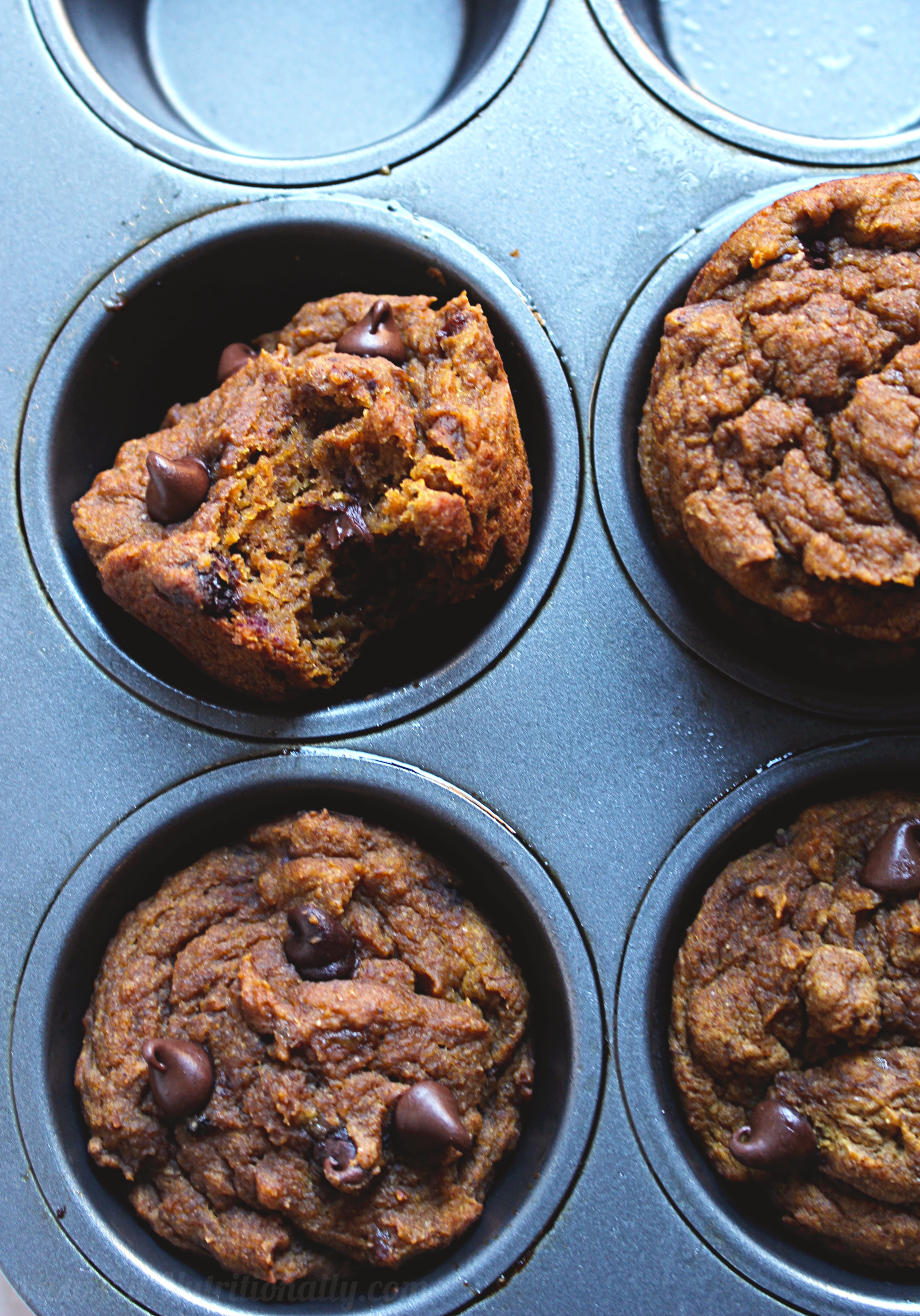 These Vegan Chocolate Chip Pumpkin Muffins are…
Vegan
Made with 100% whole wheat flour
Dairy free
Egg free
Nutritious (even for breakfast!)
Ready in under an hour
Full of fall flavor
Freezer-friendly
and addictingly good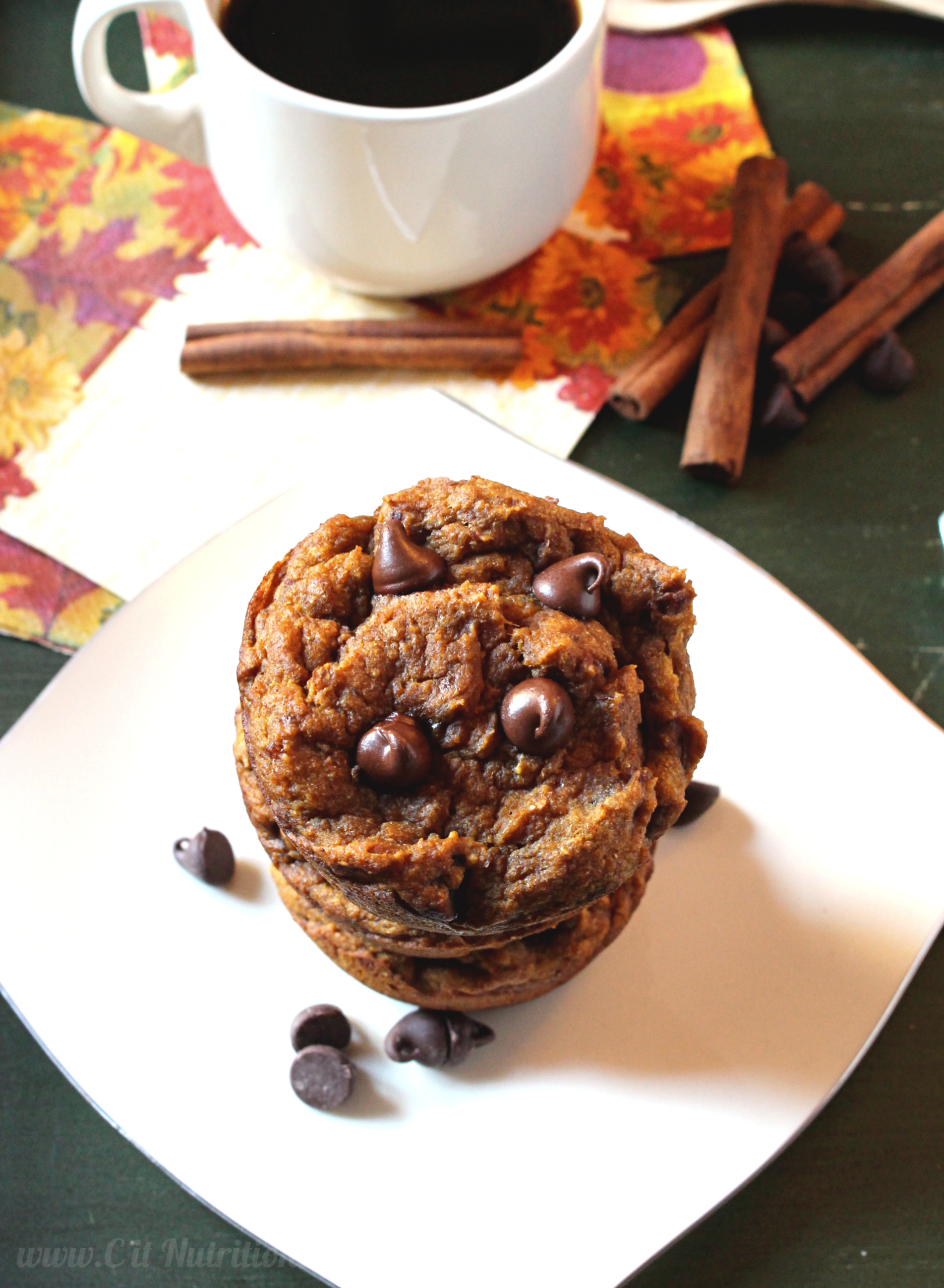 I challenge you to eat just one. Or two. 
Seriously.
Vegan Chocolate Chip Pumpkin Muffins with No Added Sugar + WIAW recap
Ingredients
3/4 cup medjool dates
1 cup whole wheat flour
1 1/2 teaspoons baking powder
1/4 teaspoon baking soda
2 teaspoons cinnamon
1/4 teaspoon ground ginger
Pinch of cloves
1/2 teaspoon salt
1 cup pumpkin puree (not pumpkin pie filling)
1 medium-sized extra ripe banana
1/4 cup + 2 tablespoons coconut or vegetable oil
1 teaspoon apple cider vinegar
2 teaspoons vanilla
1/4 cup dark chocolate chips
Instructions
Preheat oven to 350°F.
Soak dates in water while you prepare the rest of the ingredients, about 5-10 minutes.
In a medium sized bowl, add all dry ingredients: flour, baking powder, baking soda, cinnamon, ginger, cloves and salt. Set bowl aside.
In a large bowl, add pumpkin puree and mash the banana with a fork or potato masher. Add oil, apple cider vinegar and vanilla. Set aside.
In a large (10-cup) food processor, process drained dates until mostly smooth.
Transfer the date mixture to the large bowl with the liquid ingredients. Mix just until combined.
Gently and slowly add the dry ingredients to the wet ingredients. Mix until just combined. Do NOT overmix!!
Gently fold in chocolate chips.
Spoon mixture into a muffin tin sprayed with nonstick spray. Bake for about 30 minutes, until golden brown. You will know if the muffins are done if they begin to separate from the side of the pan or an inserted toothpick comes out clean. Let cool in the pan for at least 10 minutes before moving to a cooling rack. Enjoy!
Notes
Muffins will remain fresh if stored in an air-tight container for about 4 days or in the freezer for up to 3 months.
http://citnutritionally.com/vegan-chocolate-chip-pumpkin-muffins/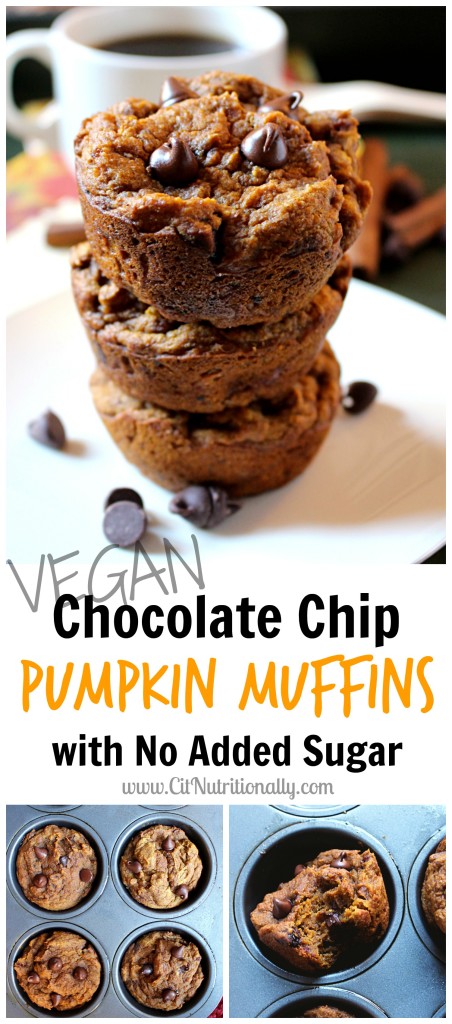 OK, ok, so maybe I ate three of these yesterday…with zero guilt! 
Happy hump day ya'll!
XO

If you want to stay connected or you make something from C it Nutritionally I would LOVE to see your creations! Tag me or use the hashtag #CitNutritionally!
Let's get social! 
Facebook: C it Nutritionally
Twitter: @ChelseyAmerRD
Instagram: @CitNutritionally
Pinterest: ChelseyAmer