Creamy and savory, with a hint of heat, this flavorful Warm Vegan Spinach and Artichoke Hummus Dip will wow a crowd in under 30 minutes (plus, it's full of plant-based protein and fiber… but you don't have to tell anyone that!). Nut free, Gluten free, Vegan, Grain free.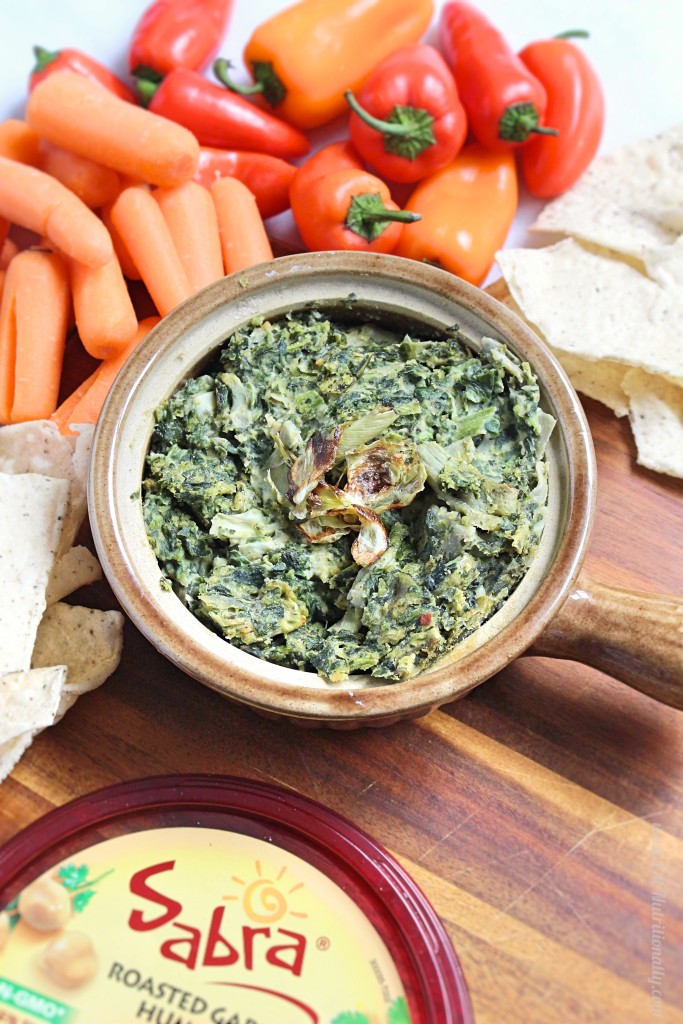 I received free samples of Sabra Hummus mentioned in this post. By posting this recipe I am entering a recipe contest sponsored by Sabra and am eligible to win prizes associated with the contest. I was not compensated for my time.
Oh em geeeeee, I created my new favorite recipe! Like, no joke, SO good I clearly turned into a teenage girl with all of these OMGs and LIKES!
But seriously, I've now made this recipe at least three times since I first developed it a few weeks ago and it's still just as addicting, crowd-pleasing, and never disappointing! 
And no one guesses it's "HEALTHY." But I like to scream it from the rooftops because, WHY NOT?! Who says healthy food has to be booooring?! ((yawn… not me!))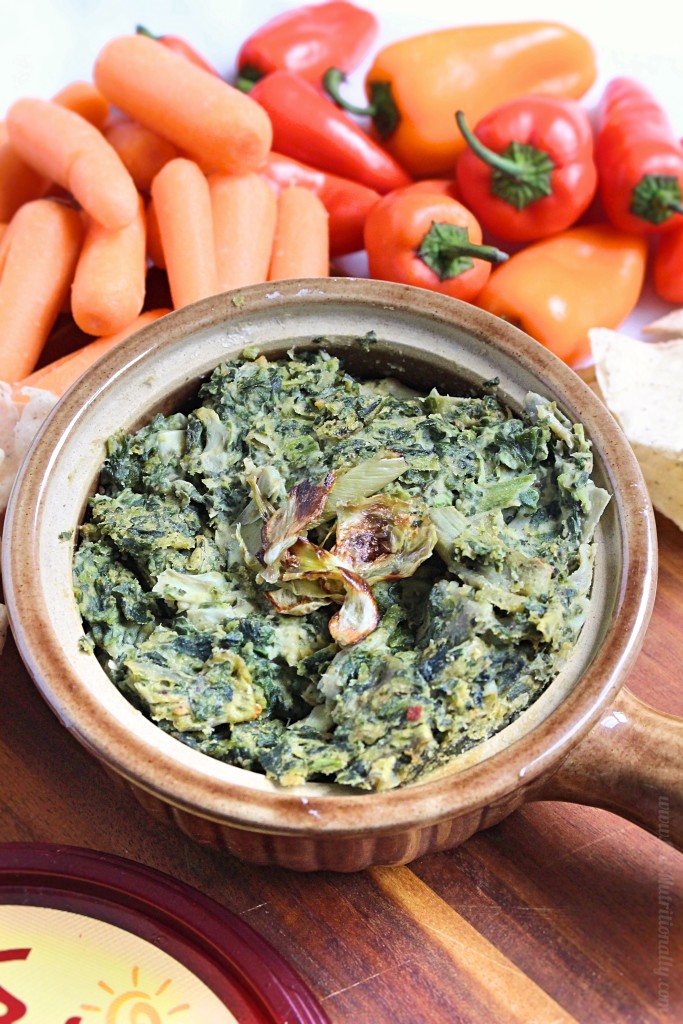 Later this week is National HUMMUS Day (get ready for May 13th!) and ya'll know I love my hummus, so I made this humm-believable recipe that is OH-EM-GEE! ((there I go teenage girling again…))! But truly, pure MAGIC happened in the kitchen with this one, with just a few wholesome ingredients…
Sabra hummus is one of my favorite plant-based proteins because it's full of FIBER and that's the quintessential double whammy that keeps you full, satisfied, strong and feeling great!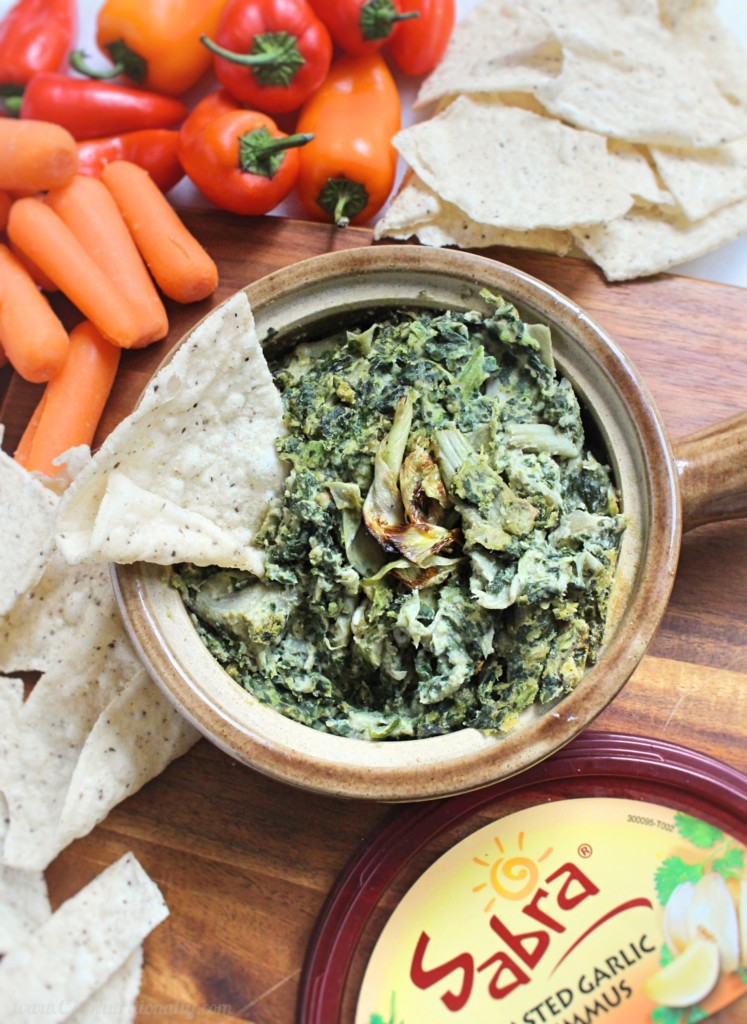 This Vegan Spinach and Artichoke Hummus Dip is…
Creamy
Sinfully delicious-tasting
Loaded with veggies
EASY to make to ONE bowl
Made with 8 ingredients
A fun party appetizer or snack
Food allergy friendly
Gluten free + grain free
I seriously can't contain my excitement any longer, so let's just get to the recipe….
Vegan Spinach and Artichoke Hummus Dip
Ingredients
1 cup Sabra Roasted Garlic Hummus, about 3/4 of container
1 cup frozen, chopped artichoke hearts, thawed with excess water squeezed out
1 cup frozen chopped spinach, thawed with excess water squeezed out
2 tablespoons nutritional yeast
2 garlic cloves, chopped
3 tablespoons milk (I used unsweetened coconut milk)
1 teaspoon lemon juice
1/4 teaspoon red chili flakes
1/4-1/2 teaspoon salt (more to taste)
1/4 teaspoon black pepper (more to taste)
Instructions
Add all ingredients to an oven-safe bowl or baking dish and mix until thoroughly combined.
Bake for 20 minutes at 350°F, then switch oven to broil for an additional 3-5 minutes, until top is golden brown.
Serve warm with sliced veggies, tortilla chips or pita chips. Enjoy!
http://citnutritionally.com/vegan-spinach-and-artichoke-hummus-dip/
Don't forget to PIN IT…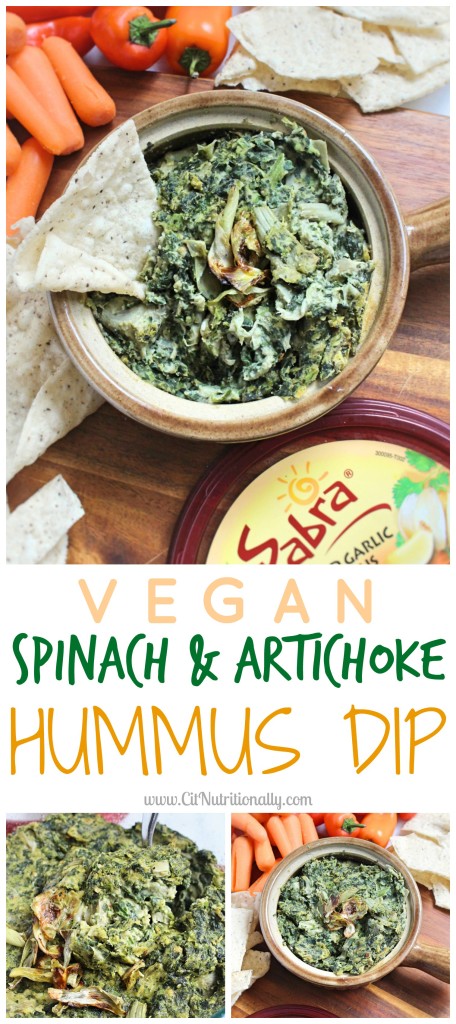 If you want to stay connected or you make something from C it Nutritionally I would LOVE to see your creations! Tag me or use the hashtag #CitNutritionally!

Let's get social!
Facebook: C it Nutritionally
Twitter: @ChelseyAmerRD
Instagram: @CitNutritionally
Pinterest: ChelseyAmer
Have a humm-believable day babes!

 
XO