Who doesn't love to get extra veggies in at breakfast?! Boost your nutrition with these moist and satisfying vegan breakfast muffins packed with zucchini and carrots and NO added sugar!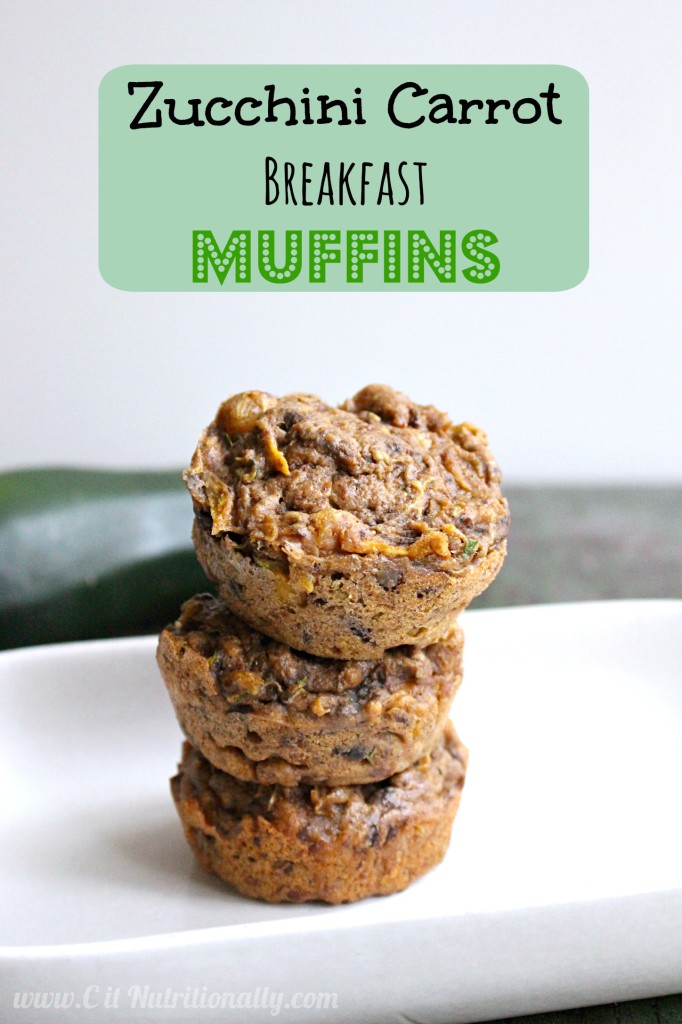 Aaaaand another week begins! 
I'm ready for a new week because, to be honest, last week kicked my butt. Finals are here, but so is beauuuutiful weather, so yeah…it's tough sitting inside studying!
But do you know what makes studying just a littttle bit better? [[Aside from tons of hugs from Mom yesterday 😉]]
MUFFINS!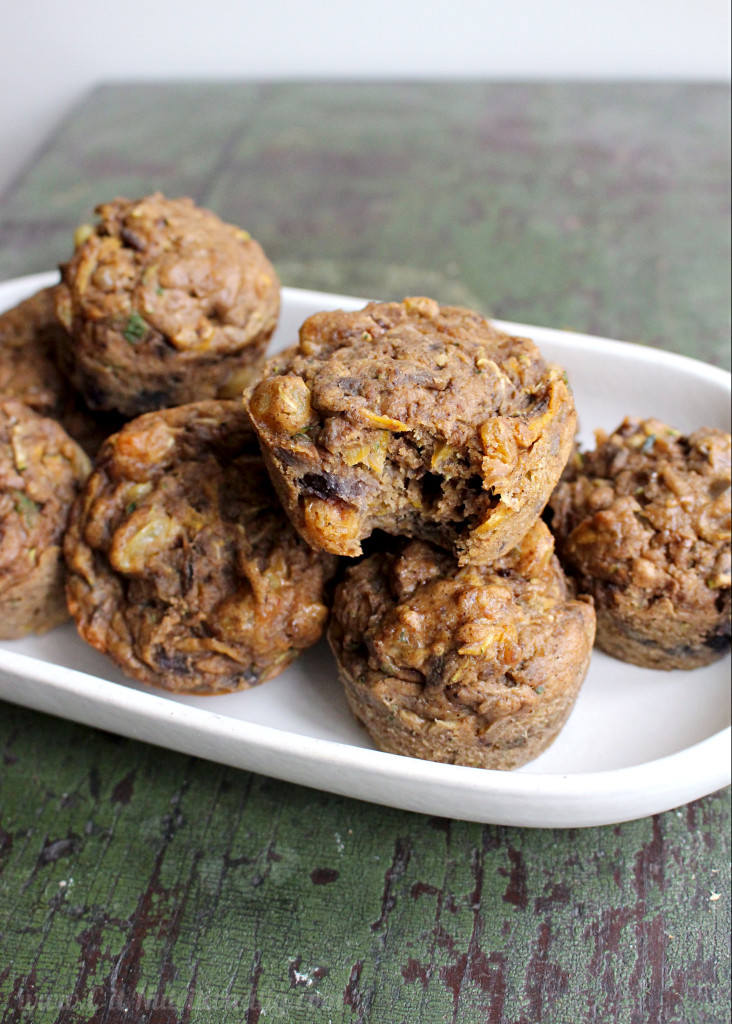 Now, I know what you're thinking…MORE muffins after yesterday's deeeelish Mother's Day brunch?!
Well, YES! 
Especially muffins with extra VEGGIES!!! 
Enter: Zucchini Carrot Breakfast Muffins.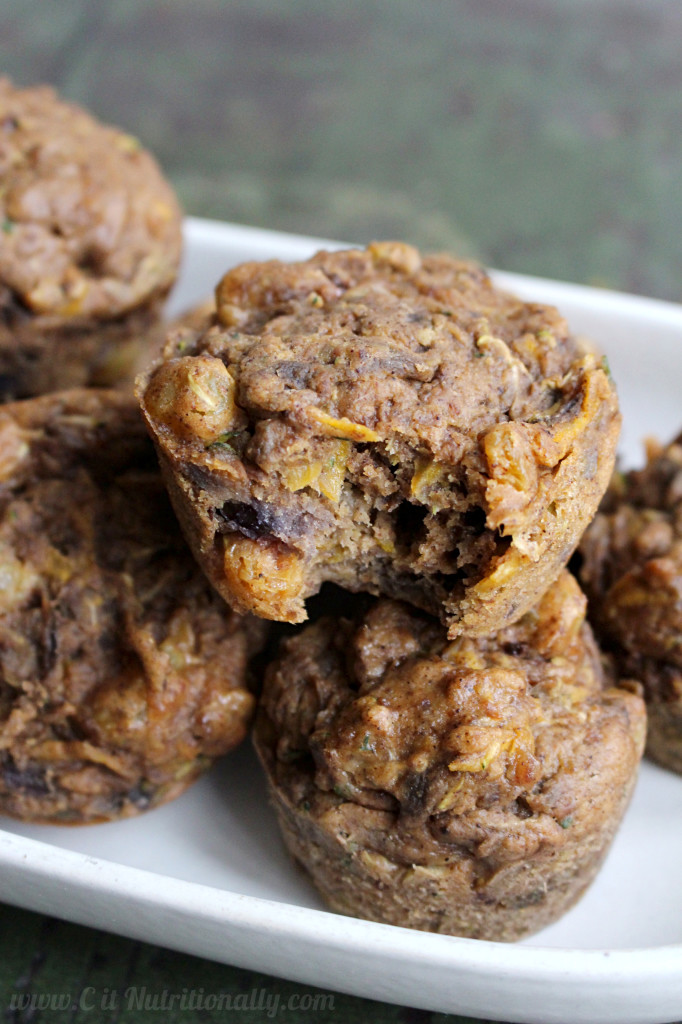 NOM.
Any way I can get myself (and you!) to eat more veggies, I'm all for it. But I'm not about to go hide them, because you should be aware that you're eating veggies and be proud of it. #VeggiePride
And when you can eat veggies for BREAKFAST?! Whether it's an omelet, smoothie, pancakes, or a muffin…I'm in! But I have to say these zucchini carrot breakfast muffins have been pretty muff-nificent. Yeah, I'm still making up words.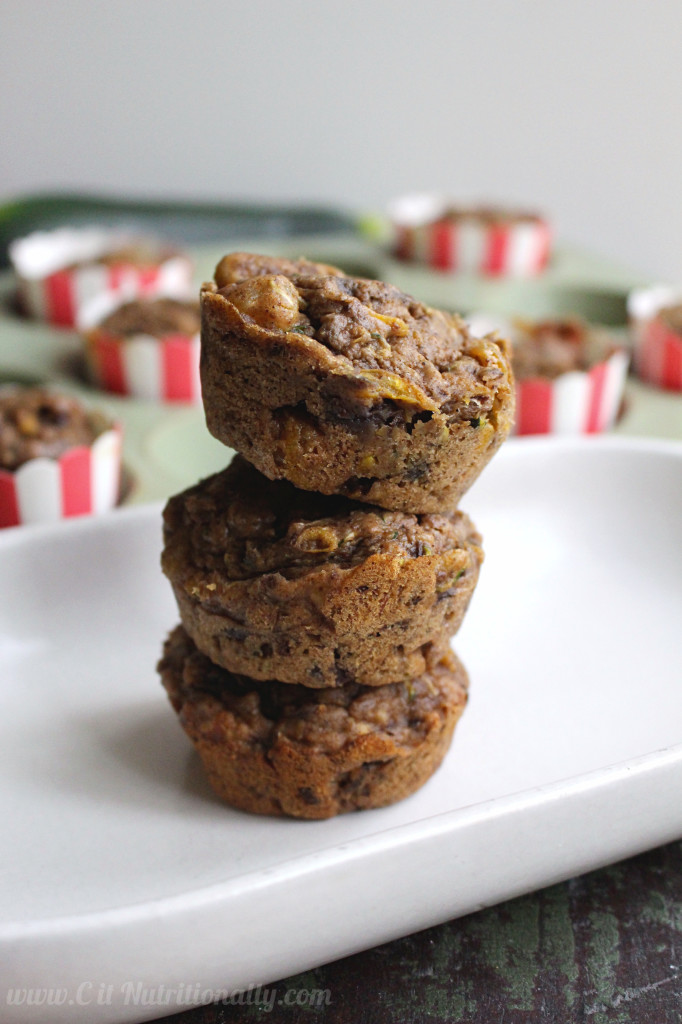 Muffins are one of those tricky foods. Avoid being fooled by the calorie/fat/sugar/salt trap that muffins really are. Yes, even that blueberry bran muffin that appears to be full of fruit and fiber. I don't think so!
If you're a muffin maven, they CAN fit into an otherwise healthy diet, but typically, even the healthiest-appearing muffin is not a well-balanced breakfast…and probably more calories than most of us should be eating for breakfast and lunch combined…and maybe a mid-morning snack too! 
Until now.
There is no health halo here! These muffins can fit into your everyday routine. Yes. Everyday. Todos los dias. Yes, it's Cinco de Mayo as I'm writing this post. And yes, I am 100% sober. #promise.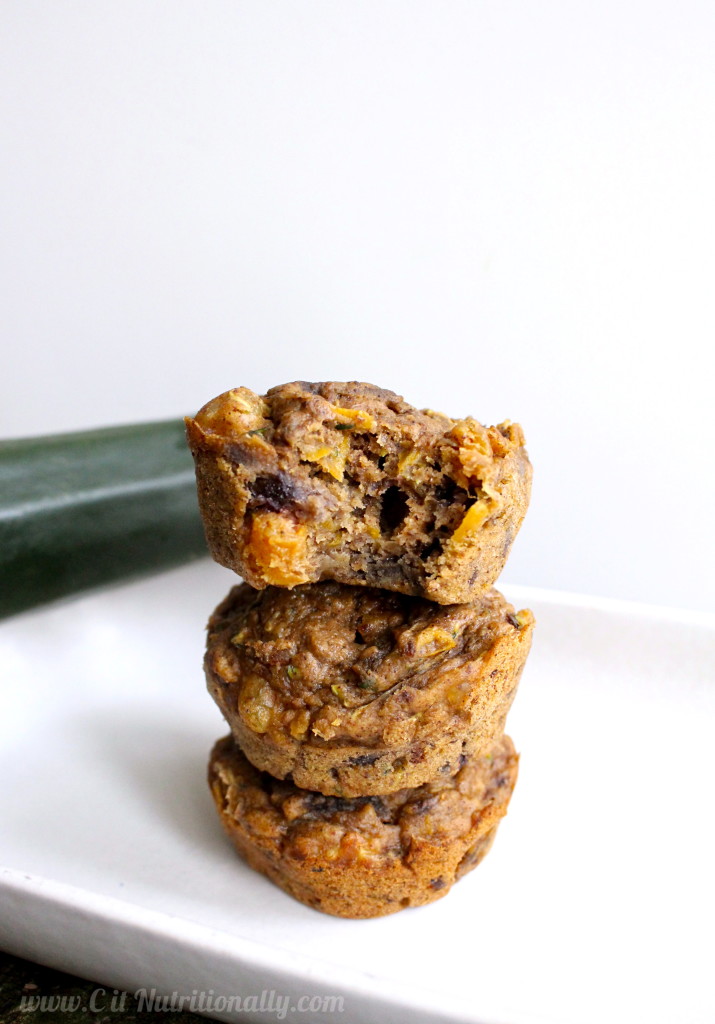 These muffins contain TWO vegetables, dare I say THREE fruits, NO added sugar, 100% whole grains, and a minimal amount of added fat. I'm sure you could sub the oil for applesauce, but we need fat to better absorb certain vitamins, so why not leave it in (plus, it's such a small amount when divided by 12!). 
This recipe does require a bit of prep work (to process the dates/prunes), so they're a perfect make ahead food to have on hand for the week. 
Enjoy as some pre-workout fuel, slather some nut/seed butter on it for breakfast, pair with some milk as an afternoon snack for you and your kiddo, or indulge when you're looking for something sweet for dessert.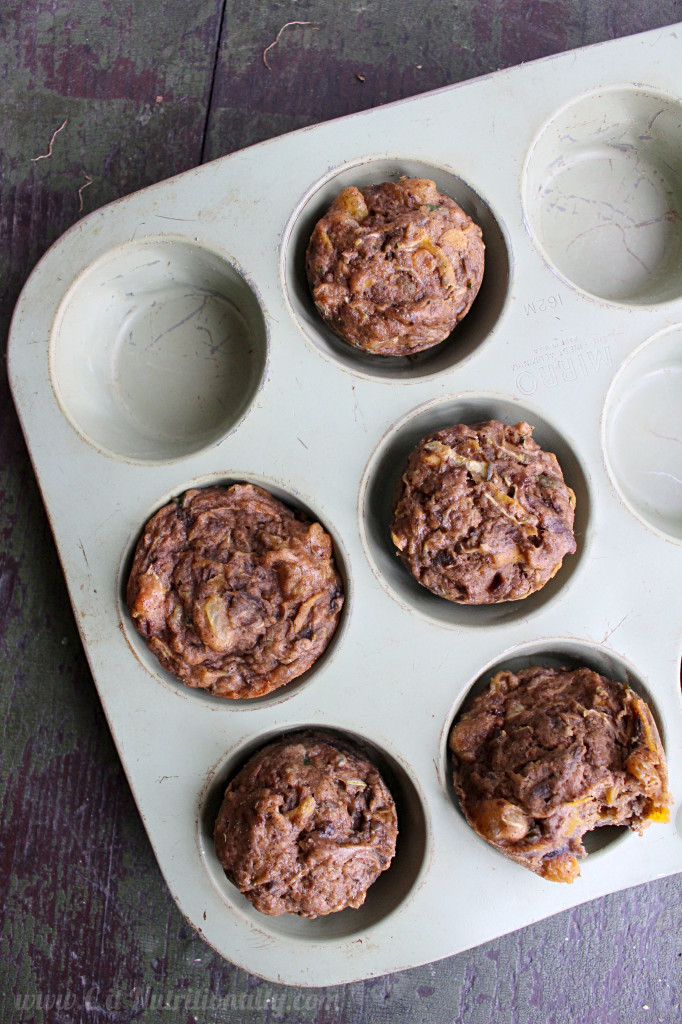 So versatile. Love it! 
And did I mention that there's NO added sugar??? The natural sweetness comes from dried fruit and bananas so you won't have the sugar spike and subsequent crash that a typical muffin provides. ((score!))
Let's make these 

Breakfast Muffins…
Vegan Zucchini Carrot Breakfast Muffins with No Added Sugar
Ingredients
1/2 cup medjool dates
1/4 cup pitted prunes*
1 1/4 cups whole wheat pastry flour
2 teaspoons baking powder
1/4 teaspoon baking soda
2 teaspoons cinnamon
Pinch of ground cloves or nutmeg
1/2 teaspoon sea salt
2 bananas, mashed
1 small zucchini, shredded (about 1/2 cup), water squeezed out
2 carrots, shredded
1/4 cup vegetable oil
1/4 cup milk (I used unsweetened soy milk)
1/2 cup golden raisins
Instructions
Soak dates and prunes in water for 10-15 minutes. Drain and process until almost smooth. Set aside.
Preheat oven to 350°F.
In a small mixing bowl combine all dry ingredients (flour, baking powder, baking soda, and spices). Set aside.
In a medium mixing bowl, combine processed dates and prunes, bananas, zucchini, carrots, oil, and milk. Mix until uniform consistency forms. Slowly add dry ingredients, mixing as you go. Do not over mix.
Finally, add raisins and mix to combine.
Spoon muffin batter into greased or lined muffin tins. Silicone liners work better than paper liners, or simply spray a muffin tin with nonstick vegetable oil spray. Fill each muffin tin until 3/4 full.
Bake at 350°F for 30 minutes, or until a toothpick comes out clean. Remove from oven and let cool in tins for at least 15 minutes. Transfer to a wire cooling rack.
Store in airtight container at room temperature for up to 5 days. I am sure they will freeze well too, but I have not tried it.
Notes
*Alternatively you can use all dates Estimated Nutrition Facts per muffin (if you make 12 muffins): 160 calories, 5 grams fat, 10mg sodium, 4 grams fiber, 2.5 grams protein
http://citnutritionally.com/vegan-zucchini-carrot-breakfast-muffins/
Recipe was adapted from my Vegan Banana Bread Muffin recipe.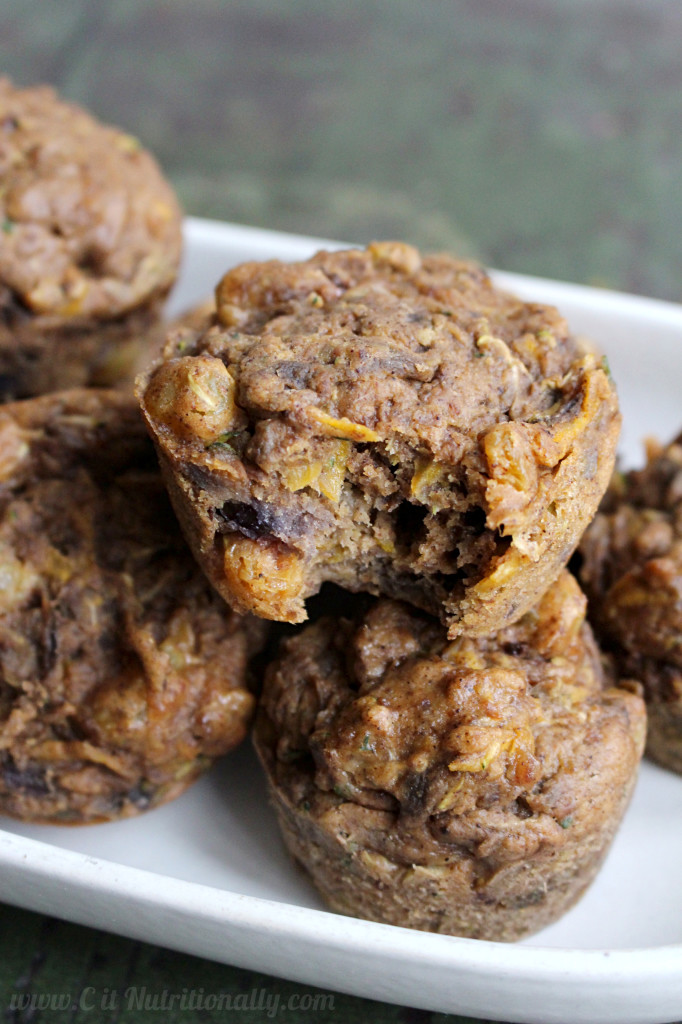 To send you off on your sweet muffin Monday way, shout out to this muffin of a mom I have…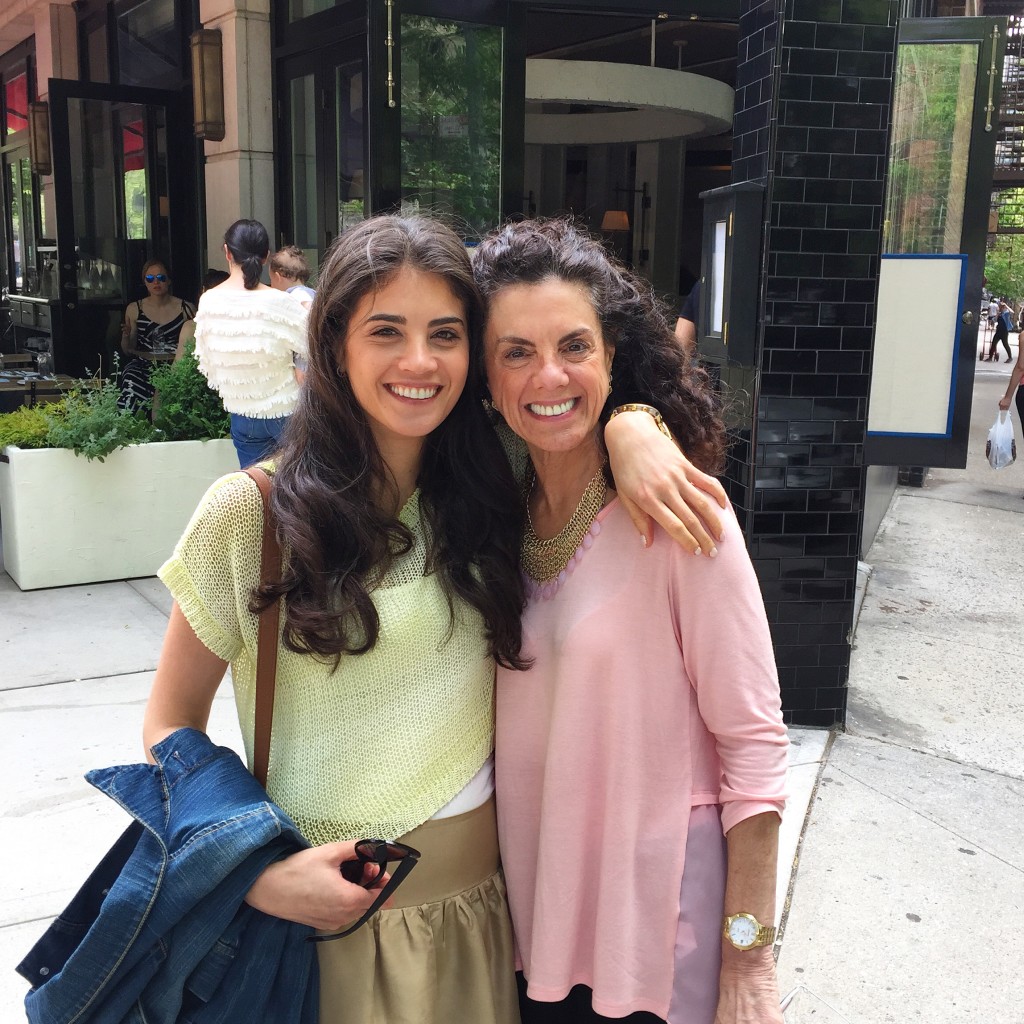 There's truly no better mom out there. You've taught me to be a strong, resilient, smart and kind young woman and I wouldn't be the person I am today without your impeccable example, support, and hand to hold. Love you!!!
(sorry for the public embarrassment!) 
What's your favorite way to eat veggies for breakfast?! 
XO