This Mexican-inspired, flavorful, meat-free meal is exactly what your chilly tummy wants for dinner tonight! Plus, it's grain free, gluten free, vegan and totally satisfying!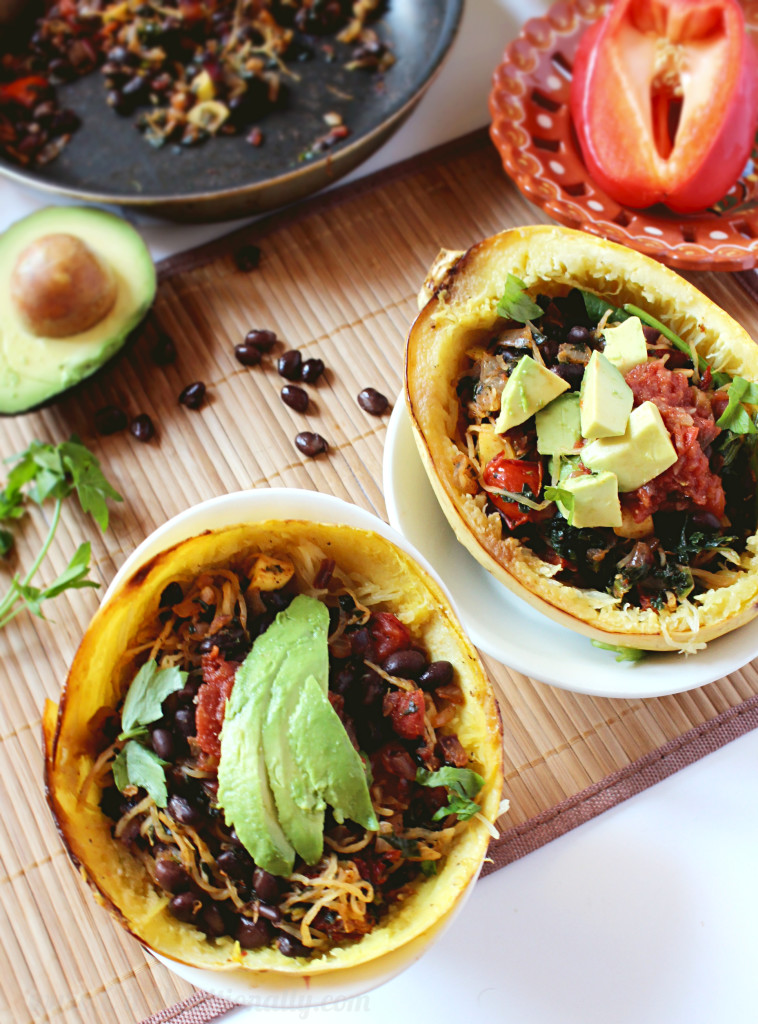 Oh em gee! This dinner is EXACTLY what you want when you think of comfort food on a chilly fall night. Maybe even perfect for Monday Night Football when you're not in the mood for chili, but still want those Mexican-inspired flavors of cumin, garlic, chili powder, and smokiness.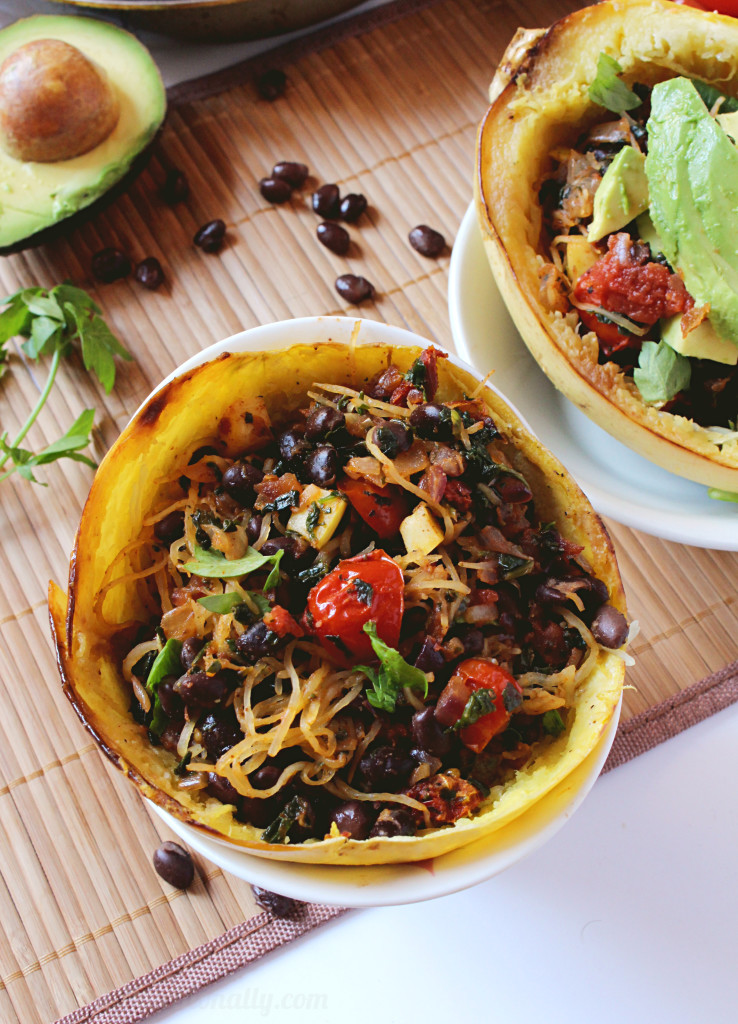 I returned home from a wedding weekend in Baltimore and wanted to whip up something quick, but healthy, for dinner (ya know, after too much celebrating!), so I could get back to my studying (hellooo midterms!). My parents are the BEST and dropped off some groceries at my apartment to welcome me back (seriously, parents of the year award) and among them was a spaghetti squash.
I was tired of my traditional Italian pasta swap route, so I spiced things up a bit and ole >>> Veggie Fajita Spaghetti Squash Stir Fry was created!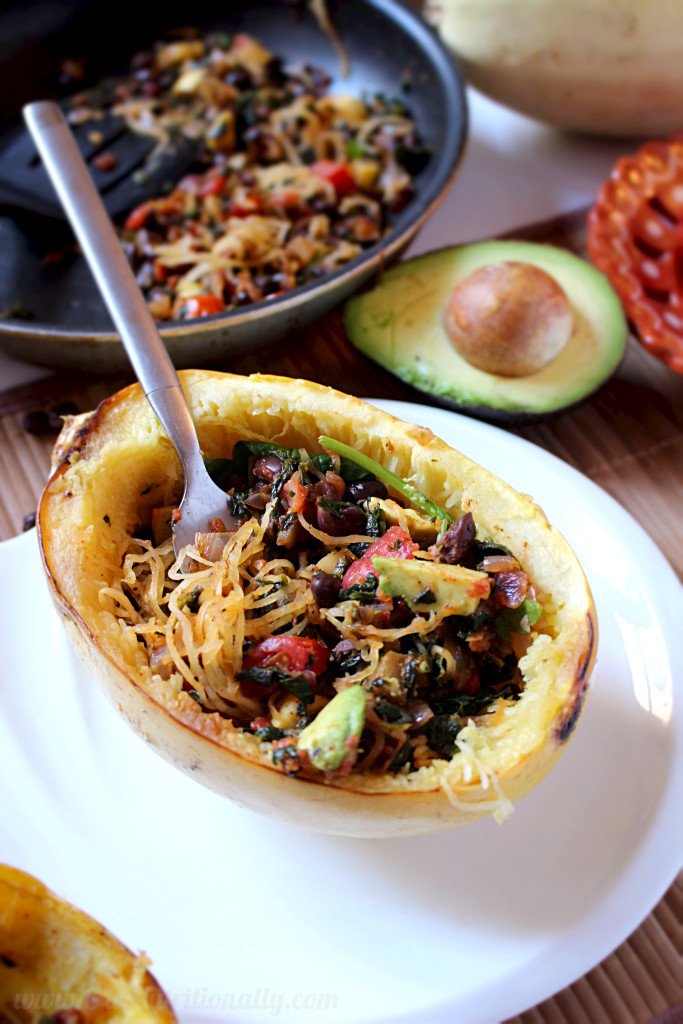 This recipe is…
Vegan
Gluten free
Grain free
Packed with plant-based protein
Full of at least 2-3 daily servings of veggies
Low calorie
Comfort food lightened up!
…and it all comes together in under an hour!
Prep your squash and toss it in the oven (click here for a tutorial!), then get chopping whatever veggies you want, but I prefer the classic fajita combo of onions and peppers. I made the same exact recipe two nights in a row and on the second night used both yellow AND red onions and it was THAT much better with a hint of sweetness that nicely complements the slightly sweet spaghetti squash.
On that note, did you know that at just 40 calories (yes 4-0!) per cup, spaghetti squash contains 2 grams of fiber and even 1 gram of protein?! Plus, don't forget about vitamins A and C and potassium! I love a nutrient powerhouse that is even more delicious than it is good for you!
Anywhoooo…Throw in whatever veggies you have on hand (the more the merrier!), add some salsa for instant flavor, toss in black beans for super duper plant-based protein (we're talking 8 grams per ½ cup serving and 7 grams of fiber!) and feel good about this simple and satisfying 100% meat-free dinner!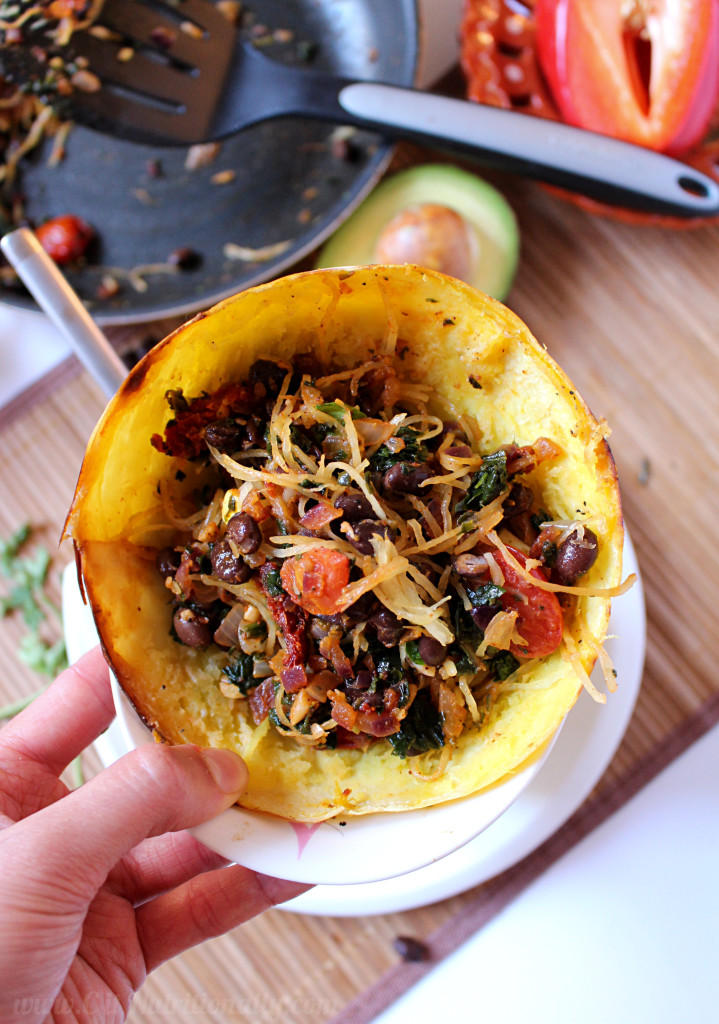 Let's eat!
Veggie Fajita Spaghetti Squash Stir Fry
Cuisine:
Mexican, Vegan, Vegetarian
Author:
Prep time:
Cook time:
Total time:
This Mexican-inspired, flavorful, meat-free meal is exactly what your chilly tummy wants for dinner tonight! Plus, it's grain free, gluten free, vegan and totally satisfying!
Ingredients
1 medium spaghetti squash, halved lengthwise
1 tablespoon olive oil, divided
1-2 cloves garlic, finely chopped
1 cup onions, chopped (I used both red and yellow onions)
½ jalapeno, seeded and cored, finely chopped
1 bell pepper, sliced or chopped
½ cup grapes tomatoes, halved
1 tablespoon sun dried tomatoes, chopped
½ cup spinach
2 tablespoons salsa
¾ cup black beans (soaked and cooked or rinsed from can)
¼ teaspoon cumin
½-1 teaspoon chili powder
½ teaspoon freshly ground black pepper
1/8 teaspoon smoked paprika
Cilantro for garnish
Optional: Avocado, salsa, Greek yogurt, Mexican-blend cheese for topping
Instructions
Cut the spaghetti squash lengthwise, lightly coat to ½ tablespoon olive oil and cook cut-side down on a tin foil lined baking sheet for about 35-40/45 minutes, depending on the size of your squash. When done, you should be able to easily scrape out the strings, but it should not be mushy.
When the squash is almost done cooking, heat the other ½ tablespoon of olive oil in a large skillet over medium-high heat. Add the garlic and onions and sauté until nearly translucent, about 3 minutes.
Add the jalapeno, peppers, fresh tomatoes, sun dried tomatoes and spinach and continue to sauté until they begin to soften.
Add salsa, beans, and spices, mixing to combine all ingredients.
When the rest of your stir fry is cooked through, add half of the spaghetti squash flesh (strings?) and combine. Taste and adjust spices to your liking (feel free to add some hot sauce right about now!).
Remove from heat and let sit while you scrape out the other half of your spaghetti squash. Divide the remaining spaghetti squash strings [that you did not add to the stir fry] amongst serving dishes, add your stir fry, top with additional salsa, avocado, or even some Greek yogurt (instead of sour cream), and cilantro. Alternatively, you can plate in an oven-proof dish, sprinkle some low-fat cheese on top and stick under the broiler for 2 minutes until melted and bubbly!
Devour immediately!
*Note: This says to make 2 servings, but they're HUGE servings and leftovers are always a good thing! 😉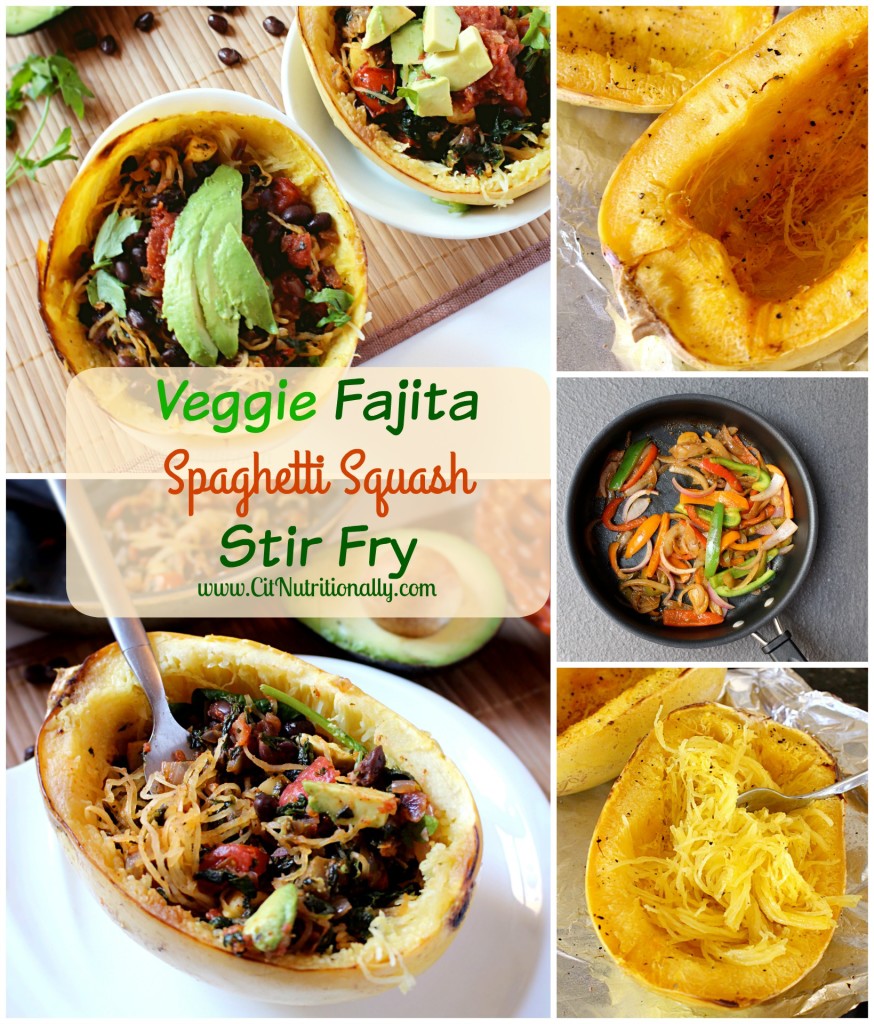 What's your favorite #MondayNightFootball grub?!
XO