A delicious warm salad that needs a place on your holiday table, my warm black lentil and root vegetable salad is made with just 5 ingredients, and free of all major allergens.
Happy holidays!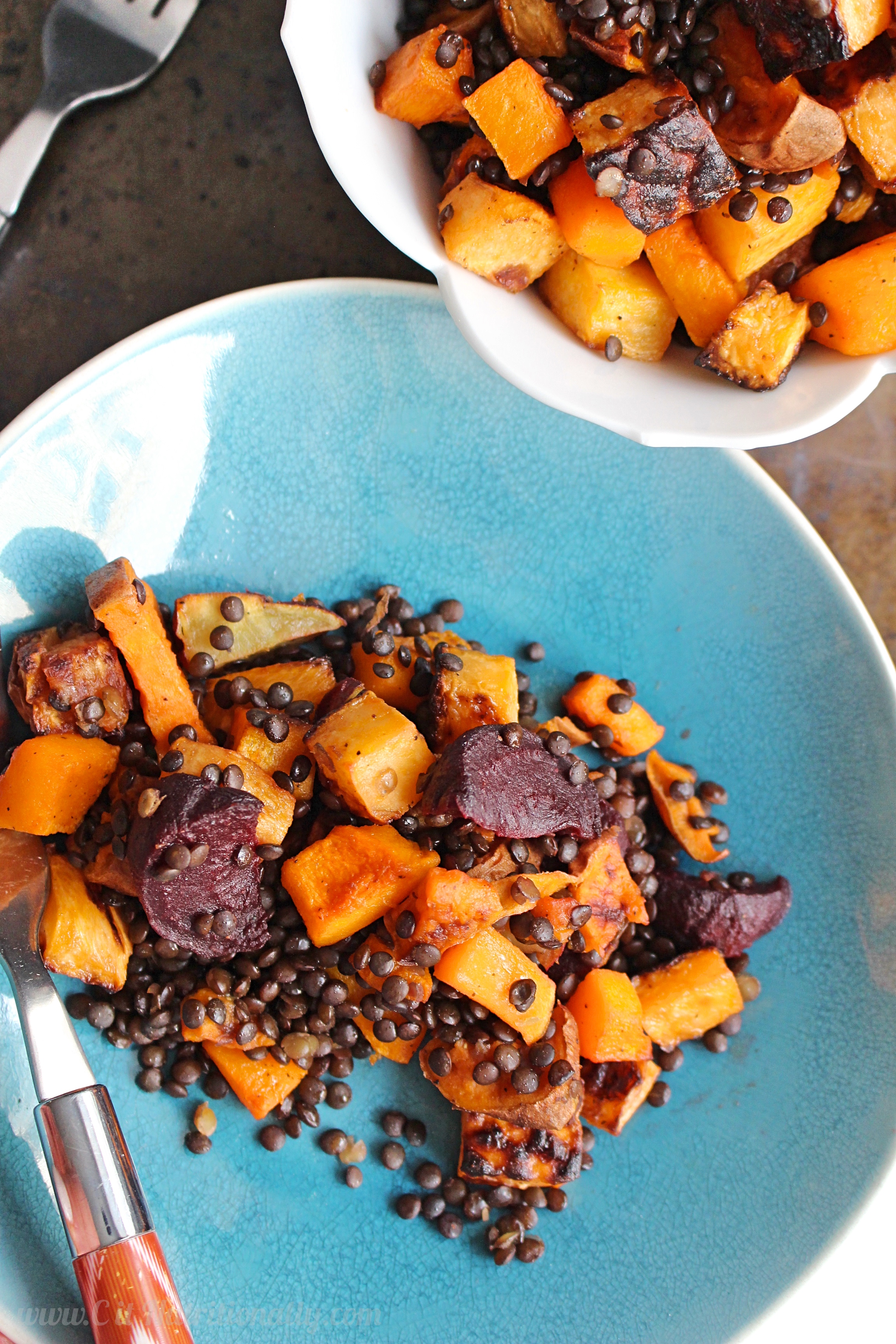 Hiiii guys! Happy Christmas and Chanukah week!!!
I'm flying high over here because I officially FINISHED my masters degree! Woo hoooo!! Sayonara to exams and papers and research projects!
I'm also uber excited because today happens to be Recipe Redux day! And I love this month's theme. If I'm not mistaken, we did this last December too, and it's SO. MUCH. FUN!
This month's theme is…
Grab a Book & Cook! We're playing a little party game at the end of 2016: Grab your nearest cookbook and ReDux the recipe on page 201, 16, 216 – or any combination of the number '2016.'
I really don't cook from cookbooks too often, BUT when I do I usually grab my VEGETABLES book. I used this same book last year for the Grab a Book and Cook theme, used it for Thanksgiving menu planning and I included it on my gift guide this year. I am obsessively OBSESSED with this book!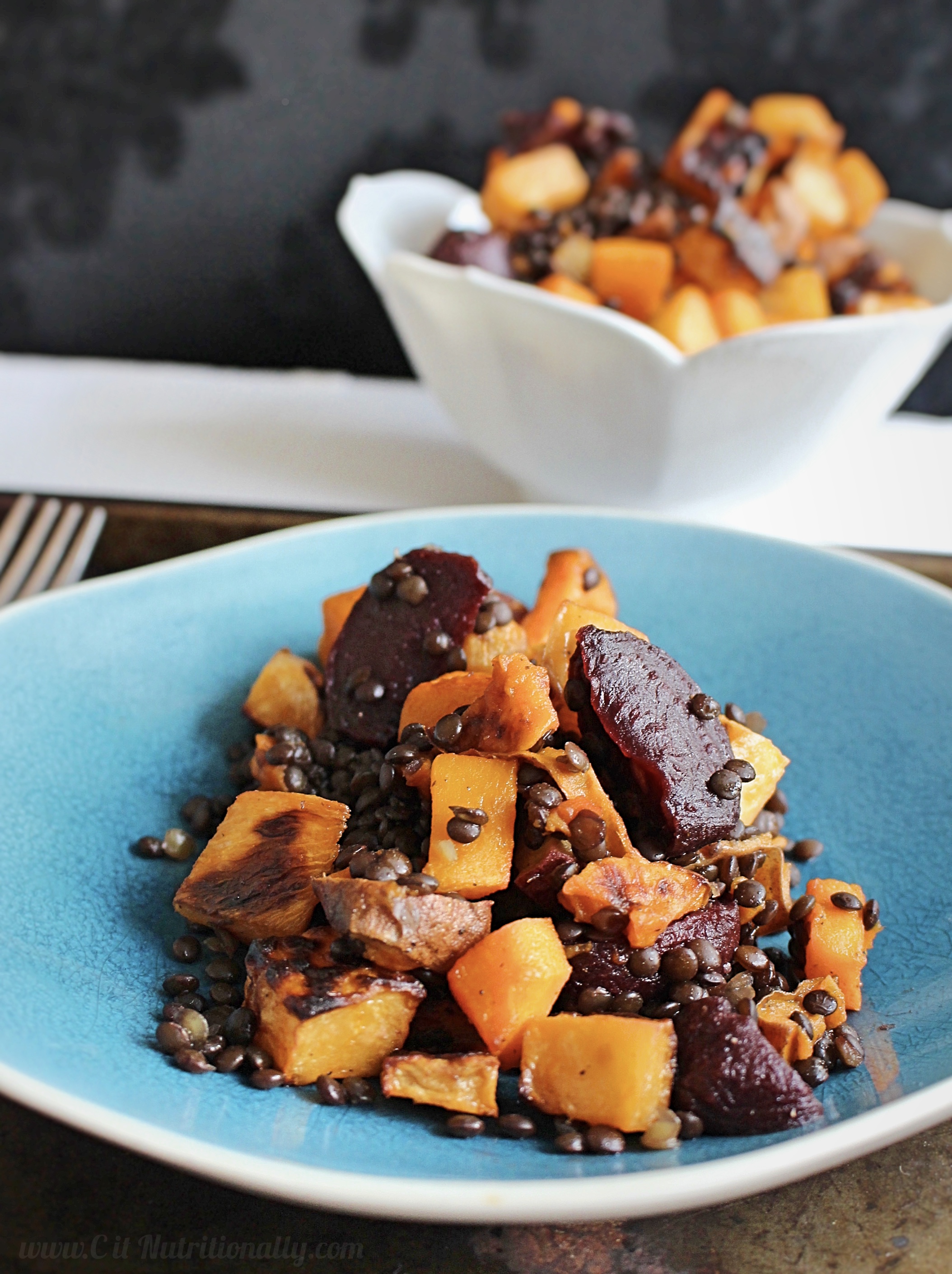 Like I said last year…. "It's the Williams-Sonoma veggie-rific cookbook that constantly inspires me. If you like my adaptation, you'll looove this book…and can buy your copy here!"
Yup, I just quoted myself! 
Now, to be totally honest, I saved my Redux-ing for the last minute ((#gradschoolproblems noooo more!!)). And my recipe flopped! I attempted to make a version of the Potato-Celery Root Pancakes from page 216 just in time for Chanukah, but with rutabaga instead… and they just didn't stick together well enough for me to share with ya'll. ((Did you see me document the struggle on my Insta story?!)) But they did make a delicious hash brown at that! ((Stay tuned!))
So I flipped to page 16 and there was a huge picture of a farro salad with caramelized vegetables, and BAM, perfect, simple, just what we need around the holiday season.
But to switch it up a little, I used black lentils instead of farro for a bigger protein punch, and used the root veggies I happened to have in my fridge. That included some rutabaga, sweet taters, butternut squash and beets. You can switch things up in whatever way works for you and use what you have on hand — parsnips, carrots, turnip, celery root…the possibilities are endless!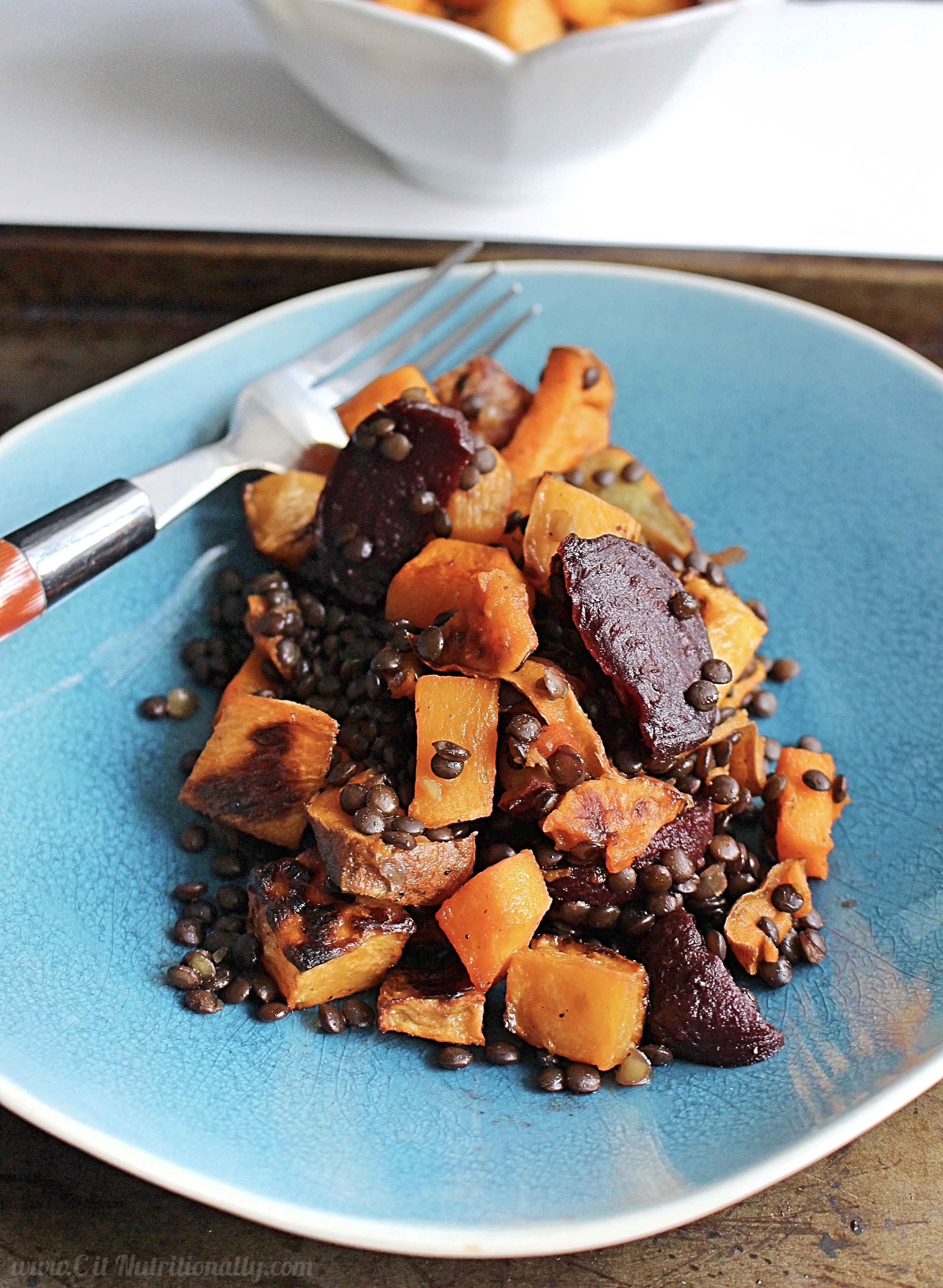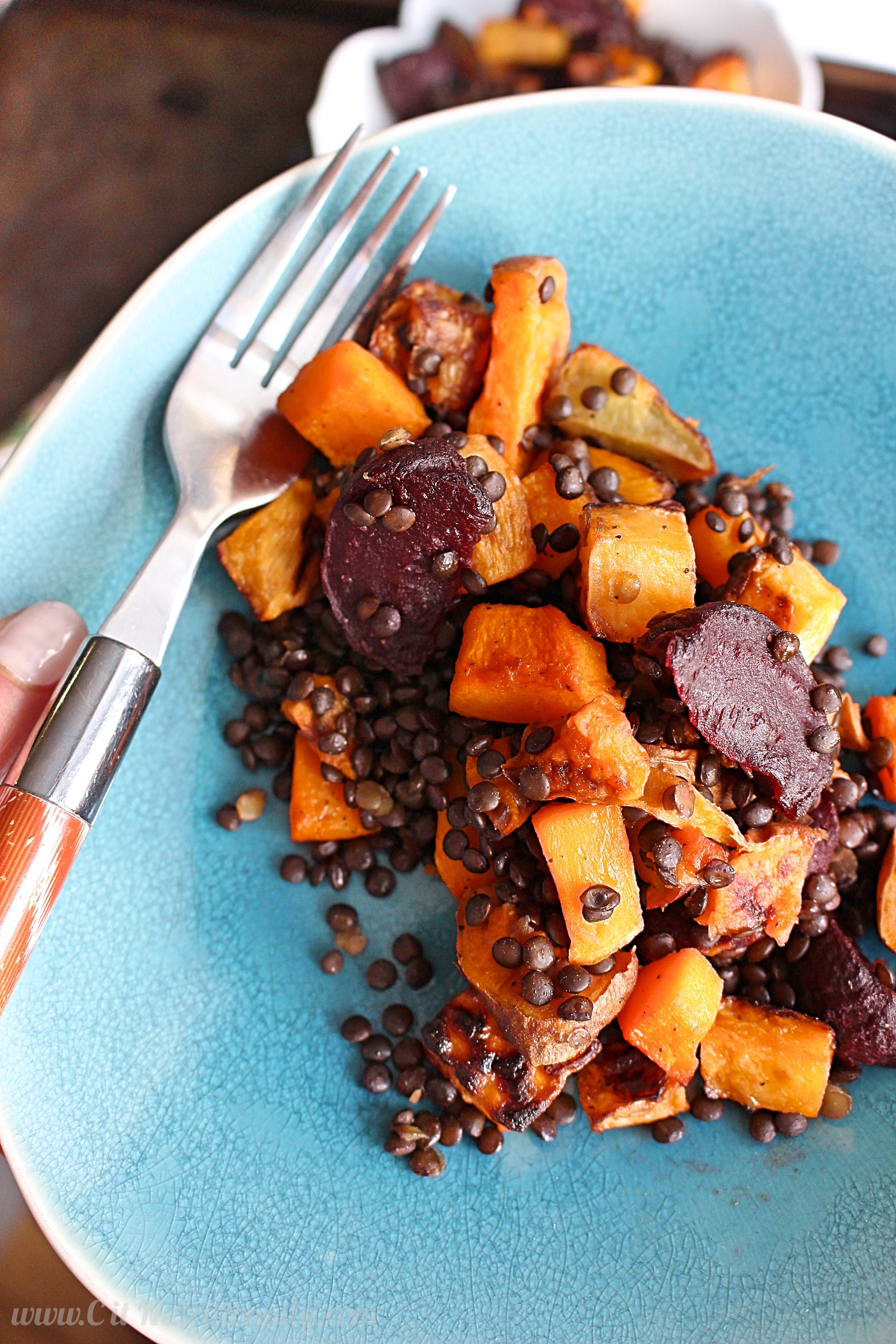 This 5-ingredient warm black lentil and root vegetable salad makes a great side for your holiday table, or a healthy lunch for you to always have on hand. And I happen to think it tastes delish cold too! 
So let's get cookin'…
Warm Black Lentil and Root Vegetable Salad
Ingredients
1/2 cup uncooked black lentils, picked over
1 1/2 cups vegetable broth
2 1/2 tablespoons olive oil, divided
Salt and pepper
4 cups assorted root vegetables, diced (I used rutabaga, sweet taters, butternut squash and beets)
1 tablespoon honey
Instructions
In a heavy-bottomed saucepan, combine lentils and vegetable broth (or water). Bring to a simmer, cover the saucepan with the lid tilted slightly. Cook for approximately 15-20 minutes until lentils are soft, but not mushy, and cooked through. You may follow package instructions.
Preheat oven to 375°F. While the lentils are cooking, toss diced root vegetables in a large bowl with 2 tablespoons olive oil, salt and pepper (to taste). Make sure all vegetables are coated well.
Evenly divide the vegetables among a parchment paper-lined baking sheet (or two), making sure not to overcrowd your pan. Roast vegetables for 25-45 minutes, depending on which vegetables you use. Please note: rutabaga takes a bit longer to cook than the other vegetables, so roast it separately or be sure to cut it into smaller pieces.
When vegetables are nicely browned on the exterior and soft to fork, place in a large bowl and toss with honey.
Then add lentils and the other 1/2 tablespoon of olive oil. Toss together, taste, and add additional salt and pepper to your preference. Serve warm.
http://citnutritionally.com/warm-black-lentil-root-vegetable-salad/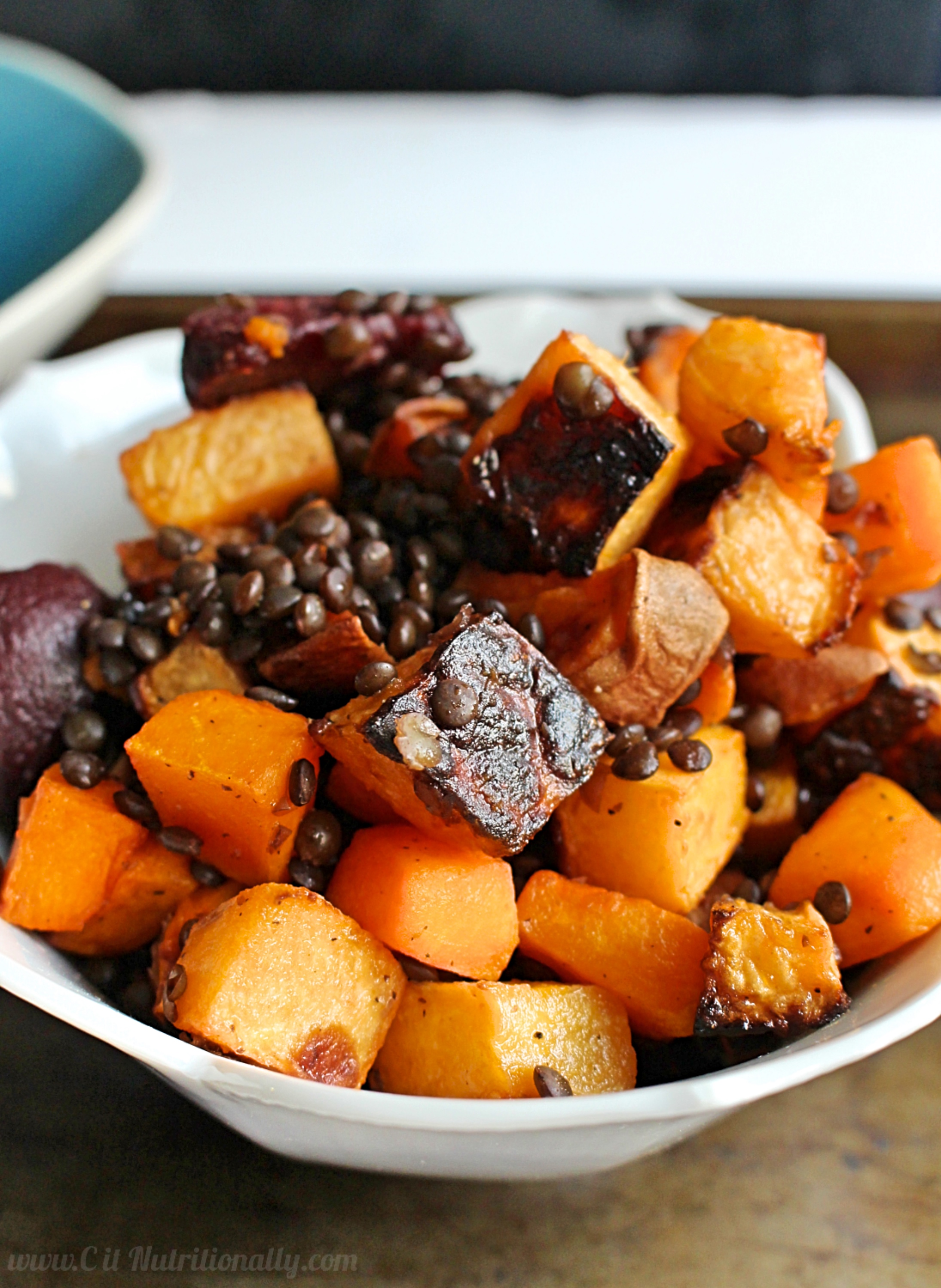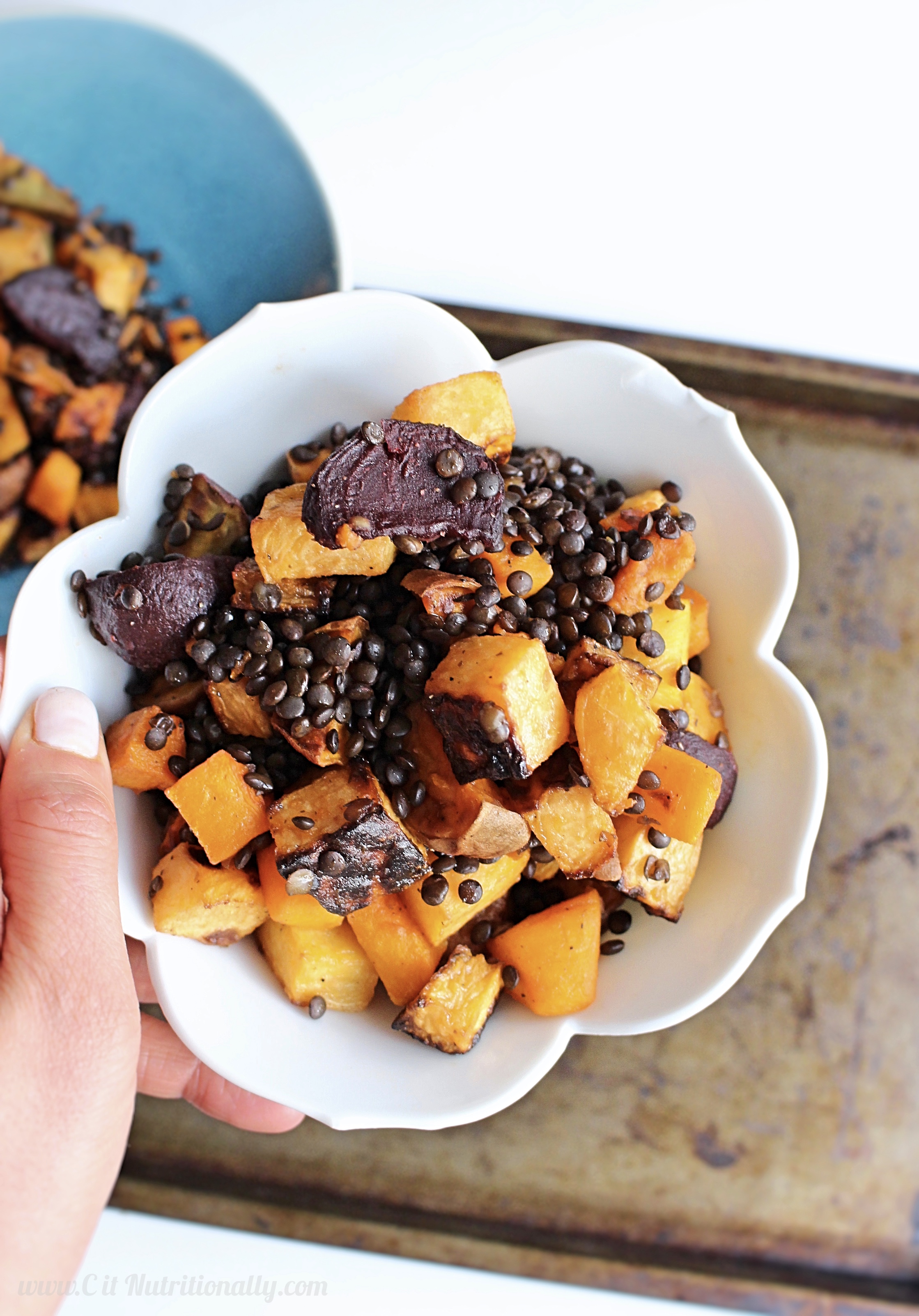 Happy holidays! 
XO
Let's get social!
Facebook: C it Nutritionally
Twitter: @ChelseyAmerRD
Instagram: @CitNutritionally
Pinterest: ChelseyAmer