Heyyyoooo new year babes!
Let me guess….you know SOMEONE who is trying to eat a littttle bit healthier this week?? Well, if you know me, you know I'm a fan of moderated moderation ALL the freakin' time…not just the first week of January 😉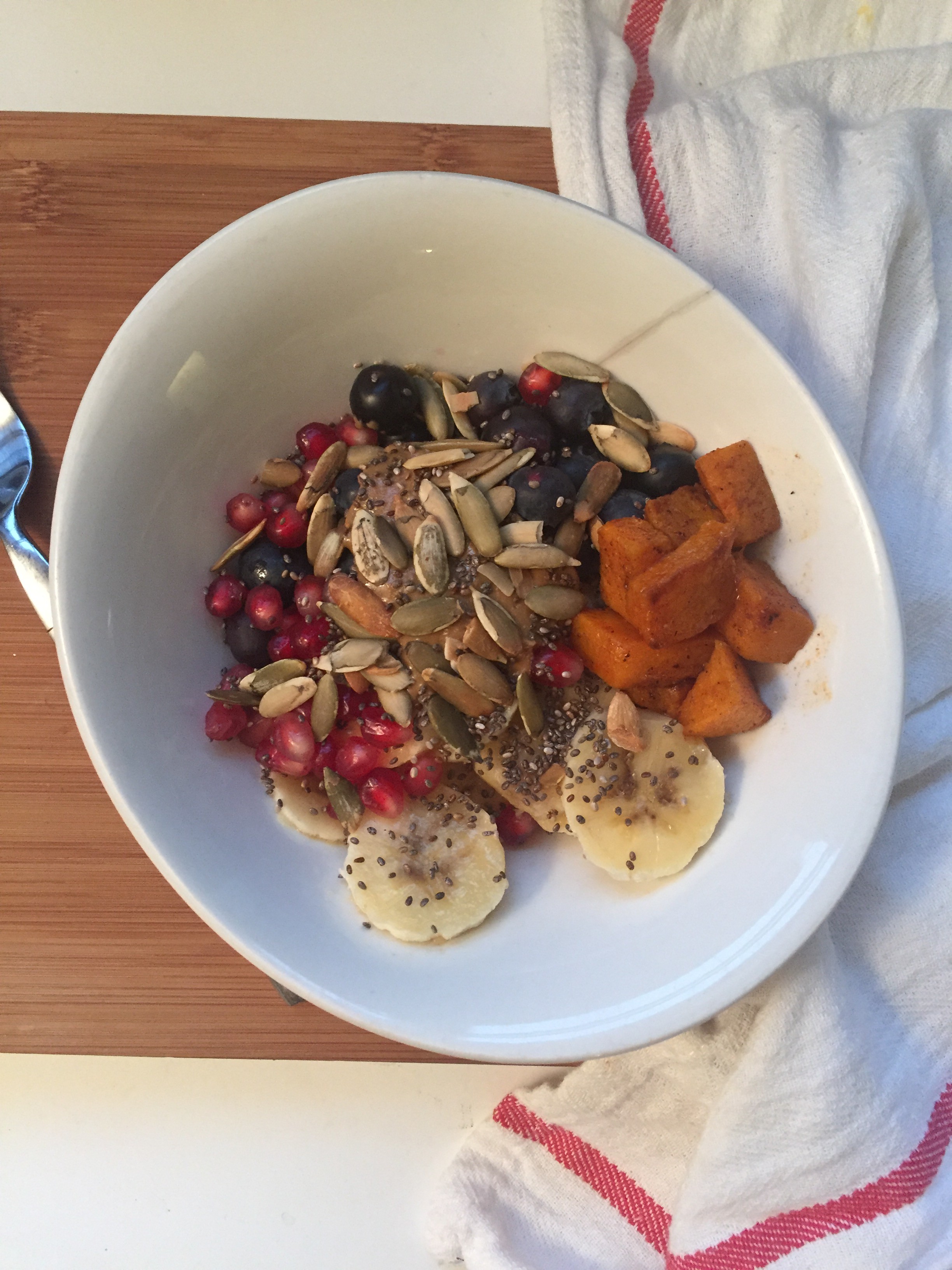 BUT I totally get the I went a few too many days without a vegetable between the holidays and New Years so I'll try to "clean up" my diet a little. Whatever "clean up" may mean to YOU. Because diet is 100% individualized. No comparison here.
Well, I guess you could say I ate a few too many superfood chocolate truffles and crispy chocolate sunflower seed butter cups ((because I am TOTALLY obsessed with both!)), so I'm trying to cut back just a teeeeensy bit on the chocolate today. We'll see how long that lasts!
So let's dive straight into my first What I Ate Wednesday of 2017… these eats are from yesterday…
I woke up around 7ish, drank downed my coffee over checking some email, then took my probiotics and made a cute fruit and butternut squash bowl with some sunflower seed butter, chia seeds and pepitas pre-workout (see above). Did you check it out yesterday on my Insta story?! 
I spent the first part of my morning getting organized because I totally needed the time to just plan, plan, plan for the week. Anyone else all out of sorts after not really working for the past two weeks??


I raced off to my Tuesday morning 305 dance cardio class in the rain (womp womp) and downed a 750ml bottle of water during the 55 minute class (not pictured). After class, I went to get some work done in Starbucks  and boy am I glad I packed a smoothie because my stomach was grummmmbling after class.
I switched things up a little this time and added some hemp protein and ground flaxseed to my classic green smoothie. Along with my smoothie, I threw some bloobs in my Corcksicle tumbler and packed some brown rice crispies to add too. All with a black coffee from the 'bucks.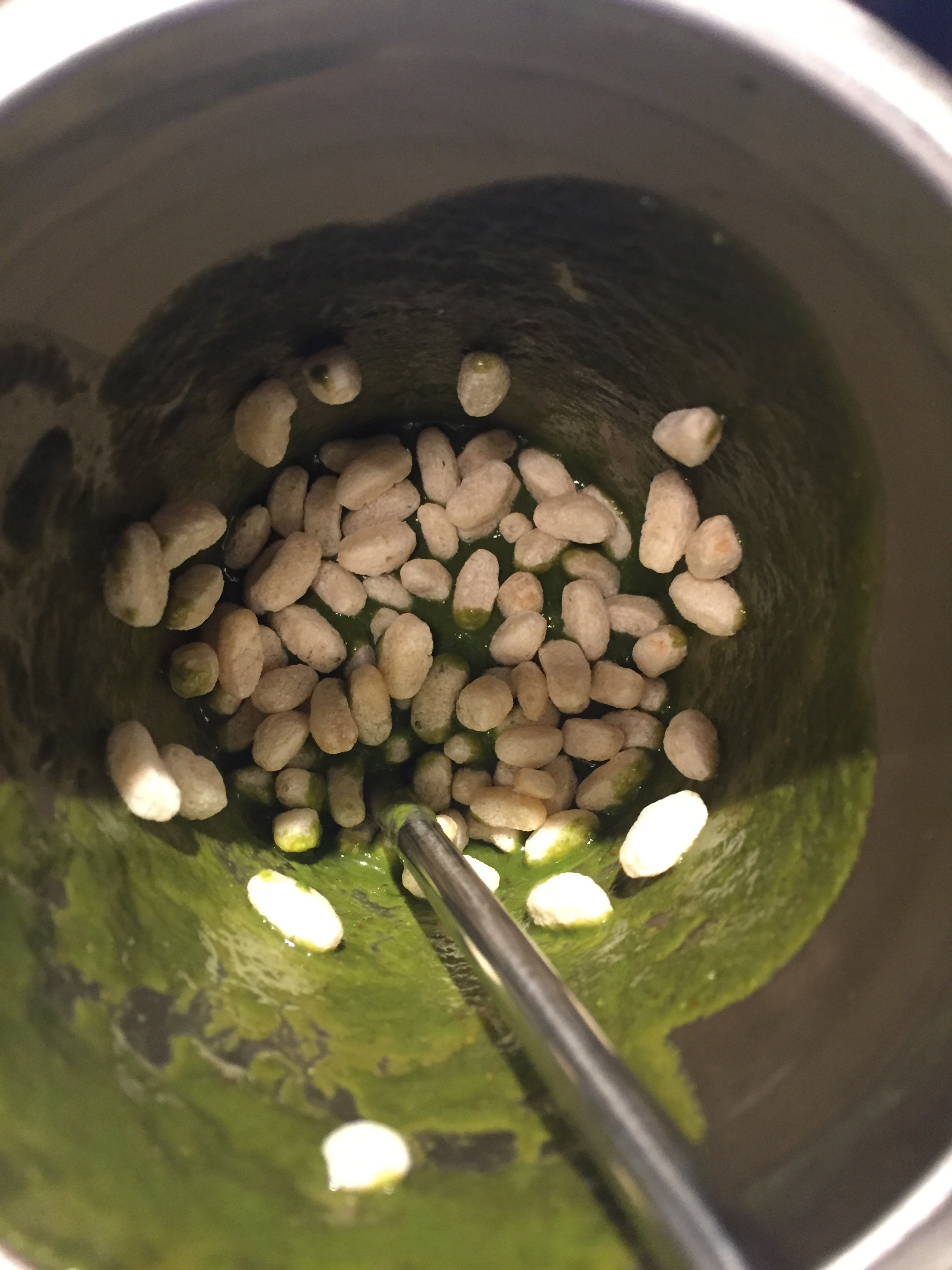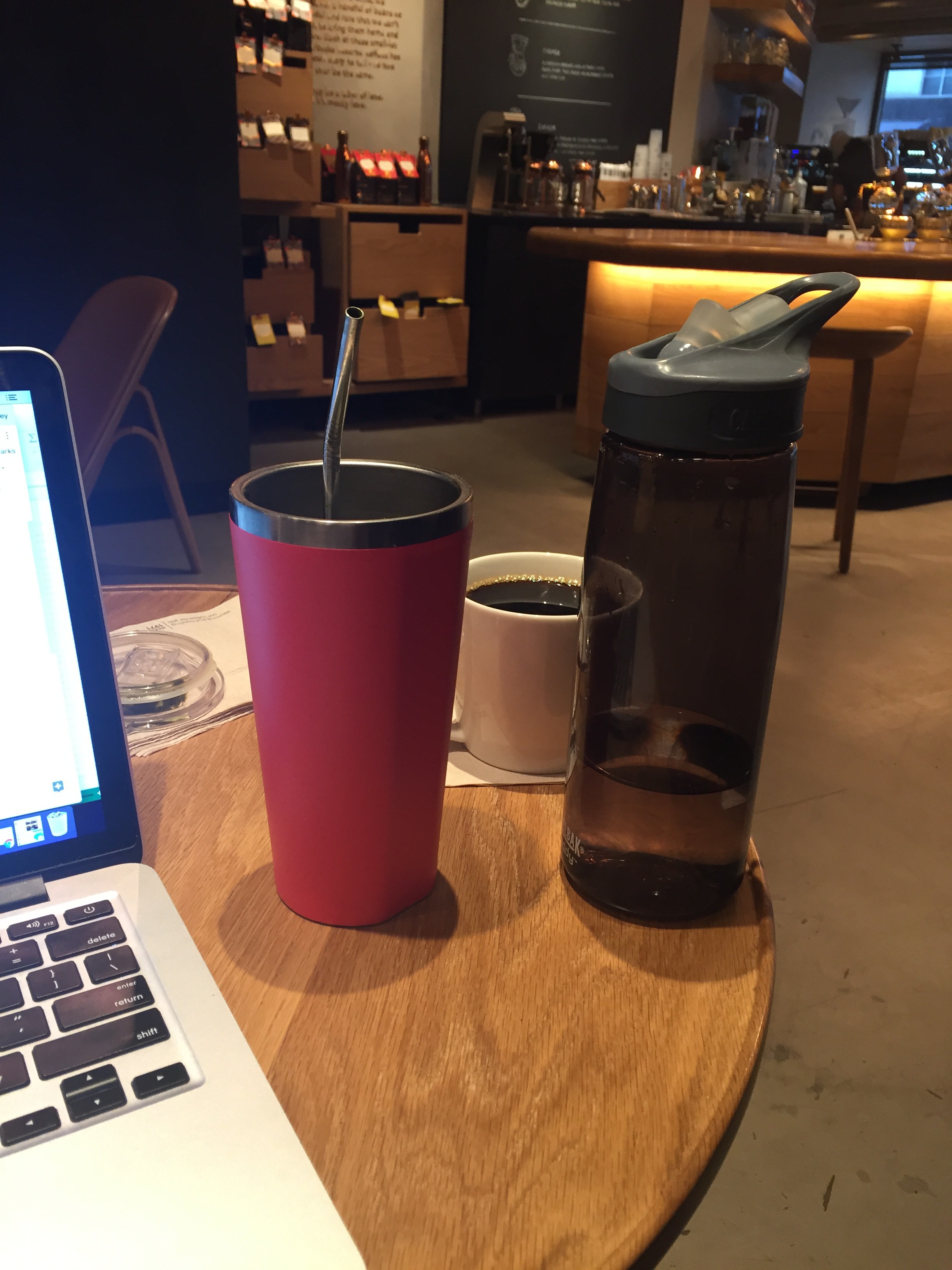 PS – How cute is my TaZa straw?? I love that it's environmentally friendly, which I have become SUPER aware about thanks to mah girl Abby.
By 1:30-ish I headed home to change up my environment and get ready for my clients in the evening. ((Shameless plug → If you know someone looking for nutrition counseling services in NYC, I'd love for you to send them my way!!))
After prepping everything I needed to for my clients, I needed a snack, so I made a big bowl of veggies with a couple of leftover eggplant balls from the night before. SO GOOD! You NEED to try this recipe!!! And I added some of the leftover feta cheese I brought home from Taverna Kyclades that S and I went to on Sunday evening — it's almost comparable to the deliciousness that is the feta cheese in Israel! Ooooo I can't wait for our trip in March!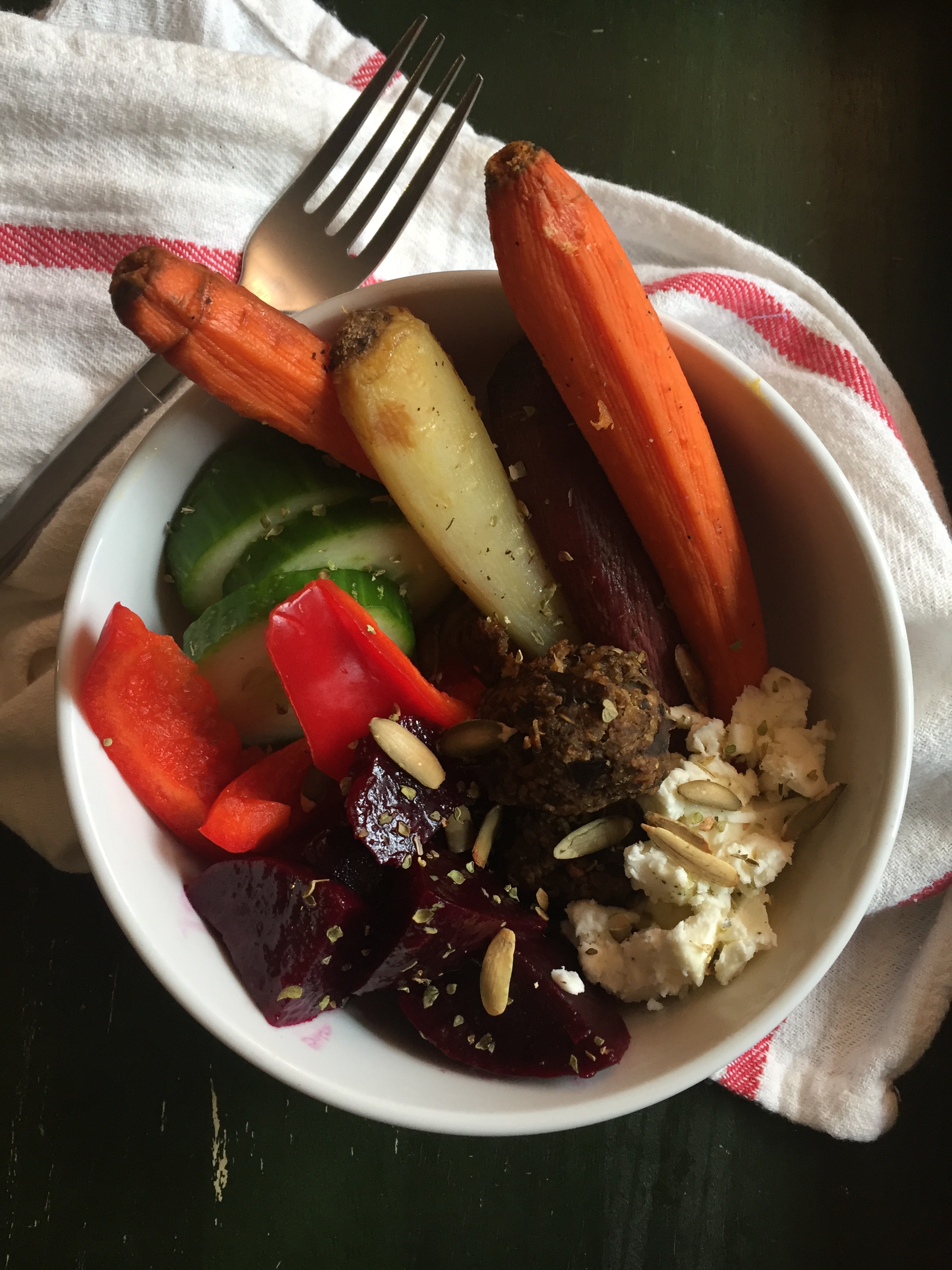 While I was writing the beginning of this post I downed another 750ml of water. Gotta stay hydrated even though it's chilly!!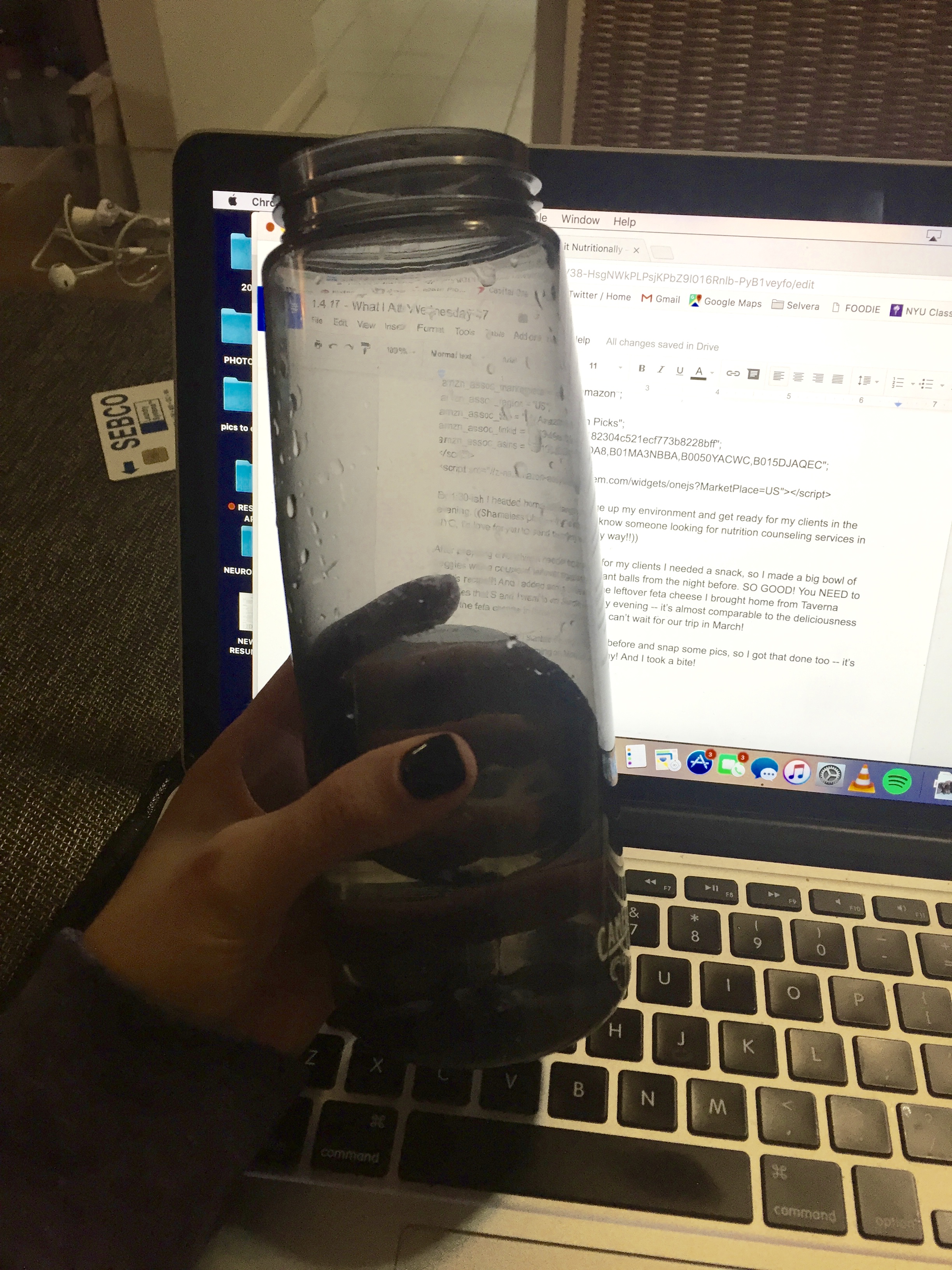 And then I snacked on an apple…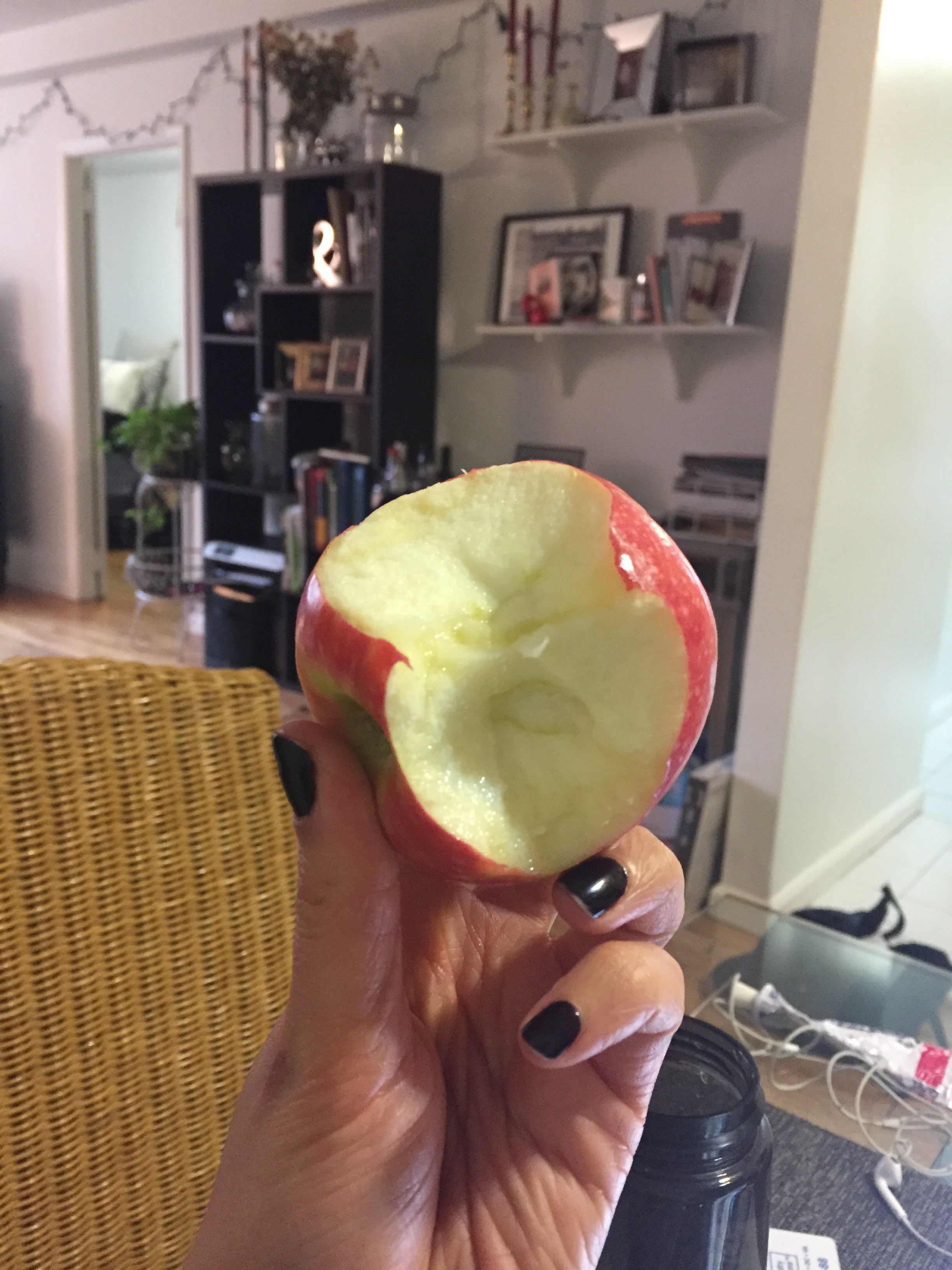 I ventured out in the rain again because I had a few clients in the early evening, came home and made dinner. This girl was huuungry…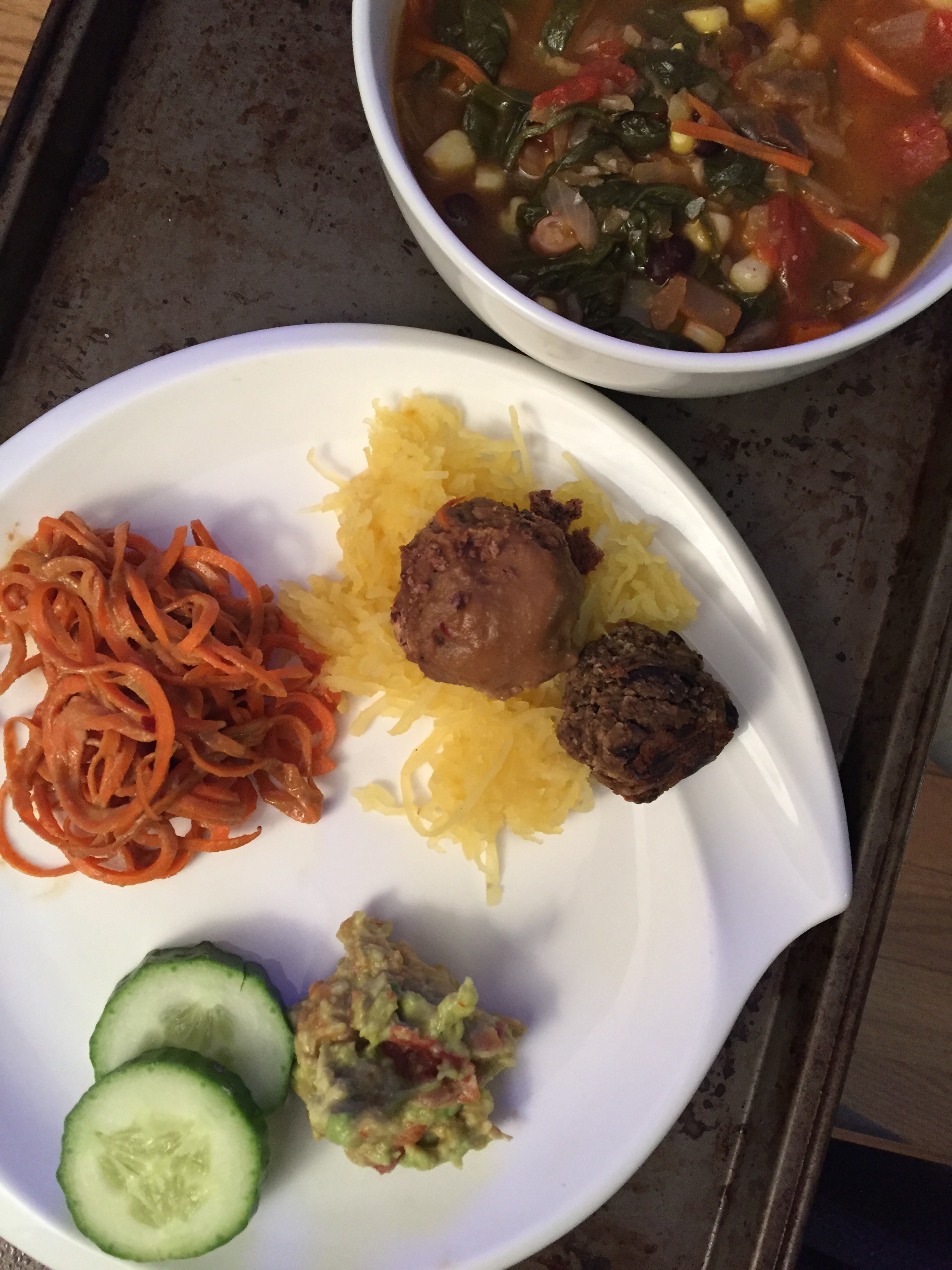 I had a bowl of veggie soup before S came home and then finished my veggie plate while he was eating. What's on my plate?! Carrot noodles with a sunflower seed butter sauce, homemade guac and cuke slices, and leftover spaghetti squash and eggplant balls ((again!)).
My belly was warm and full and I was totally satisfied from my veggie-filled day!
S and I caught up on Kid's Baking Championship before bed and hit the hay early!
Til next week guys…
XO
Let's get social!
Facebook: C it Nutritionally
Twitter: @ChelseyAmerRD
Instagram: @CitNutritionally
Pinterest: ChelseyAmer
If you're looking to stay warm and toasty, don't forget to check out my 25 Veggie-Filled SOUP Recipes to keep you warm all winter long + NOURISH your body!