Every March, the Academy of Nutrition and Dietetics celebrates National Nutrition Month to promote healthy eating and a well-rounded lifestyle. This year, the Academy encourages you to Bite Into A Healthy Lifestyle…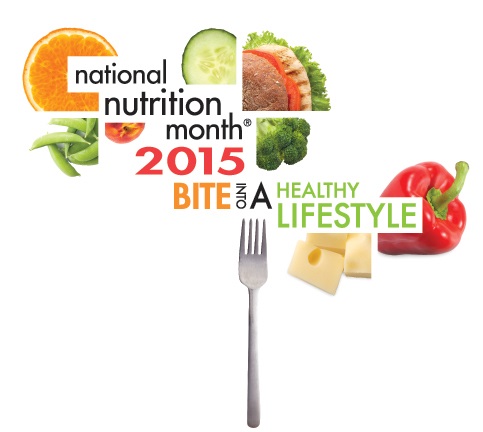 I created C it Nutritionally to separate fact from fiction in the world of nutrition clutter and share my personal collection of healthy recipes just for fun, but little did I know that blogging would become one of my favorite ways to spend my free time. My career is of paramount importance to me, which is why I wanted to share my journey into this rewarding and limitless field. 
So what is a Registered Dietitian? Why am I working so hard for these coveted letters after my name? What will I do once I finish school? 
(Don't worry, Mom…the answers are below…)
You see, the sheer quantity of opinions on nutrition out 'there' is overwhelming. If you try, I'm sure you'll be able to find someone who claims to be an "expert" in nutrition.
This is one of the reasons I started C it Nutritionally! I know I contribute to this white noise, but I like to think I have the education, background, and evidence-based research to support any claims I make. When people make scientific claims, without substantial evidence to back them up, I get a little skjfsljfsk…if you know what I mean…no words! 
I think Dr. David Katz said it best when he compared people being a passenger on a plane to being a credible source about how to fly one…I don't think so! He said,
"…with nutrition, where not only does everyone have an opinion, but everyone seems to think theirs is an

expert

opinion. And our culture seems to be okay with that. I'm not."
#truth
In honor of National Nutrition Month, I want to celebrate the professionals and experts I will one day [soon] join. All month long I will be sharing more about this wonderful career, in addition to the regular nutrition tips, helpful hints, and delicious recipes. 
From speaking with friends, family, and plenty of readers, I realize that many people do not fully understand what a Registered Dietitian (RD) does, how he or she gets the title, and the vast depth of the field (I know I didn't until I was knee-deep in it myself!)…so I figured this is the perfect place to start!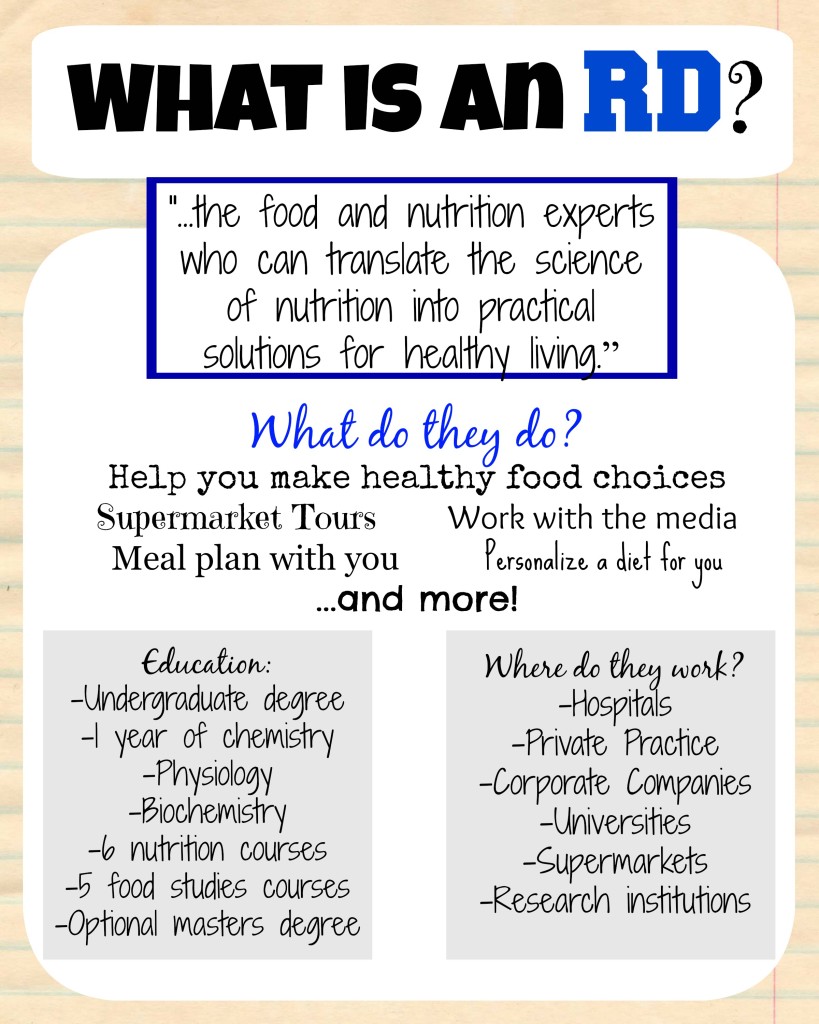 According to the Academy of Nutrition and Dietetics, which is the official professional organization for dietitians, diet techs, and students like me (#RD2be), RDs are 
"the food and nutrition experts who can translate the science of nutrition into practical solutions for healthy living."
What's the difference between an RD and Nutritionist/Health Coach? 
I'm not going to rant about health coaches or "nutritionists" at this point because some blogger RD friends have written precise explanations that I happen to 100% concur with. Please read this explanation from Elle and this clarification from Julie. All I'm going to say is that they are NOT the same thing! Not all nutritionists are RDs, even though they may use the term to avoid confusion, but all RDs can be considered nutritionists.
Registered Dietitians have worked hard to earn those two letters (R.D.) with years of school, training, and practice to qualify for the credential.
Dietitians must have at least an undergraduate degree in nutrition, from an [ACEND] accredited institution. What courses does this include? Here's a partial list to give you an idea…
One year of chemistry (inorganic and organic)
Biochemistry
Physiology
Psychology
Microbiology
A handful of community nutrition courses
Diet Assessment
Nutrition and the Life Cycle
Clinical Nutriton
A handful of food science courses (like management, food science and technology, etc.)
Then, aspiring RDs must complete a dietetic internship, which I equate to a medical residency program, but for dietetics. This includes a year of hands-on training so upon graduation (and passing of the RD exam), an RD can easily enter any entry-level dietitian position.
It is becoming more popular for many practicing RDs to go on and get their masters degree as well (which is what I'm doing!). In my graduate program, I am taking advanced biochemistry courses focuses on macro- and micronutrients, advanced specialty nutrition courses, like weight management and nutritional counseling, and electives that dive into a specific niche of nutrition, like maternal and child nutrition. 
As you can see, becoming a dietitian requires a science-heavy course load. This is precisely the reason that dietetics is based in scientifically proven research.
We don't just tell you to eat more greens or fiber…we know WHY you should be eating more fiber, how your body digests and uses fiber, and what diseases you are preventing by consuming sufficient amounts of fiber (like diabetes and heart disease!) and why!
Additionally, dietitians can help you properly determine the amount of nutrients and food you should be consuming specific to your body. We know how to calculate proper tube feedings, what you should eat if you require dialysis, how to balance your diet if you're on insulin, and how certain foods interact with medications.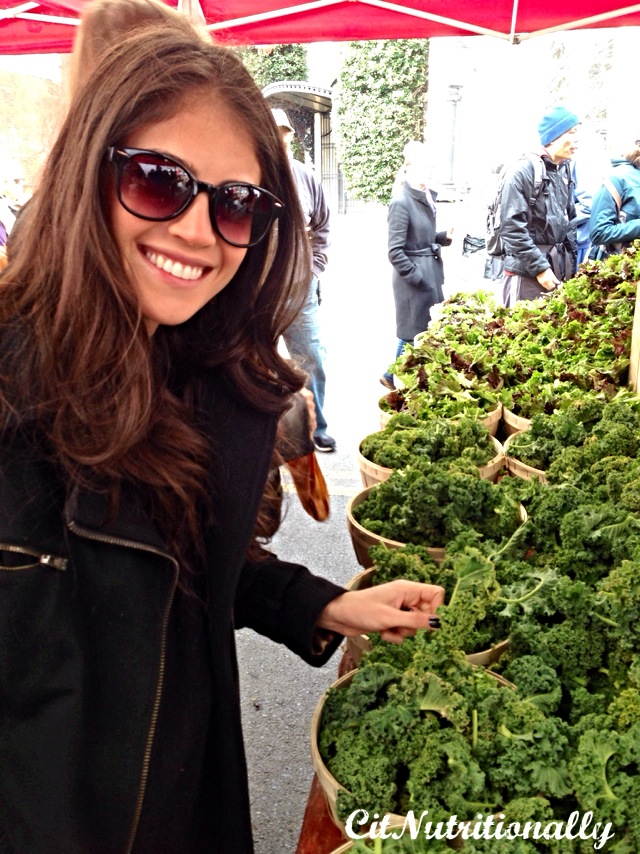 Where do Registered Dietitians work? 
RDs can work in a variety of places including hospitals, community centers, supermarkets, corporate companies, universities, research institutions, and private practices. If I sat down and made a comprehensive list I could add SO many more jobs (helllooo, BLOGGER!). While many people can call themselves a nutritionist or health coach, only a select group of highly educated practitioners get to use the term "dietitian."
But that's not all…
The field of dietetics is truly limitless. With a growing obesity epidemic, nutrition has become of paramount importance. I wouldn't be surprised to find dietitians creeping up in schools across the country. Dietitians work in the media, relaying important evidenced-based nutrition news to you on the daily broadcast. We can work with corporate companies to ensure employee wellness and good student health across college campuses. We can take you on a supermarket tour to teach you how to properly read a food label to make the best choices for your family. Some dietitians are culinary superstars, properly trained at the French Culinary Institute and are now using their skills in the kitchen with nutrition knowledge to make good food taste good. 

As you can see, dietitians do a wide variety of things. I hope this answers your question "What is a Registered Dietitian?" and helps you better understand my passion for the field. A dietitian can be extremely valuable in your life, so if you, or anyone you know, is looking for help with diet, how to navigate food allergies or intolerances, how to eat for a specific medical diagnosis and more, please refer to this database of trained professionals who want to help YOU! 
Happy National Nutrition Month! 
XO