If you've been a long-time reader (thaaaanks!) or Instagram follower of mine, you know I'm a HUGE fan of exercise. It seamlessly fits into my daily life…or I make it seamlessly fit into my daily life because of all the awesome benefits (reduces the risk of chronic diseases like heart disease and diabetes, helps us maintain a healthy weight, boosts lung function, relieves stress…and I could go on and on and onnn).
But did you know that when I'm showing off a post-workout meal, my $20 workout pants from Target (you know "tar-jeh"), or a #sweatyselfie (rarely), most of my photos are actually right at home in my tiny NYC apartment??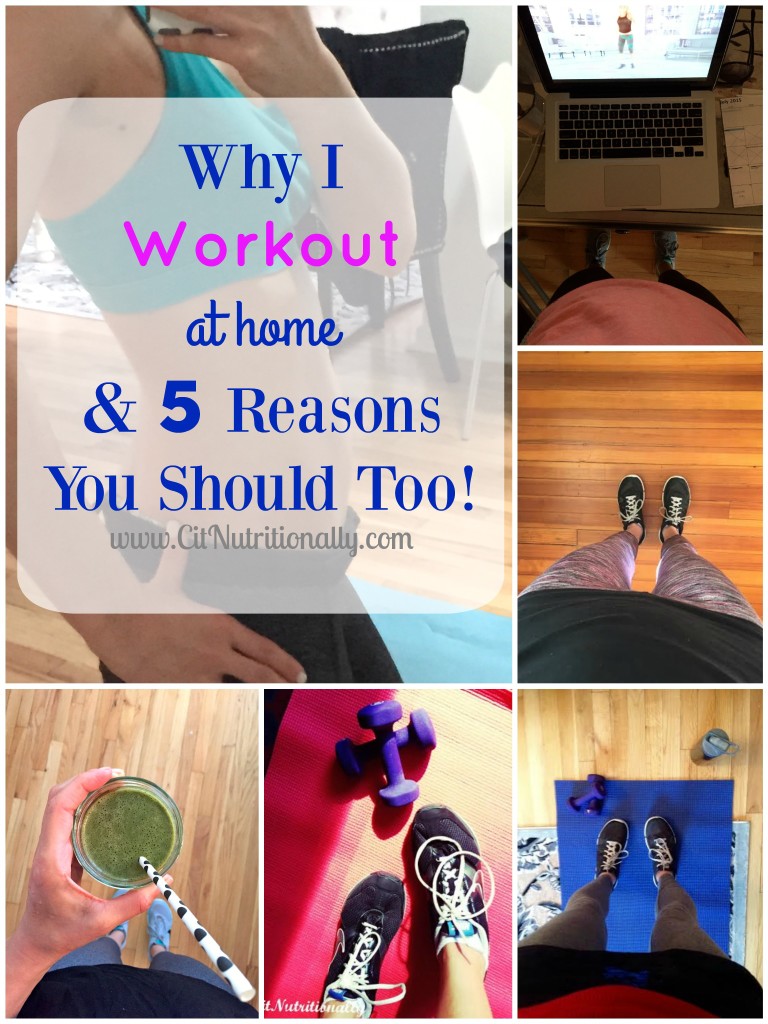 Why? I'll get to it. But first I'll tell you how I got into working out at home…
I first became interested in fitness in high school. I would go on the treadmill we had in the basement almost everyday. One night (or veryyy early morning) my mom saw an infomercial for Charlene Johnson's Turbo Jam. Since I used to be a dancer she thought I would love it. And she was right! I brought the DVDs with me to college and soon my whole sorority knew about my obsession (and some joined in!).
My weight fluctuated constantly throughout college (no thanks to a sorority house packed with mostly unhealthy food, excessive drinking and late night eating habits I don't like to admit to), and every summer I would lose the lbs I gained…with the help of a new at-home workout DVD.
The summer after I graduated from college, my mom upped the ante on the at-home workout DVDs. The dancer in me LOVED Tracy Anderson's dance cardio and mat workouts. And for the first time I truly loved what these workouts were doing to my body — lean dancers arms, strong, but sculpted legs, and feminine abs, without a bulky six pack — which motivated me to eat better and keep it going.
But my favorite part? I can do it in my pajamas!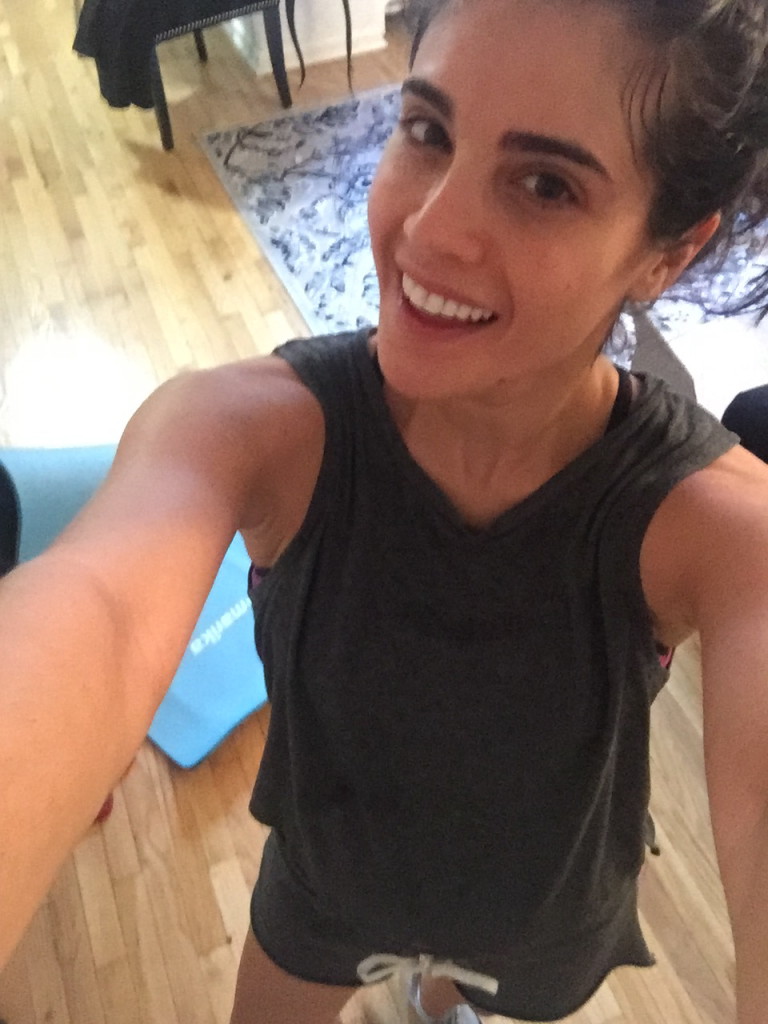 I'm one of the lucky ones with a wide array of boutique fitness classes here in NYC, but I still love working out at home even more. And thanks to the world wide web, you no longer need a bulky machine ((let's be honest)) collecting dust in your basement because there are SO many at-home options where all you need is a 4×6 space and some sneakers!
Which is why when Booya Fitness reached out and invited me to create an at-home workout plan for my readers, I jumped at the opportunity! Speaking of boutique fitness classes, Booya Fitness has some of the hottest classes that were born in New York City for you to do in your living room in Montana or while on vacation on Bora Bora! How awesome is that?!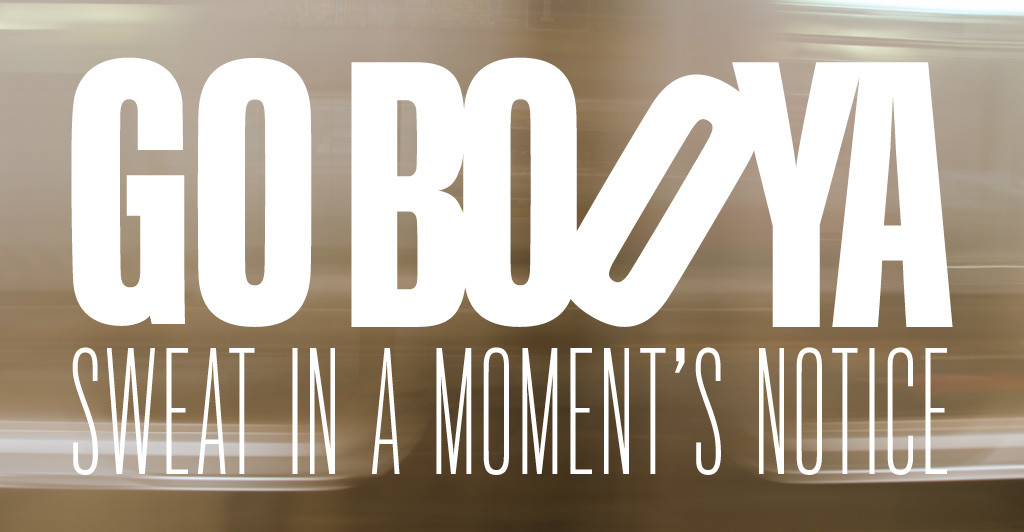 For under $4 you can have my 21-day at-home workout plan with daily emails from moi with plenty of nutrition tips and perfect pre- and post-workout recipes. Happy sweating!
But why should you sign up for my plan? Here are the top 5 reasons I love to workout at home ((and I think you should too!))…
I sweat it out to my own playlist.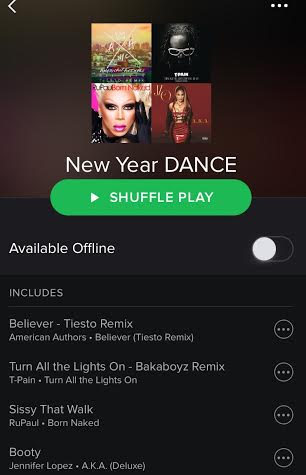 Music is a sure-fire way to get and stay motivated during your workout (science even proves this!). Unfortunately, I've found that some classes are full of rap, whereas I prefer girly pop. At home, I have full range on my playlist and can even skip a song in the middle if I'm not feeling it!
Lulu Lemon who? 
I don't know about where you live, but the boutique fitness classes in New York City are like a runway at fashion week. Exercising at home allows me to roll out of bed and hit my mat for some yoga brushing my hair or glamming up (see pajamas above)!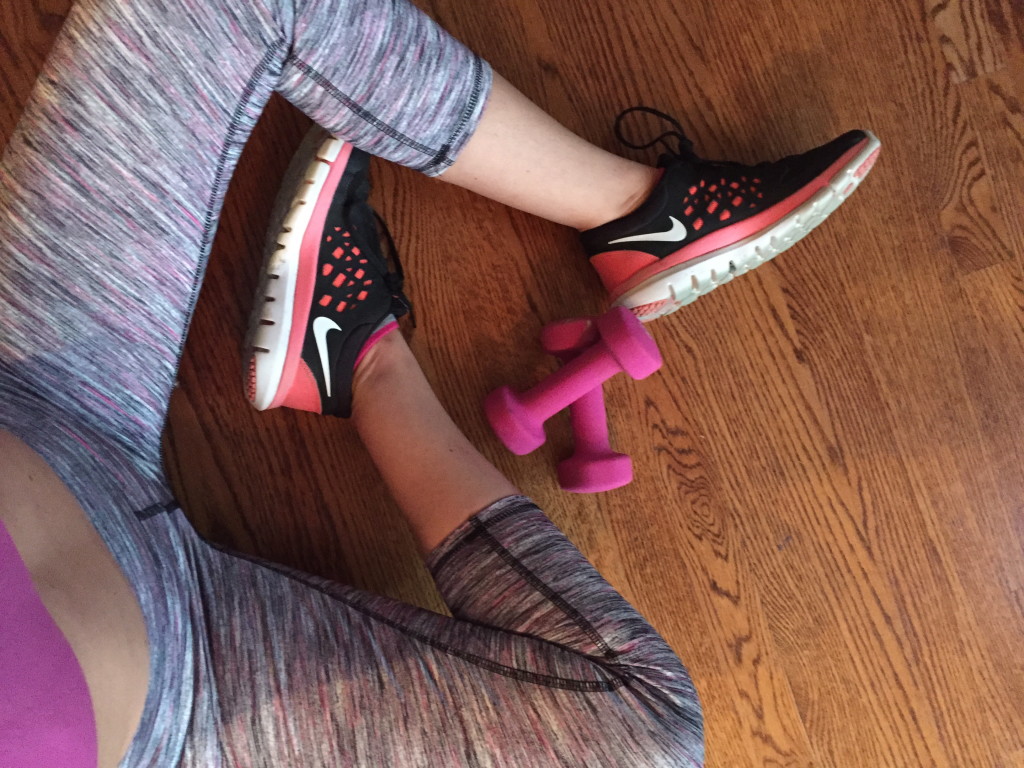 But when I'm not feeling as motivated as I want to be, donning my favorite leggings and comfy tank is my go-to move to boost performance. Because science shows that dressing the part can actually motivate you to exercise harder ("enclothed cognition").
It saves me a pretty penny. 
I'm rarely one to hit the pavement outside, and gym memberships and fitness classes are muy expensivo. My one-time purchase of a DVD or streaming workout saves me SO much money and I never get bored because I can make my own playlist or watch my DVR'd shows at the same time!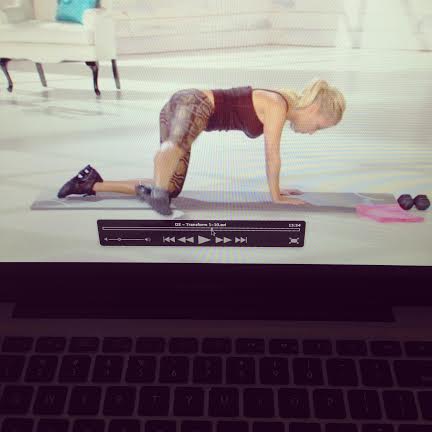 Case in point: Working out during the Victoria's Secret Fashion Show = GREAT motivation!
I don't have excuses. 
Snowing out? Or even worse ((I think)), raining out? It doesn't matter because I never have to brave the elements! There's no excuse to skip my workout as long as I have my sneakers and computer! This is especially useful as daylight hours get shorter and it's still dark at 7am!
I get more workout in on busy days. 
This is probably my favorite reason for working out at home. Walking to the gym, arriving earlier than class time to get my spot, changing into my hottest leggings and securing my pony…it takes tons of time before I even break a sweat. At home, I tie up my sneaks and GO! No wasted time = more calories burned, more muscles sculpted, and more endorphins produced!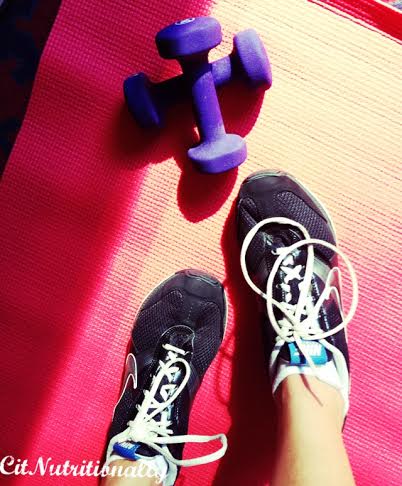 If you have yet to fall in love with the perfect at-home workout routine that has you unwinding, de-stressing, and getting healthier, there are SO many options out there for you to explore! Constantly switch things up by streaming videos on YouTube, renting DVDs from the library, or subscribing to a streaming service (like Booya Fitness!).
And don't forget to give the gift of health this season with my 21 day New Year, New You fitness plan!
Do you ever exercise at home? What's your favorite to break a sweat?!
XO
Disclaimer: Many links in this post are affiliate links. If you purchase a product after clicking an affiliate link, I receive a small percentage of the sale for referring you, at no extra cost to you. Purchasing through affiliate links is an easy, painless way to help out your favorite bloggers and help keep C it Nutritionally alive!  Thanks a million for your support!