Enjoy carrot's sweeter cousin (parsnips) simply roasted with fresh fall herbs rosemary and thyme. Simple enough for a food prep staple, but also beautiful for a holiday side dish.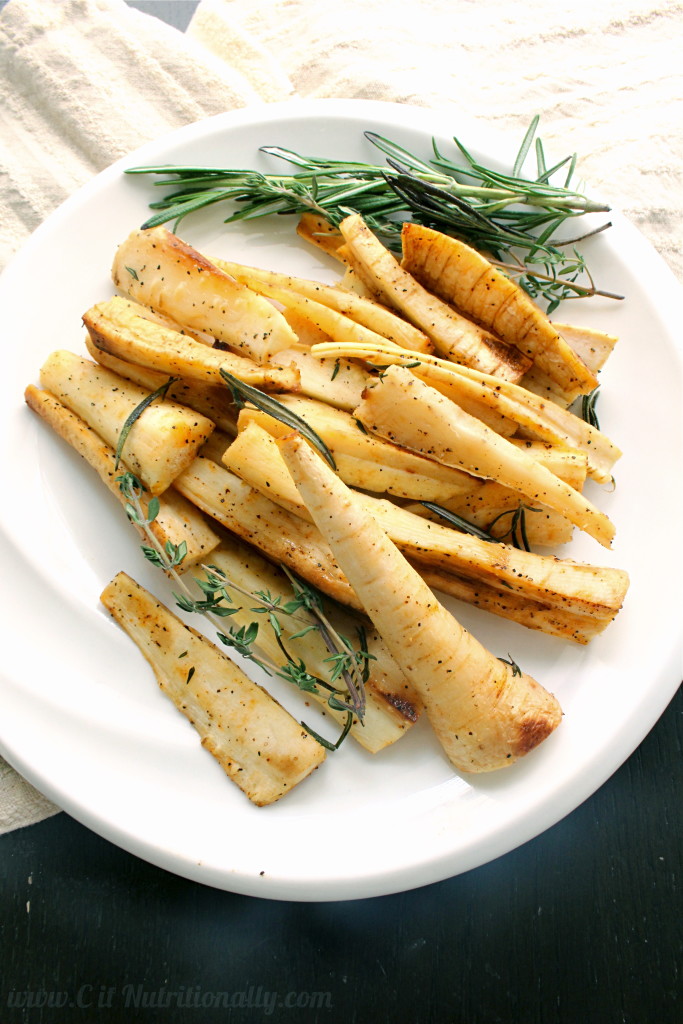 But first, let's get to the eats! Find out WHY I share my food here!
This What I Ate Wednesday is brought to you from globally warmed NYC…it's 70 degrees out…in NOVEMBER!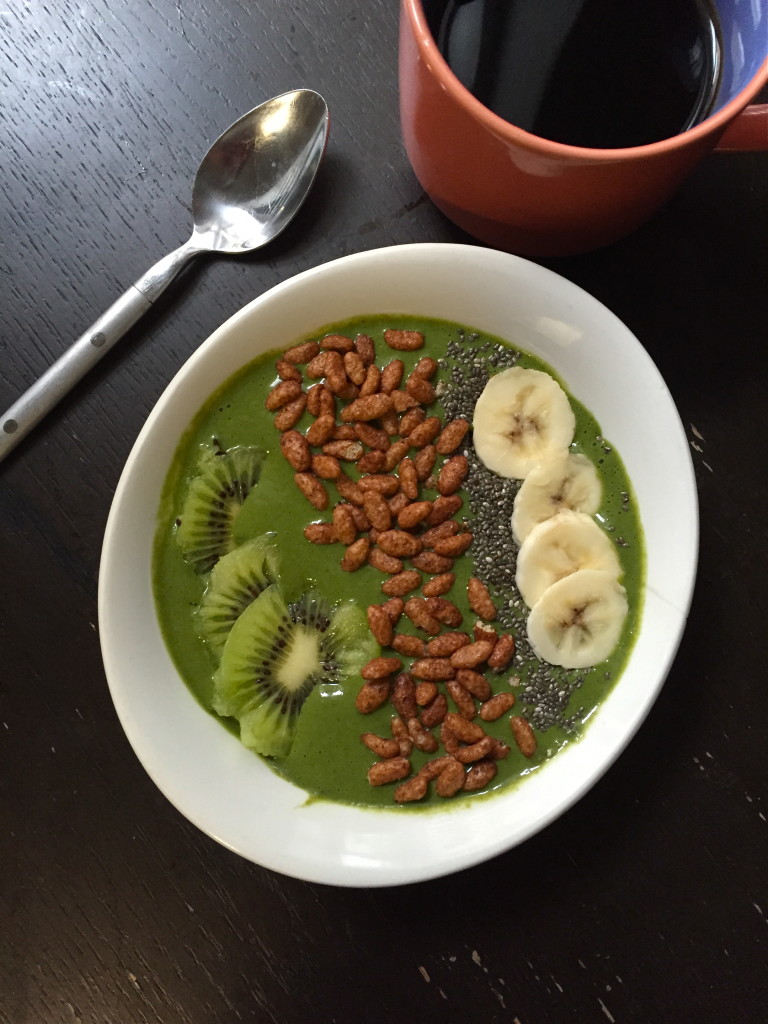 It seems that the first of every month, at least in the past few months, whirls in OUT OF NOWHERE! Where on earth is 2015 going?!
Well, I woke up on the 2nd of November (Monday) and had this "new beginnings" vibe going on. I've been a bit off my smoothie game because it's been cold out so I jumped back on it!
I made my classic nut-free green monster smoothie with a ½ tablespoon Cacao Magic superfood powder from Philosophie. You could just add ½ tablespoon cacao powder for just a hint of chocolatey goodness in the morning (helloooo antioxidants!).
I topped my smoothie bowl with chia seeds, some naner coins, sliced kiwi and One Degree Organic Food's Vegan Sprouted Brown Rice Cacao Crisps. Yes, they have sugar (although much less than MANY other cereals). Yes, there's not much protein nor fiber, BUT I had 1/8 of a cup and there are NO weirdo ingredients, they're low fat, and they give me that crunch that I love! #realfood people.
Oh and don't forget the IV drip of coffee!
After doing some blog and MNT work, I decided to organize my month. Despite nearly everything in my life being electronicized, I still print out a calendar every single month and liiiiive by it. I'm not too sure what I would do without it!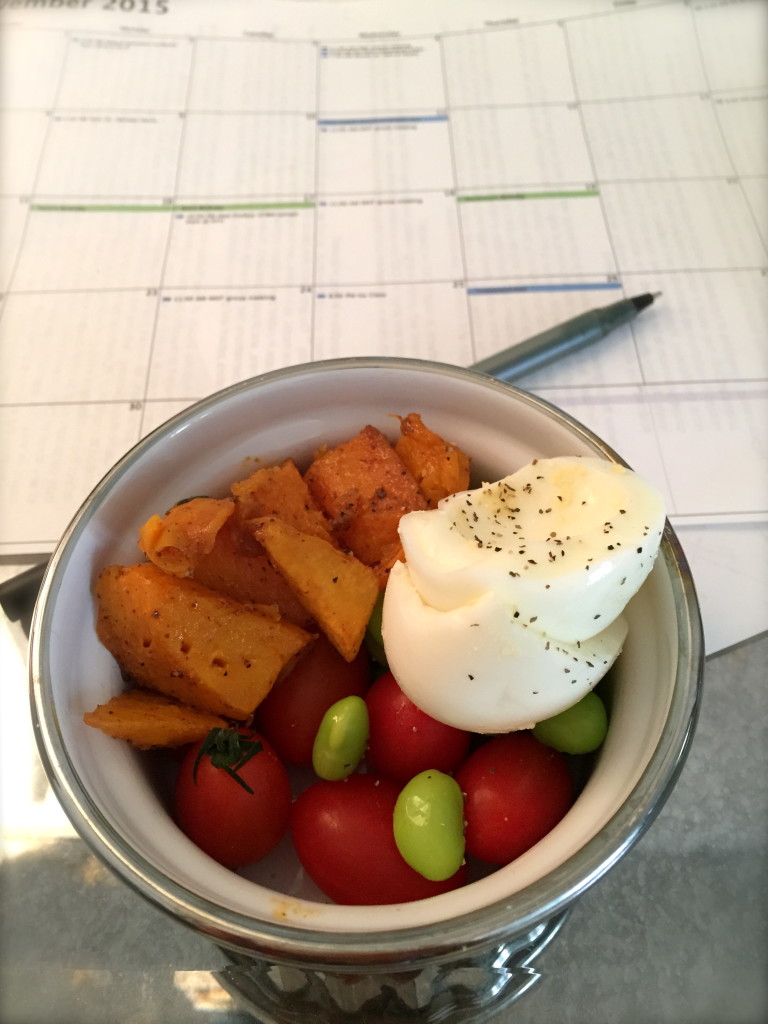 I conquered my mid-morning tummy grumbles while I planned my month with a hard boiled egg white, a few grape tomatoes, some leftover roasted butternut squash and edamame. And some lemongrass tea because someoneeee seems to have lost her voice this weekend!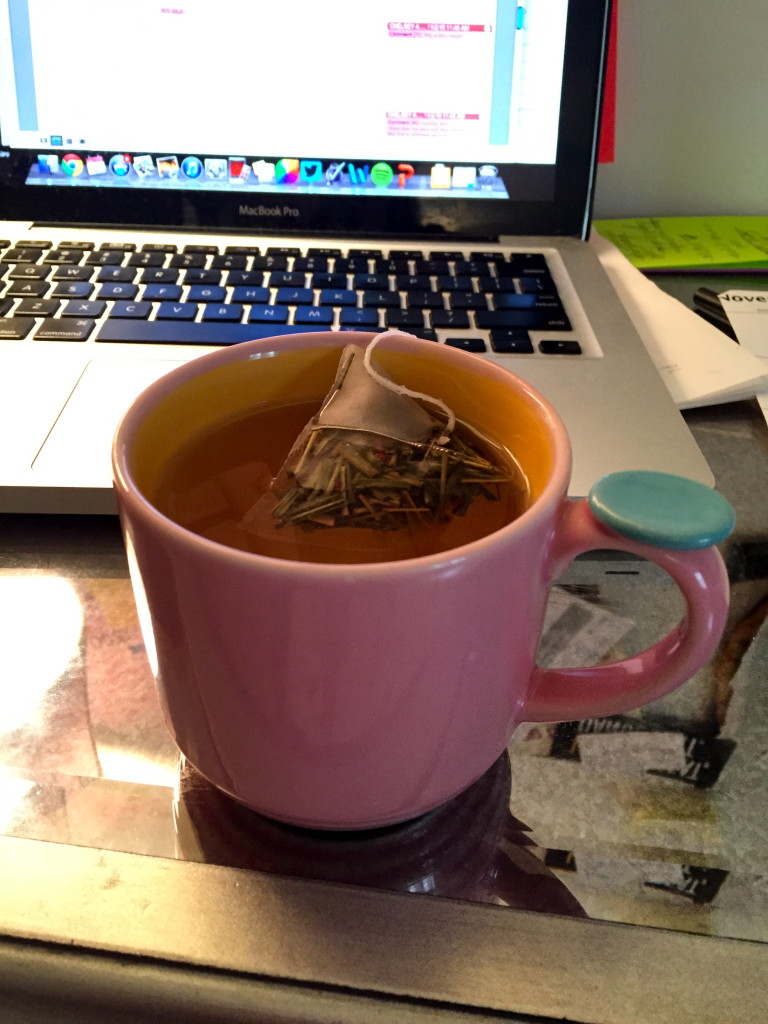 If you know me, you're probably shocked to see a tea bag in my mug…I'm SO not a tea fan! But I can tolerate the light lemony flavor of lemongrass tea when my throat needs it! What about you – coffee or tea?!
Lunch rolled around and I threw a bunch of #foodprep staples together in a big salad…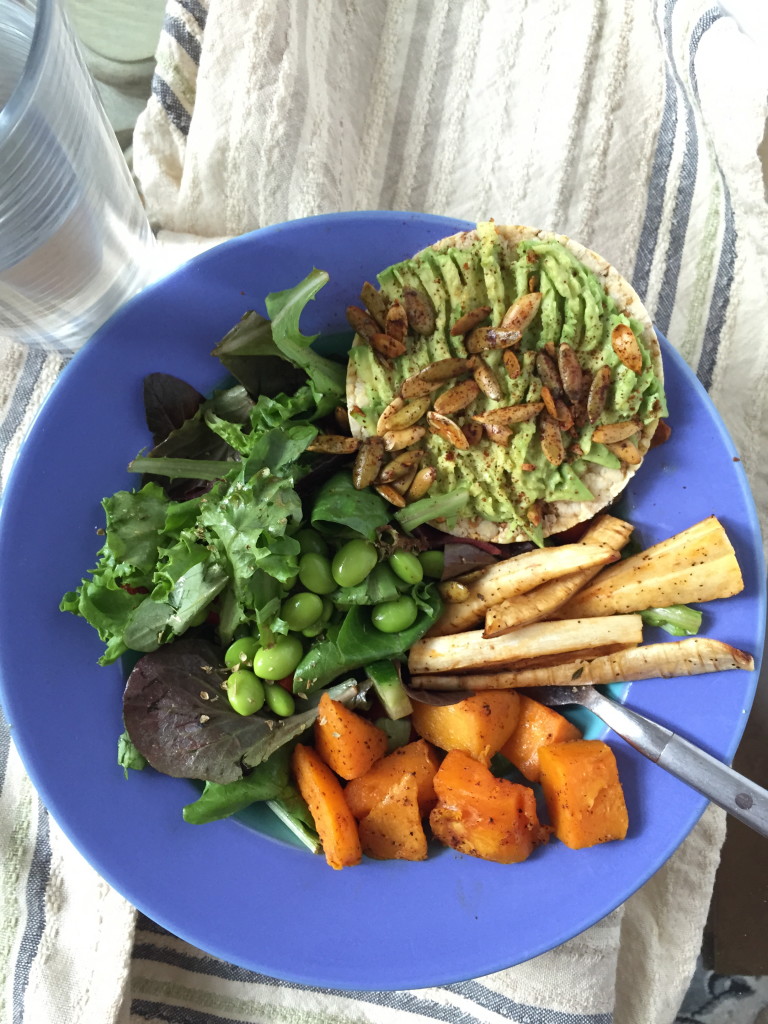 Mixed greens, roasted parsnips (recipe below!), roasted butternut squash, edamame and smashed avo on a corn thin topped with pan-toasted pepitas.
I snacked on the rest of my pan-toasted pepitas throughout the afternoon with a couple of clementines. Perks of working from home!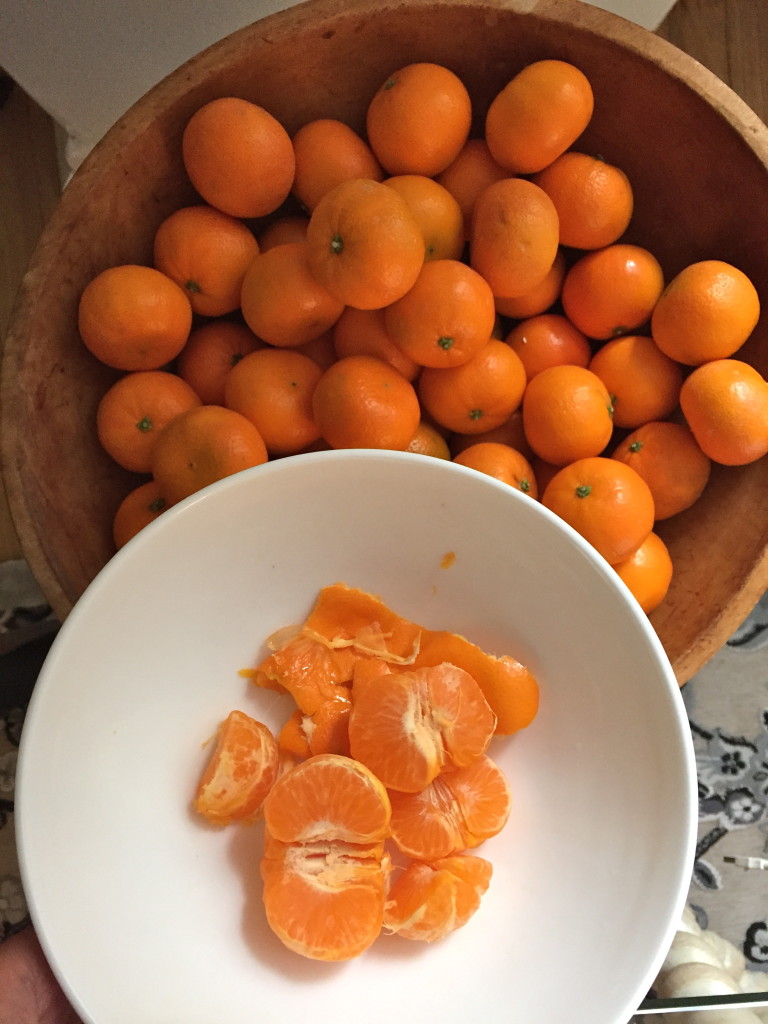 Do you see this humungo bowl of clementines I picked up at Trader Joe's this weekend? I love when these cuties come in season!
Pre-workout I had some PBJ on a log…sans ants. And wayyyy more water so I'm adequately hydrated pre-workout!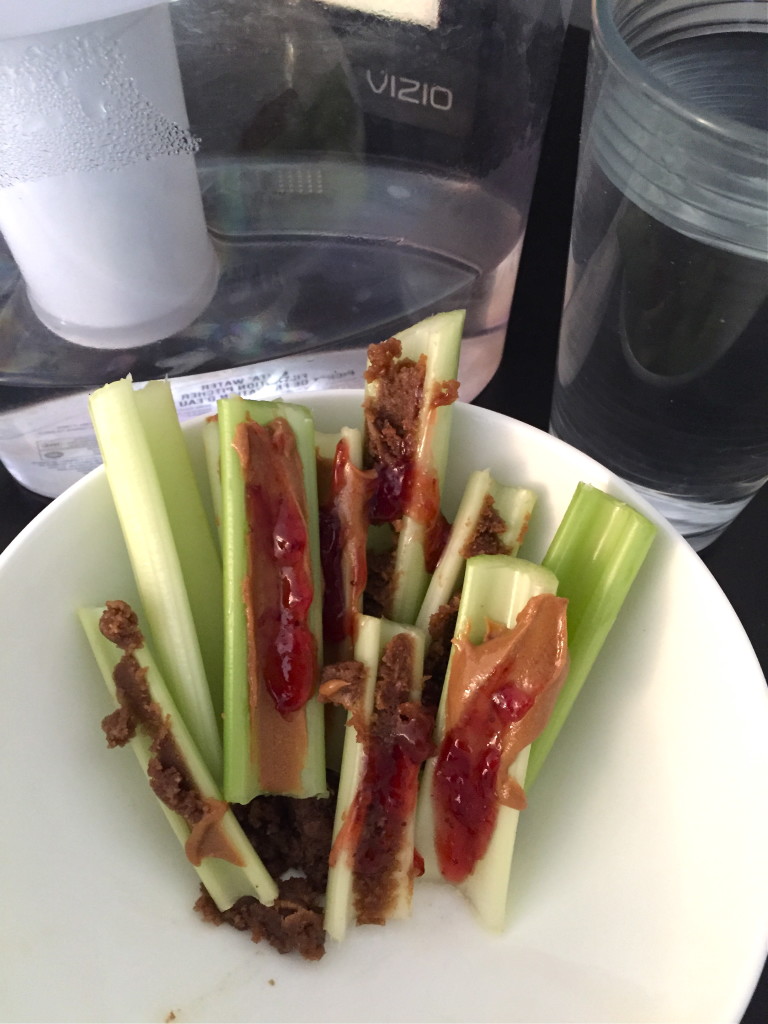 I'm up to "level 3" of Tracy Anderson's Metamorphosis. (Side note: I started the series over because I took 6 months off due to an arm injury and couldn't put pressure on my arm or lift weights.) Boy it doesn't look difficult, but I feeeel the sweat dripping off my face onto the mat every time. #gross
Anyways, post-workout and after lots more work (OK, and maybe a nap), I whipped up dinner…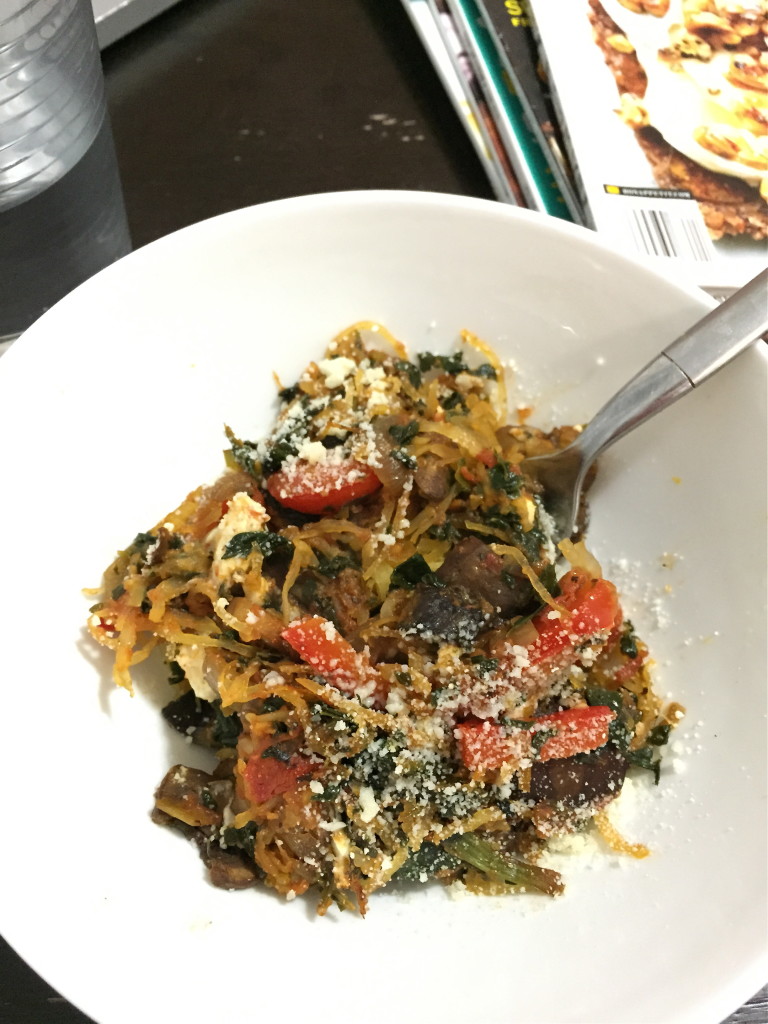 A take on my spaghetti squash primavera. Yesterday I sautéed mushrooms with onions and leeks so I threw that in the pan with some halved grape tomatoes, frozen spinach and Rao's sauce (the best jarred sauce out there with ZERO added sugar!). It took me just 10 minutes to whip up, throw some parm cheese on top and voila…and healthy dinner in no time flat.
Post-dinner munchies while watching Dancing With the Stars (I'm obsessed, I'm not ashamed, let's talk about it!) were these BBQ peas. I ordered them from Thrive Market with some other never before seen snacks I wanted to try and these peas were part of 'em!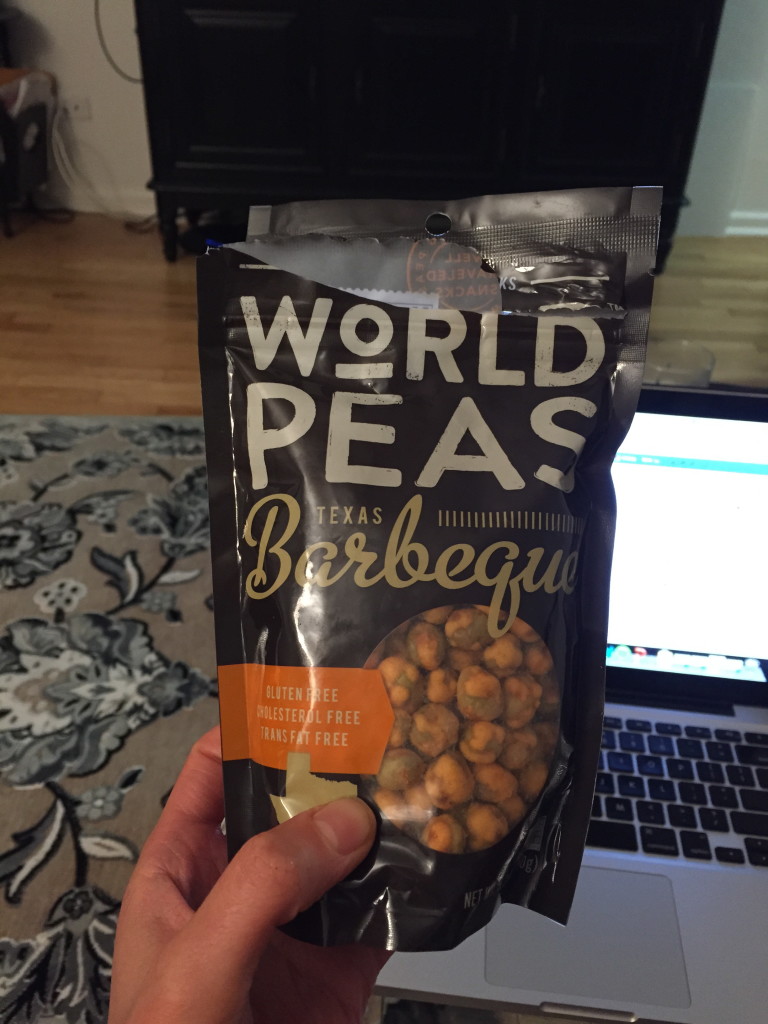 There's nothing tooooo good in 'em (nutrition-wise), but they're a great snack when you're looking for something crunchy and perfectly spiced! Plus, you can have 45 peas for 100 calories!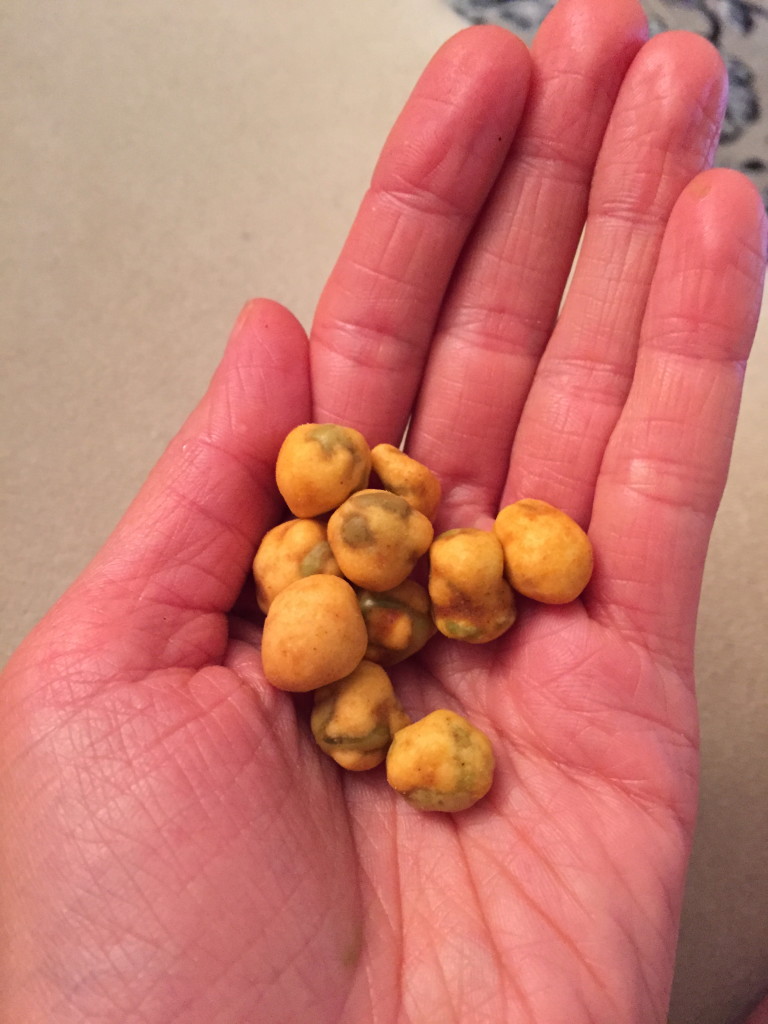 Don't mind my liney hands. And the fact that they look red.
I had some more water and a few grapes before bed (sorry no photo) and called it a day.
But about those simple roasted parsnips…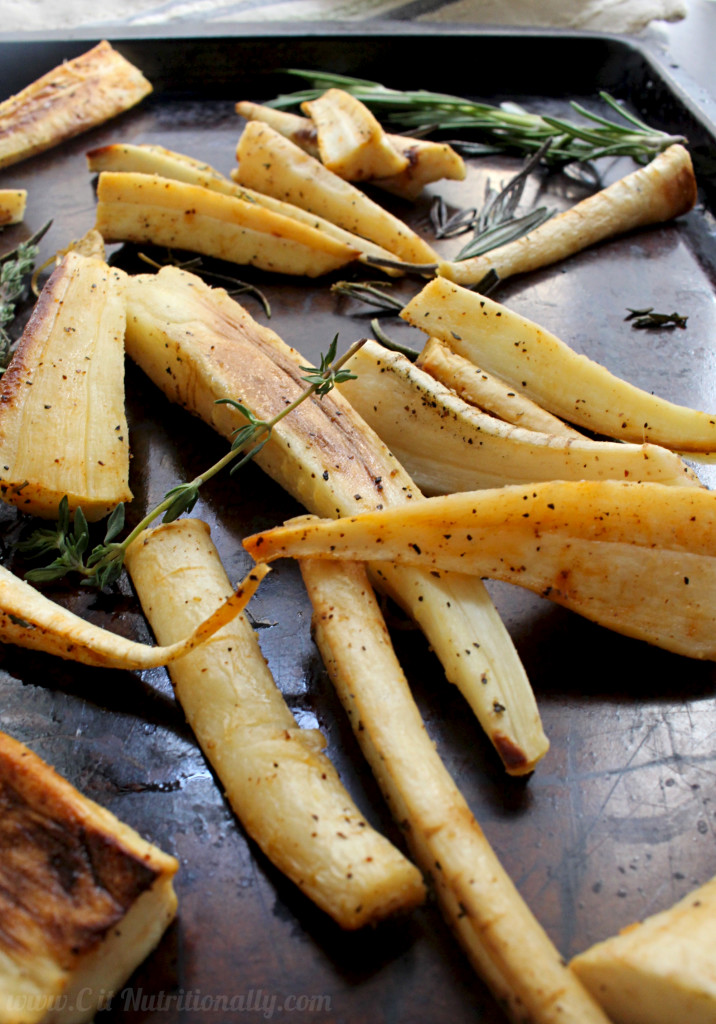 As shown above, parsnips look like white carrots. I don't like them raw (although there's nothing wrong with munching on them raw), but they're a bit sweeter, especially once roasted and their sugars caramelize.
At just 100 calories, plus 7 grams of fiber and nearly 2 grams of protein per cup, parsnips are a fall veggie to be reckoned with! #NutritionSuperstar!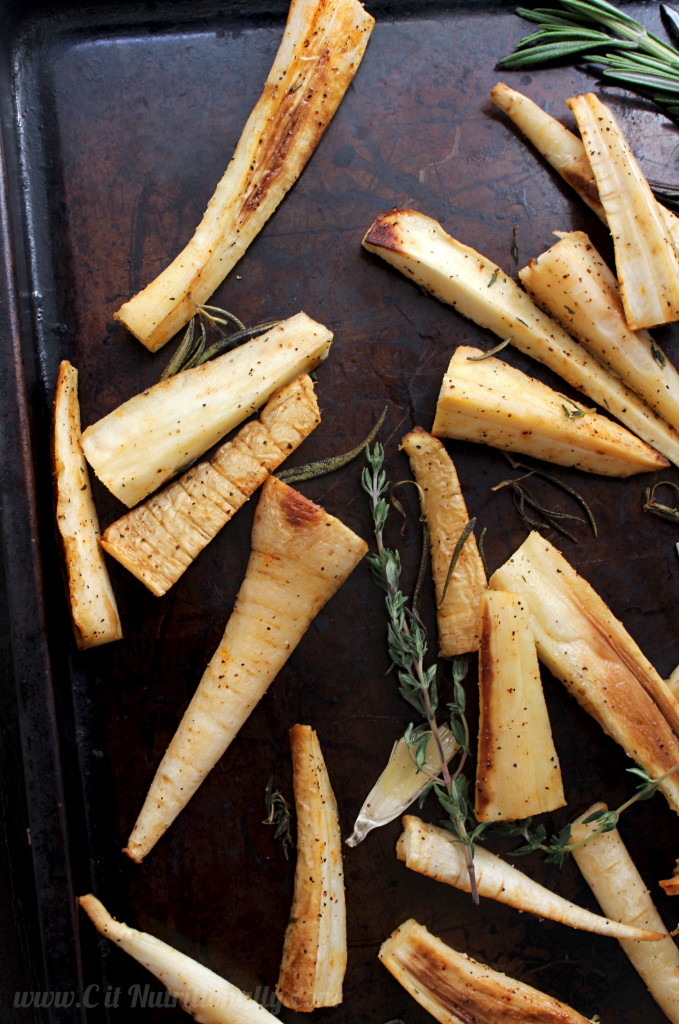 This recipe is BEYOND simple, which is why I'm including it along with my day of eats, but it has tons of flavor so it will make a beautiful side dish on your holiday table!
Simple Roasted Parsnips with Rosemary and Thyme
Recipe Type
:
Side Dish, Fall, Thanksgiving
Cuisine:
American, Vegan, Gluten Free
Author:
Prep time:
Cook time:
Total time:
Enjoy carrot's sweeter cousin simply roasted with fresh fall herbs rosemary and thyme. Simple enough for a food prep staple, but also beautiful for a holiday side dish.
Ingredients
1 lb parsnips, cut into spears
4 cloves garlic, in jackets
1-2 tablespoons good quality extra virgin olive oil
2 sprigs rosemary
2 sprigs thyme
¼ teaspoon freshly ground black pepper
¼ teaspoon chili powder (more to taste)
Pinch of sea salt
Instructions
Preheat oven to 400°F. Line a baking sheet with tin foil (for easy clean up).
Cut parsnips into spears of uniform shape and separate garlic cloves from head of garlic. Keep jackets on garlic.
Coat parsnips and garlic cloves with 1 tablespoon of olive oil. If parsnips appear dry, slowly add additional oil.
Evenly distribute rosemary, thyme, pepper, chili powder and salt.
Bake for about 45 minutes, tossing halfway through. Parsnips should be gently browned, as in pictures, and soft to the bite, but not mushy. Serve immediately!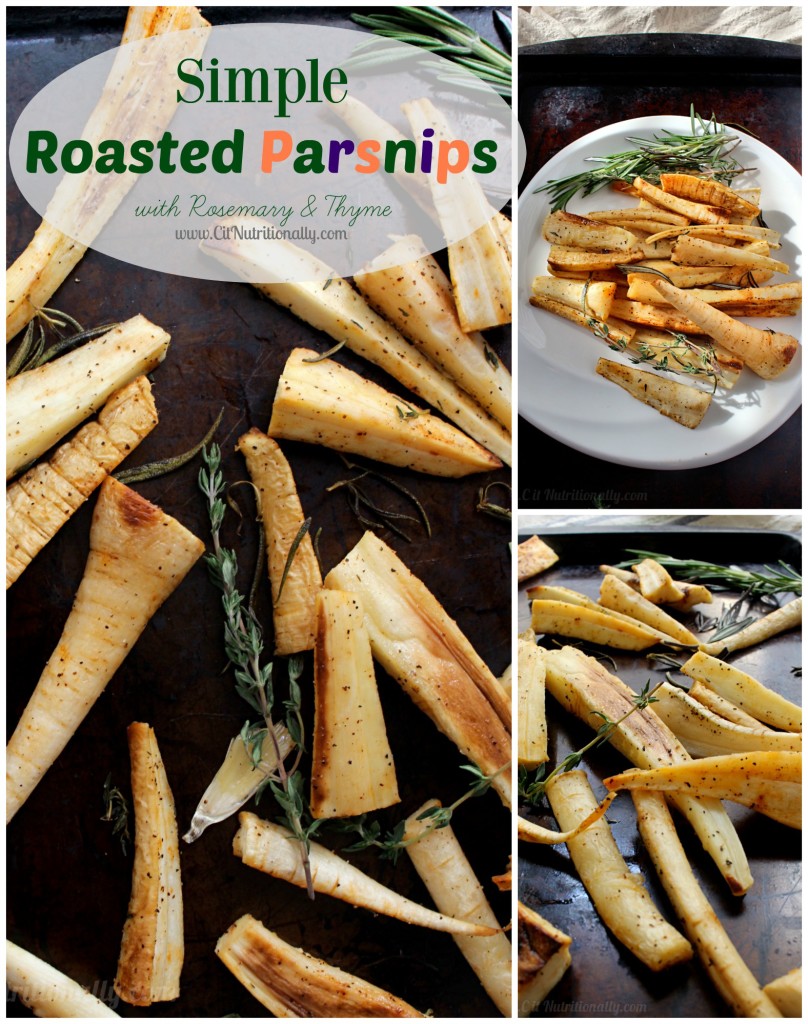 After all, it's never tooooo early to get ready for Thanksgiving! Countdown: 22 days!
Have an excellent hump day!
XO