This Wild Rice and Acorn Squash Wedge Salad is effortlessly simple and easy enough to serve a crowd, yet elegant, classy and sophisticated, with a burst of bright pomegranate seeds, warm roasted acorn squash and hearty wild rice in every bite! Add this recipe to your Thanksgiving menu stat!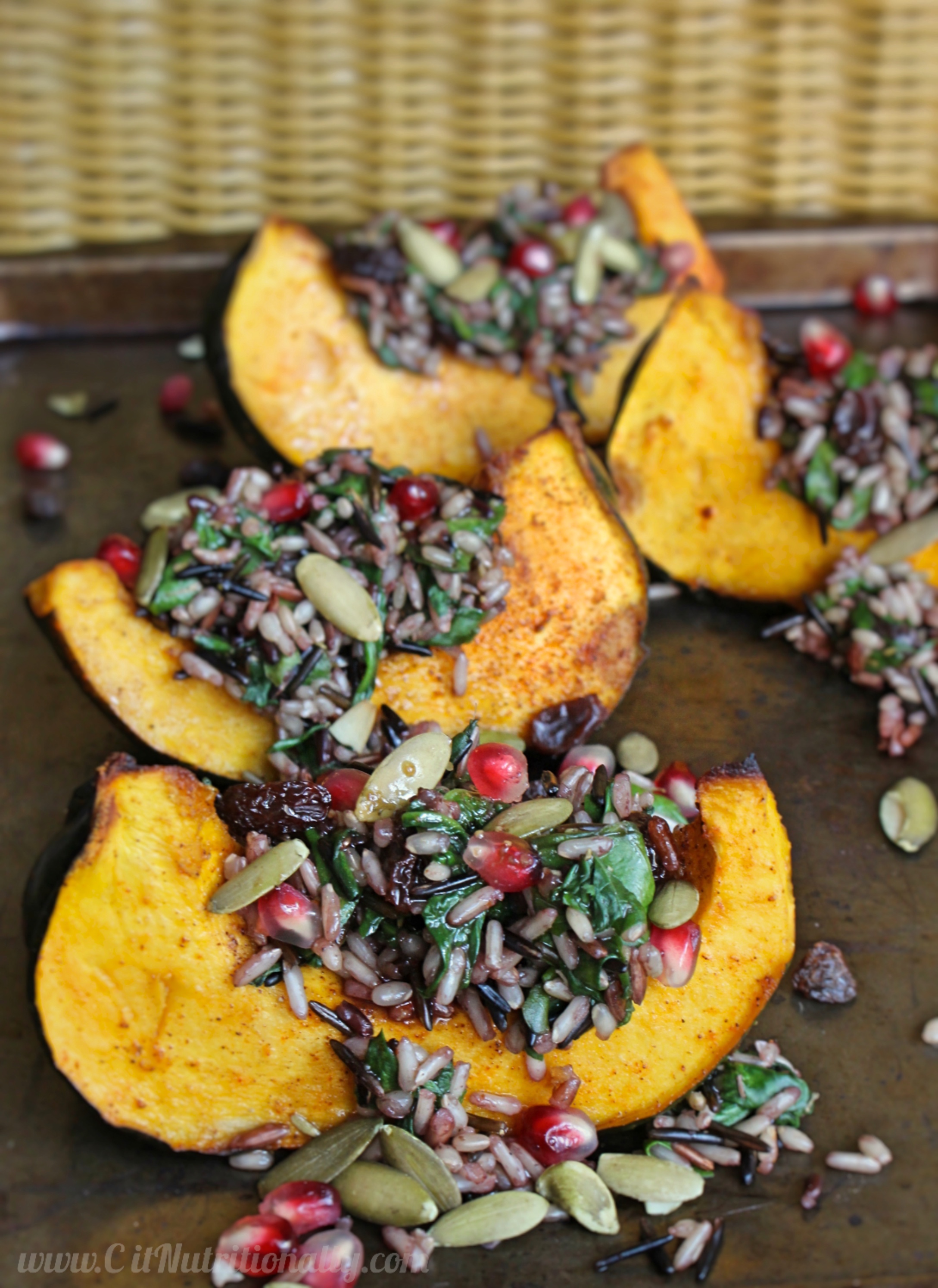 Did you spend the weekend scouring the world wide web for the most delicious, perhaps some nutritious, recipes for Thanksgiving 2016?!? I did! ((And I shared a delicious way to use leftovers too!))
I'm loving all of these Thanksgiving recipe round ups going 'round…like Liz's vegan recipes (that PIE!) or these 15 gluten free recipes from Kristen (LOVE her recipes!), or these healthier, lightened up Thanksgiving sides from Christie or these healthier Thanksgiving recipes from Amy.
Orrrr if you need some other veg-friendly recipes (it is Meatless Monday, after all) don't forget to check out these 50 delicious vegetarian recipes that are perfect for your Thanksgiving table I shared last year!
And now I have one more.
This Wild Rice and Acorn Squash Wedge Salad was a totally  impromptu recipe that just came to be last Friday and stole my heart (because, yes, I think recipes can do that) and I absolutely couldn't resist sharing this delectable combination of fall flavors that's a MUST on your Thanksgiving table!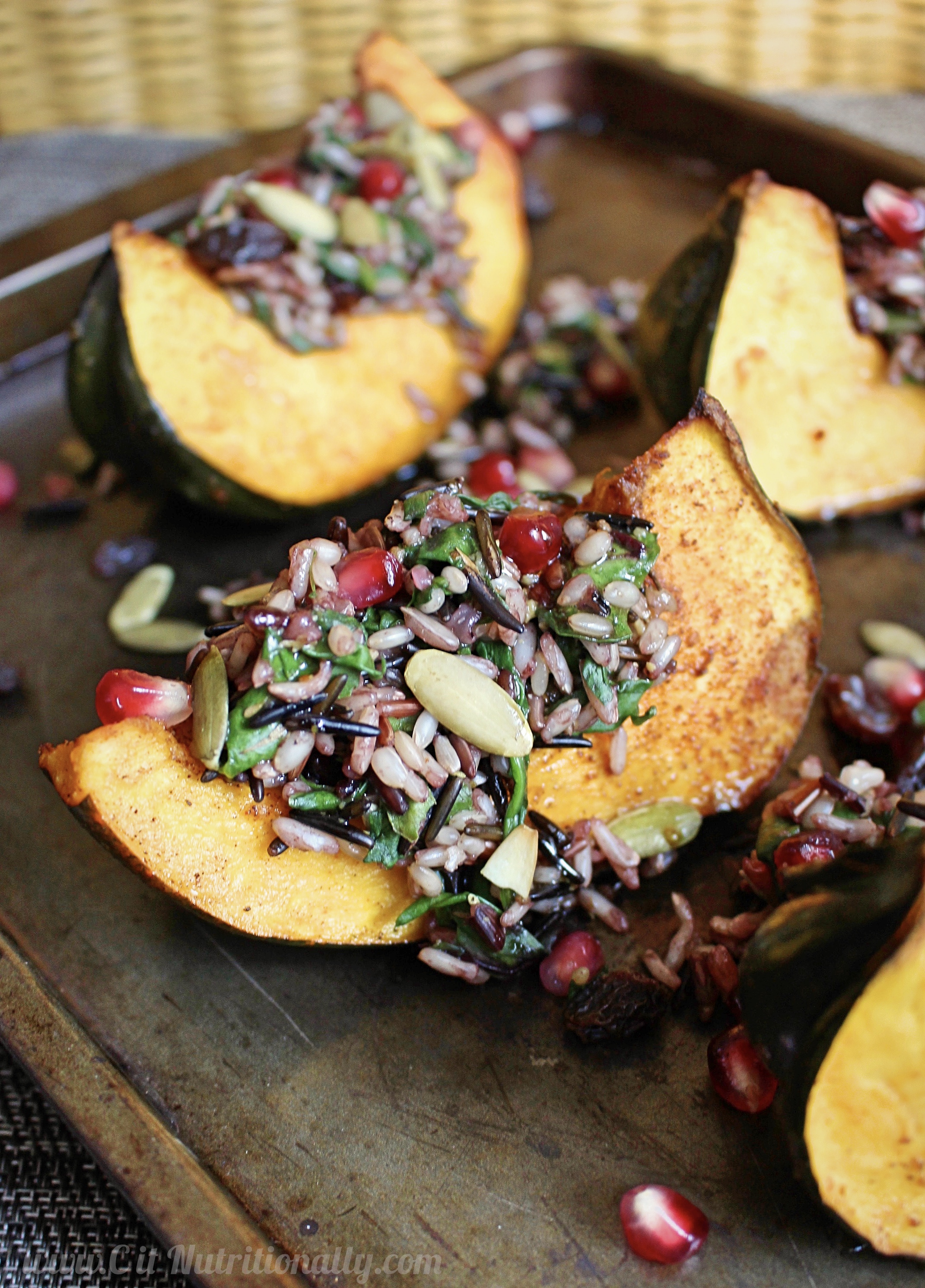 Let's get social!
Facebook
Instagram
Pinterest
Twitter
With each and every bite, you'll tantalize your tastebuds with warm roasted acorn squash that's dressed in a combination of sweet, aromatic and warming spices and a hint of maple syrup, plus hearty wild rice, a sweet burst from pomegranate seeds and raisins, topped off with crunchy pepitas.
While I was flipping through this month's Food and Nutrition Magazine (from the Academy of Nutrition and Dietetics), I came across this gorgeous acorn squash salad and felt totally inspired. I just happened to have two humungo squashes sitting on my counter so I rolled up my sleeves, opened my fridge, and got my roasting on.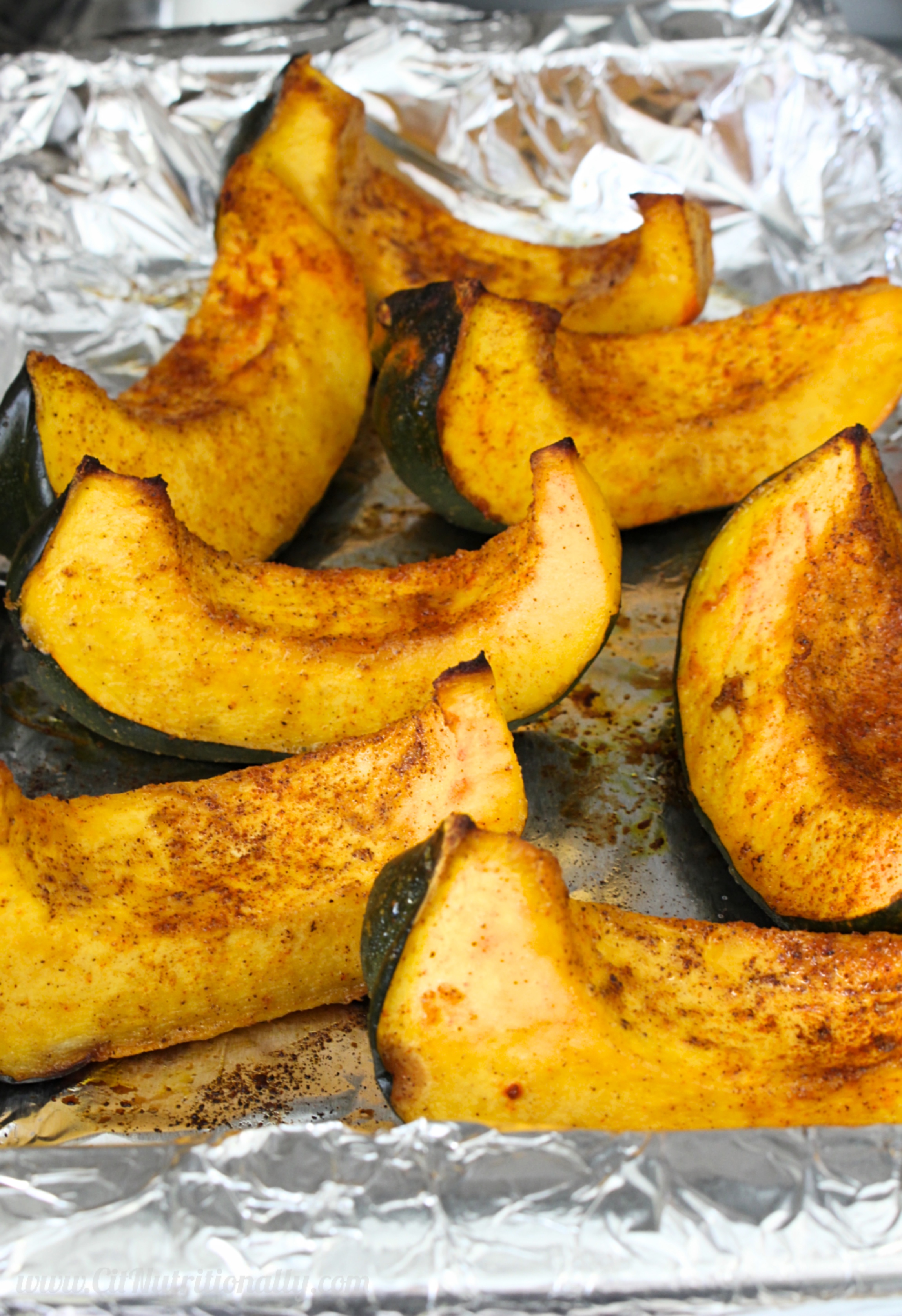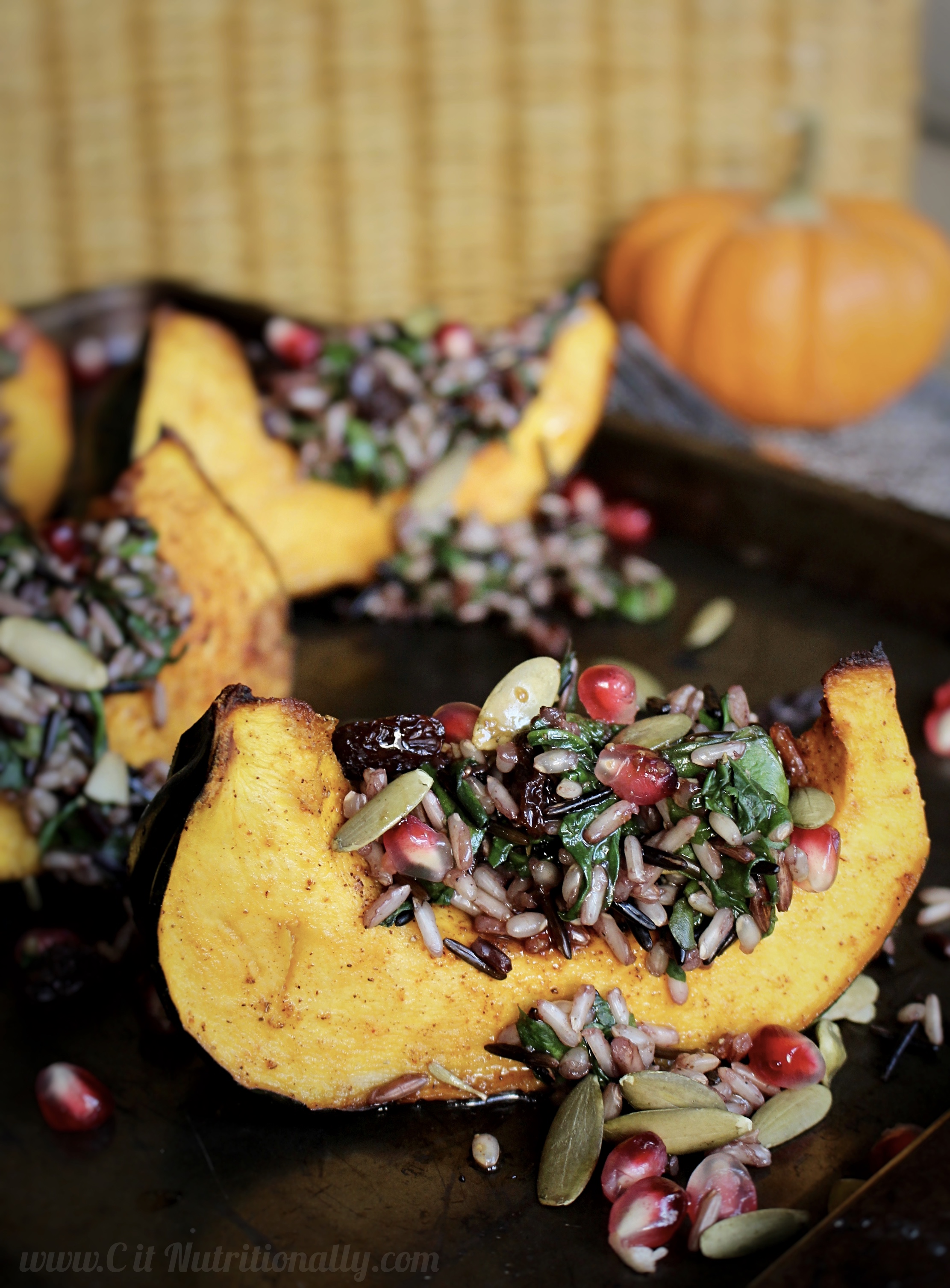 Acorn squash are acorn-shaped (so that's how they got their name!), with a tough-appearing skin/exterior, but did you know you can even eat the skin of an acorn squash?! They're not as sweet as butternut squash, but pair perfectly with a similar combination of spices.
Nutritionally speaking, acorn squash…
Is a good source of

vitamin C

(1 cup contains 20% of your daily vitamin C needs!)

Contains 9 grams of

fiber

per cooked cup (which helps lower your cholesterol, keeps your digestive system regular and keeps your gut healthy).

Is an excellent source of

vitamin A

— great for vision, brain health, and your immune system.

Is a good source of

folate, potassium, magnesium

and even

omega 3 fatty acids

, plus provides

calcium

and

iron

too!
So, essentially acorn squash is a total superfood, but that doesn't sound sexy like kale, soooo it's just a winter fave!
Wild Rice and Acorn Squash Wedge Salad
Ingredients
For the squash:

1 large acorn squash or 2 smaller acorn squashes, cut into 6 wedges
1 tablespoon olive oil
1/2 tablespoon pure maple syrup
1/4 teaspoon each: chili powder, garlic powder
1/8 teaspoon each: smoked paprika, black pepper, salt

For the salad:

1/2 cup dry wild rice
1/4 teaspoon fresh or dried thyme
1 cup greens (pick your favorite!)
2 tablespoons raisins
Salt and pepper to taste
1/4 cup pomegranate seeds
3 tablespoons pepitas

For the dressing:

1 tablespoon good quality olive oil
2 tablespoons balsamic vinegar
1 tablespoon apple cider vinegar
1 teaspoon pure maple syrup
1 teaspoon Dijon mustard
1/8 teaspoon each: black pepper, salt, dried thyme
Instructions
Preheat oven to 375°F. Cut acorn squash into 6 wedges, with seeds removed. You may want to cut the bottom (skin-side) of the squash so the squash wedges lay flat in your pan.
In a large bowl, combine 1 tablespoon oil, 1/2 tablespoon maple syrup and spices [listed under "For the squash" on the ingredient list] and mix to combine. Add squash and evenly coat the squash with this marinade.
Distribute squash on a tin foil-lined baking pan and roast for 20 minutes, then rotate the pan and cook for an addition 15-20 minutes, until tender to fork. Set aside.
While the squash is roasting, prepare rice in a small saucepan, according to package instructions. (I use a 2:1 ratio of liquid [water or vegetable stock] to rice with a pinch of salt.)
When the rice is done cooking, add dried thyme, greens and raisins to the rice. Mix to combine.
As your squash is roasting and your rice is cooking, prepare the dressing. Add all dressing ingredients to a small jar. Mix until uniform consistency forms. Set aside.
When the previous components are done, assemble your salad. Evenly divide the rice mixture on top of your roasted squash. Sprinkle pomegranate seeds and pepitas on top, then drizzle with dressing. Enjoy immediately!
Notes
Nutrition Facts (per serving, 1/6 of recipe): 188 calories, 7.5g fat, 77mg sodium, 29g carbohydrates, 3g fiber, 4g protein
http://citnutritionally.com/wild-rice-and-acorn-squash-wedge-salad/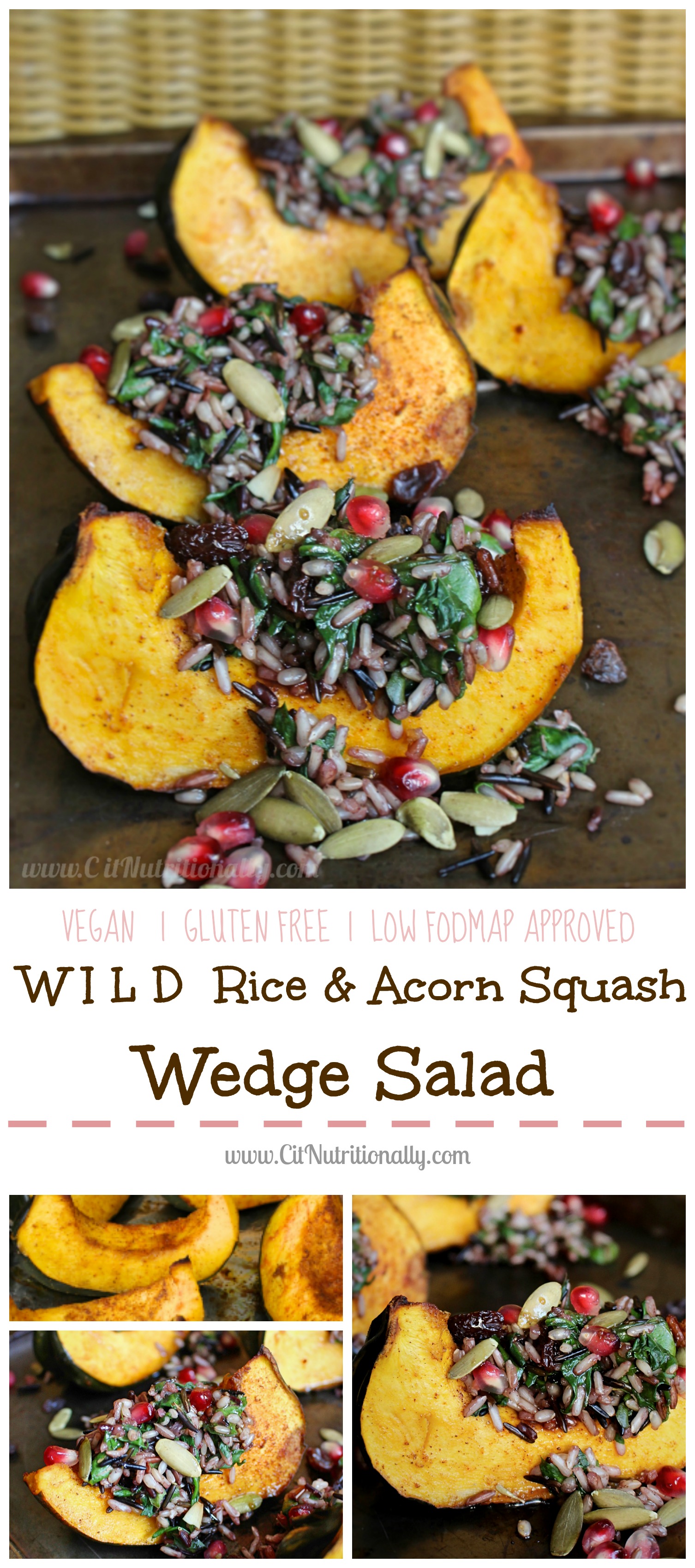 So are you adding this beauty to your Thanksgiving menu?!
XO
Let's get social!
Facebook
Instagram
Pinterest
Twitter

Subscribe to our mailing list